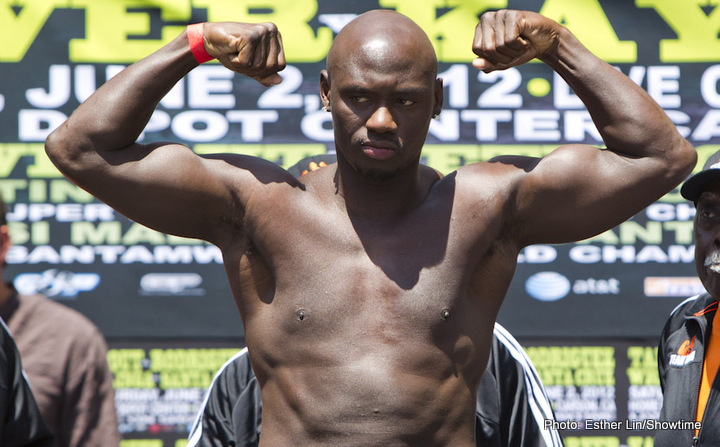 Antonio Tarver, who recently called out British heavyweight contender Dillian Whyte, wants a lot of things: a fight with Whyte, which he feels will lead to a shot at IBF heavyweight champ Anthony Joshua, which he feels would lead to a win that would see him surpass the legendary George Foreman as the oldest-ever heavyweight champ. It might be a long road, but Tarver feels the Whyte fight will see him achieve his latest dream.
Whyte, who boxes in Leeds on July 30, responded to Tarver's calling him out on Twitter, and Tarver responded to Whyte's claims that he would "smash him to pieces." Tarver made it clear, when speaking with Sky Sports, how he wants Joshua and a shot at history, and that a win over Whyte would get him there.
"I have a lot of respect for Dillian Whyte," Tarver said. "I think the fight makes sense for me. If I came over to the UK and let everybody know I'm serious about what I say and what I plan on accomplishing in the next year, and that's to become the oldest man to win the heavyweight world championship. If I did that, I'd surpass the great George Foreman. If I won the title today, I'd surpass George by two years, that's why I get up in the morning. I want to come to the UK, shut down Dillian Whyte and get one step closer to Anthony Joshua."
Most fans feel Tarver, aged 47 and largely inactive as of late – having just two fights since late 2013 – would be comprehensively beaten by Whyte, let alone Joshua; if he got these fights. But Tarver is a big name, he has never been stopped, and he is at least willing to earn his shot at AJ by first taking on Whyte – who gave Joshua hell before being stopped in the 7th-round of a slugfest last year.
Not only that, but Tarver maintains he has resisted the ageing process, and he doesn't even understand why himself.
" It's the craziest thing. I'm getting old and I can't deny it," he said. "But for some reason I'm not ageing. I still have my speed, timing, eyes and reflexes intact. You've never seen me outclassed, hurt or cut in a fight. I'm here and I'm still fresh. I can't explain it. It's not up to me to explain it. Talk to the man above. I'm just here living the dream."
But will Tarver, a man who has always been a great talker as well as fighter, be risking a nightmare if he gets his way and fights young, hard-hitting heavyweights Whyte and then Joshua? Tarver says he wants a "rebirth," and that a win over Joshua would be it. It sure would be an amazing story, and comeback, if "The Magic Man," managed to pull off two astonishing tricks Dynamo himself would be proud of. But does Tarver deserve his chance?
Let the fans decide.