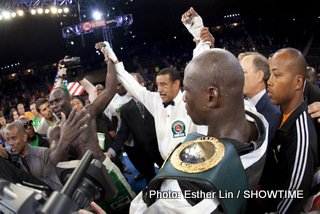 Five-time world title holder and former Ring Magazine Light Heavyweight Champion, Antonio "Magic Man" Tarver (31-6, 1 NC, 22 KOs) has achieved a great deal of success in his career; however, there`s still one thing he wants to accomplishment before he retires and that`s to be a heavyweight world title holder.
"This is going be my year," said Tarver. "I`m ready to defeat the consensus best heavyweight in the world, Wladimir Klitschko or the winner of the Bermane Stiverne vs. Deontay Wilder bout on January 17th, which is for the World Boxing Council's title. I`m extremely confident that I`ll beat anyone of these three fighters and strengthen my legacy to be inducted into the boxing hall of fame."
Tarver put himself in position for a potential world title fight in 2015 as he ended a thirteen month layoff in December with a dominating one-sided, seventh-round knockout victory over veteran Johnathan Banks (29-3-1, 19 KOs), curtesy of a perfectly timed, powerful one-two combination to the head. He also knocked down Banks in the second round.
"Banks felt my power and speed early on and after that he refused to engage me. I`d have ended this bout earlier if Banks fought me and threw punches, yet he ran the whole fight and covered up on defense anytime I threw a shot," said Tarver.
Tarver`s unbeaten in his last five bouts and is ranked number thirteen by the World Boxing Association. He garnered the interim North American Boxing Association belt in his previous outing against Mike Sheppard in which he scored three knockdowns in the fourth round which caused referee, Samuel Burgos to stop the bout at 1:54, giving Tarver the technical knockout victory.
"I`m in the late stages of my career, so I know that I not only have to win but I need to do it in impressive fashion, like I did against Banks and Sheppard, in order to keep my world title hopes alive," said Tarver. "I`m already back in the gym with my son, Antonio Tarver, Jr. who`s a professional boxer and our head trainer, Orland Cueller to get ready for my next bout."
The 46-year-old southpaw pugilist wants to be more active in 2015 after fighting just four times in the last five years. Tarver is looking to be back in the ring in either March or April against a top-tier heavyweight. David Haye, a former two-division world champion who`s complementing coming out of retirement, is a boxer that Tarver would really like to fight.
"I want Haye because he`s a big talker and he keeps saying that he`s the second best fighter in this division, so if he`s, then I want to box him. I`ll even go to England to knock him out. Once I beat Haye, I`ll fight the best boxer in our weight class, Klitschko," said Tarver.
Tarver`s manager, Al Haymon, one of the most powerful advisors in the sport is diligently working to put Tarver in position for a successful 2015 by finding his next opponent, keeping him active and potentially obtaining a world title shot for him by the end of the year, which is made all the more difficult since it appears that no one wants to fight Tarver.
"It has been extremely frustrating for me because I`ve called out all the top boxers in this division and no one stepped forward to fight me," said Tarver. "To be the best, I`ve to fight the best but that is hard to do when no one wants to box you."
Some boxing fans and analysts believe that Tarver doesn`t stand a chance against Klitschko and the other top heavyweight boxers because he`s too small and hasn`t beaten anyone of noteworthy in the heavyweight division. Tarver, nevertheless, vehemently disagrees with this perspective of himself.
"I already did the impossible when I beat one of the best fighters in the world in Roy Jones, Jr. in a fight that no one gave me a chance to win except for myself and my team. Again, no one is giving me a chance against Klitschko and that doesn't bother me because I believe I`ll beat him," said Tarver. "My power is just as good as Klitschko and my speed and defense is a lot better than his. He`ll have to outbox me which willn`t happen because of my speed advantage and he`ll not knock me out since my defense is too good."
We`ll have to wait and see whether Tarver obtains and prevails in a world title bout in 2015 or in the foreseeable future; however, given his name recognition, good background story and proven track record of achieving success in each division at the professional level and in the amateurs, it makes him an extremely worthy and intriguing pugilist who`ll most likely get his opportunity at a heavyweight world title soon enough, as long as he keeps active and winning.
For more information on Tarver, visit his website at www.OfficialAntonioTarver.com and or at Twitter@MagicMan5XChamp.