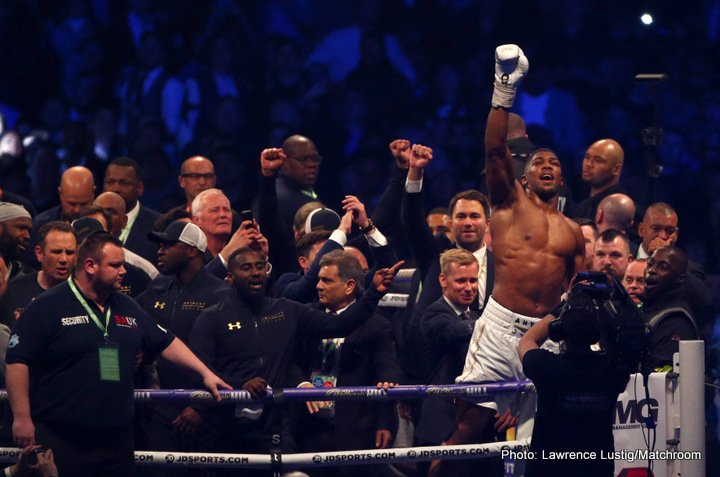 There hasn't been a big, exciting world heavyweight title fight showdown in Las Vegas for some years now, but this could very possibly change later on this year. New star and reigning WBA/IBF heavyweight champ Anthony Joshua told Sky Sports how he believes the opportunity to fight him in a big rematch fight in Vegas will inspire Wladimir Klitschko; "get his blood boiling again," is how AJ put it.
Klitschko has yet to officially announce whether he will box again, but Joshua says he is equally happy to instead face his IBF mandatory Kubrat Pulev next if Klitschko does not decide to exercise his rematch clause for a second fight.
"The ball is in Klitschko's court," Joshua said yesterday. "It is up to him whether he wants to have a rematch or whether he says, 'you know what, I've had enough.' Plan B would be to look at the option with Pulev. So either it will be Klitschko, which would be great, or Pulev, which would be great. I am not bothered either way. Vegas, it is the mecca of boxing and this is an opportunity (for Klitschko). He has achieved so much, does he have the motivation? I think Vegas will get his blood boiling again."
From a fan perspective, it would be great to see a massive heavyweight event take place in Las Vegas; just like the good old days, when the likes of Tyson, Holyfield, Bowe and Foreman were lighting up The Strip and thrilling millions of fight fans. And as great as fight-one was between Joshua and Klitschko, Vegas could host its first heavyweight classic in years if the sequel does take place there.
Joshua has true international super-stardom in his future according to many good judge. How then could he not fight at least one big fight in Vegas? Joshua has yet to box his US debut, and what better venue should this take place in but Las Vegas?
Let's hope Klitschko decide to go for it.