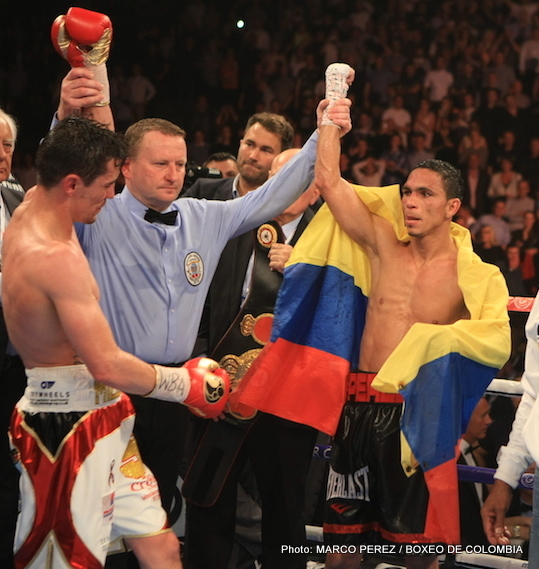 Last night saw heartbreak for Anthony Crolla's world title dreams in Manchester when a valiant and spirited effort from the home-town challenger ended in a controversial draw, despite champion Darleys Perez losing two points for low blow infringements.
The challenger put in a heroic shift that upon the sounding of the final belt saw his corner hoist him into the air to the raucous cheers of the partisan crowd who threatened to take the roof off.
However the joy was to be short lived, and after some initial confusion regarding the scorecards, legendary MC Michael Buffer dealt the crushing blow that the fight was a draw and the belt was returning to Colombia.
Speaking to iFLtv after the fight, a heartbroken"Million Dollar" said;
"I thought it was a close fight but I'd done just enough without the point deduction – and I thought (with) the deductions it cemented that, the victory for me – and it wasn't, so that's that. I'm gutted."
"I'm lucky to fight for a world title here, and to get the ovation I did, it just wasn't meant to be tonight. I thought I raised my game tonight but he was good, he was dangerous, he was sharp. He's known as a world class fighter and in a lot of people's opinions tonight – other than the people that matter (judges) – I did enough to beat a world class fighter."
"I think I showed I belong at that level and I'll come again."
Joe Gallagher, who trains both Crolla and WBA 122 lb champ Scott Quigg, clearly disappointed, also said to the channel;
"With the points deduction, Crolla won that fight. Listen, it's not sunk in yet. I think I'm a bit numb by it, that we haven't got 2 WBA world titles in the changing room – but, I don't know…"
Crolla's promoter Eddie Hearn was equally devastated, insisting he wants the WBA to order a rematch, and failing that his aim is to get his fighter another world title shot as soon as humanly possible.
"I'll be speaking to the WBA and Gilberto Mendoza and I want an immediate rematch. That's what I want and if we have to pay for it, we'll just pay for it. I mean, if it's ordered? But I feel Anthony Crolla deserves a rematch."
"I'm gonna try and get him (another) world title fight. If that's Linares, if that's Flanagan? Shafikov is fighting Rances Barthelemy so they're all tough fights but I can fill this Arena for Anthony Crolla again for the world title."
And on last night's showing, one can't help but think his time will come.
Twitter @Undilutedpoison