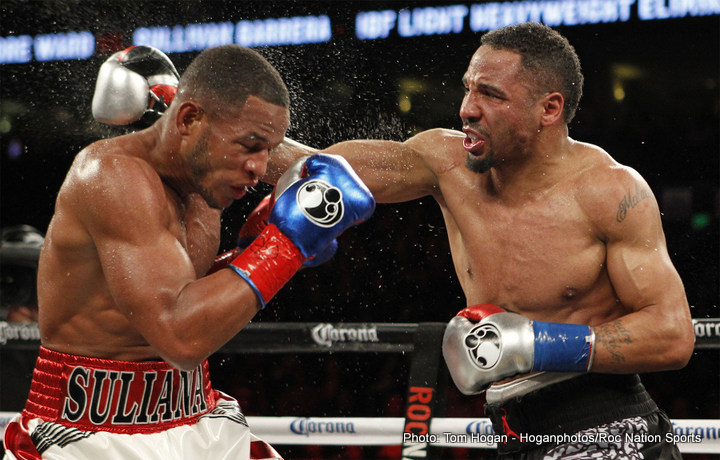 Andre Ward (29-0) fought for the first time in the light heavyweight division and outpointed Sullivan Barrera (17-1) bumping him off the mandatory challenger spot for the IBF title held by Sergey Kovalev. The Russian watched the fight from ringside and apparently happy at what he witnessed, he stated he wants to fight Ward in the same venue in front of Andre's home crowd. He had at least two reasons to be happy, first Ward won as expected and cleared the path for the mega fight. Secondly, Ward's performance, although victorious, indicated he does not belong in this weight class or at least not on top of it, he simply does not have the fire power and physical strength for it.
Andre Ward used to be a brilliant boxer at super middleweight with a style that frustrated opponents but also fans and networks. He cruised unglamorously until the lack of intriguing rivalries and cold reception by the boxing outlets led to promotional issues and his career was sidelined. He searched for a defining fight and turned to middleweight king GGG with an offer. The naturally bigger American was required to go down to middleweight or at least make the catch weight proposed by GGG – 164 pounds. This dream match was obviously not meant to materialize. After about two years of inactivity Ward found out he could no longer make even the 168 lbs limit. He wasn't dearly missed at super middleweight or at any other weight and he was "saved by the bell" when HBO threw him a life-line in the form of a three fight deal and he was resuscitated as a light heavyweight.
He won an Olympic gold medal at light heavyweight so this division was anything but new to him. He already had a great match-up waiting for him – boxing "boogieman" Sergey Kovalev who was running out of opponents as well. Ward wasn't ranked in this weight class but for the first time the public demand for him to take a certain fight attracted financial interest. Ward's name appeared under number 4 in the IBF rankings and the fight was on; it still needed to be hyped up properly to maximize profits.
Ward and his coach stated they had chosen Sullivan Barrera for an introductory fight. The Cuban was perfect for them – rated at number 1 below Kovalev, tall and feisty, undefeated but not truly dangerous. Right after him was Artur Beterbiev, he was hardly considered and after all it was supposed to be Ward's first, not his last fight at the new division.
Sullivan Barrera showed up ready to fight and gave the heavy favorite Ward a good challenge. The Cuban used length and height against Ward's speed. Ward had little else to offer than his speed and sharper but not heavier counter punches. The fight was fought at Barrera's pace and range, the American did not try to impose his game plan or tempo. He was content to react to Barrera's forward motion. It was the Cuban who pressed the action and threw a cascade of shots to create an environment for Ward's superior mechanics.
Ward's speed advantage was not limited to hand speed, he was faster on his feet as well and overall on a different velocity level. He managed to withstand his opponent's spirited effort and he adapted to it comfortably in the late rounds. Ward scored a legitimate knock down in round 3 when Barrera was toppled by a lightning fast left hook. It doesn't matter whether he was hurt or just off balance as the shot landed cleanly and dropped him on the floor.
This was the high point for Ward and the low point was when he was penalized for a low blow. The fight had its share of intentional fouls from both sides and the ref had to deal with punching after the bell in the first couple of rounds. In a bizarre moment, he confronted Ward and said; "Apologize to the man" after he repeatedly hit Barrera overtime.
Andre Ward won beyond any doubt albeit with indecently wide scores. The fight was closer than the final scores of 117-108, 117-109 and 118-109 would suggest. Ward's game was technical and intelligent but he lacked a definite game plan or did not implement it. His speed lacked purpose and direction; it was reactive and not proactive. Speed is a tool of the game plan and speed itself cannot be the game plan.
Andre Ward took too many shots from a painfully slow opponent. Barrera was technical and rangy but Ward was the decorated amateur and experienced pro famed for his boxing talent. If he doesn't fight Kovalev next, he should be extremely careful with the choice of an interim fight, both of them deserve a high-grossing showdown.