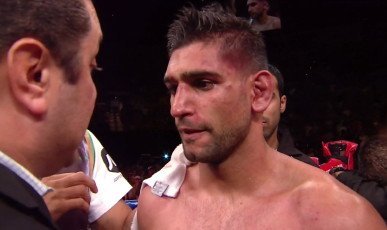 By Michael Collins: Amir Khan (27-3, 19 KO's) may not be with HBO anymore following his losses to Lamont Peterson and Danny Garcia, but he's now signed on with Showtime for a three fight deal, which should take him through the end up next year.
A three fight deal is a nice safe number for Showtime because if things go to pieces with Khan in terms of him getting knocked out left and right then Showtime won't be left with a lemon that nobody in the boxing world wants to see.
It's likely that Khan won't run into trouble for his first fight of his contract with Showtime because he's being mentioned as possibly taking on Josesito Lopez in April. That's a very winnable fight for Khan, because Lopez, as good as he is, he's not really a puncher.
He's just a guy with a lot of heart that likes to go to war with his opponents despite not being a huge puncher and not being all that fast either. Lopez would have likely lost to Victor Ortiz had Ortiz not quit on his stool after the 9th round.
Khan could end up fighting Danny Garcia in the middle of 2013. I honestly don't believe that Golden Boy Promotions will make this fight, I really don't. If they make that fight it'll be like them putting another loss on Khan's record because he's really not ready to fight Garcia again.
Khan needs a lot more work with his new trainer Virgil Hunter if he wants to beat Garcia in a rematch. What I saw of Khan last Saturday night with him beating a hapless little 5'6" lightweight without any power to speak of in Carlos Molina, was basically the same Khan as usual.
Khan moved around a little more, but essentially was still Khan throwing flurries, and still getting tagged. Khan didn't get tagged as much he would have if he faced someone with power, size, reach and talent, but he definitely will if he fights Garcia again.
If I was Showtime I would have signed Khan for a two-fight deal because I wouldn't to be holding the bag if Khan gets knocked out in the 2nd fight of the contract, because then Golden Boy will likely match him with an easy touch for his 3rd and final fight of the contract.