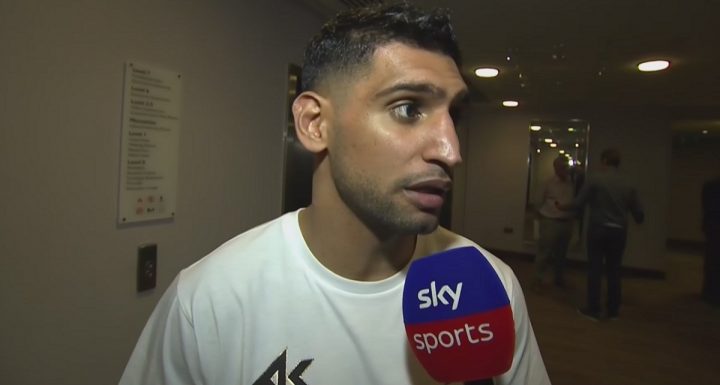 Okay, it was only Phil Lo Greco, a hand-picked, non-elite opponent, but former 140 pound champ Amir Khan made quite the "I'm Back!" statement last night inside a rocking Echo Arena in Liverpool. Blasting the Canadian to defeat inside a mere 40-seconds, Khan showed he has retained what has and always will be his biggest, most valuable asset as a fighter: his blurring handspeed.
Khan has always been fast, in the early going of a fight in particular, and last night, as a fighter who is now in his 30s, Khan showed he has not lost a millisecond of his speed (promoter Eddie Hearn saying Khan looked even faster last night in comparison to in previous fights from years ago). The layoff of two long years now over, Khan needs a real test next.
As swiftly as he took care of business last night, Khan, now 32-4(20), could conceivably box again in a month or two, but most likely it will be a top-10 contender he fights in the late summer. But who might Khan fight? The long and drawn out Khan-Kell Brook scenario remains – and Hearn says that one is still, all these years after it was first spoken of, a stadium fight here in the UK – but it seems unlikely it will be that fight next. Next year perhaps.
Above all though, Khan says he wants to become a world champion again, and he says he is strong and ready to do it at 147. Looking at the current welterweight rulers, it will be a huge achievement if Khan can pull it off. Khan against Errol Spence, Keith Thurman or Jeff Horn (assuming Horn gets past Terence Crawford in that twice delayed fight now set for June 9) would be interesting fights, but it's likely Khan would enter either fight as an underdog.
But speed, the biggest weapon in boxing according to many experts and trainers, will always – always – give Khan a real shot at beating anyone. It's only when he gets tagged himself that the trouble starts for Khan, as his fans are painfully aware. However, if Khan strikes and makes contact with the chin or the midsection of his rival before they crack him with a hard shot, he can defeat anyone.
Last night, against Lo Greco, Khan scored his first stoppage win since way back in 2012 and he scored his first, first-round KO win since 2009. In doing so, Khan showed he is very much a threat, even to the likes of Spence, Thurman and Horn. Can Khan rule the world again, this time at 147 pounds? It promises to be interesting, and exciting, finding out.