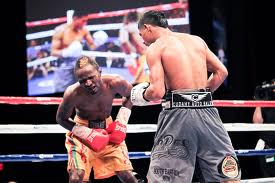 Former IBF Bantamweight titlist, Joseph King Kong Agbeko will be more than happy to shake hands and warmly embrace American referee, Russel Mora any day. Agbeko was at the suffering end of one of the most controversial boxing officiatings ever in his first fight against Mexican Abner Mares in August 2011 as referee Mora failed to punish Mares for several low blows much to the chagrin of Agbeko and the boxing world.
In the event, the Ghanaian lost the IBF belt which he then held and even though the IBF ordered an immediate rematch barely four months later, Agbeko was not in his groove and lost that one via a unanimous verdict.
Now nearly two years to the day, Russel Mora came out recently to offer apologies amid declaring the intention to meet and personally pacify Agbeko for the wrongs of the night of August 13, 2011.
"That was the worst thing that I've ever done. There is no reverse, and there's no instant replay, there's no taking it back. I do someday, want to see Joseph Agbeko because I would like to give him an embrace and let him know that it could have been different," Referee Mora said recently.
Agbeko who has fought only once since the second fight against Mares, Boxing In Ghana understands will wholeheartedly welcome the apology and request for pacification by Russell Mora.
"He (Agbeko) does not want to speak on this issue again but if Russel Mora wants to make up and wants an embrace, why not? It happened, he's moved on because that's in the past. Anytime Russell Mora comes forward, Joseph will gladly hug him," Ebenezer Noi, Agbeko's PRO told the Ghana based newspaper, Boxing In Ghana.
Mr. Noi added: "He bears Russell Mora no grudge. The public judged the whole situation on the night of the fight and the entire world acknowledged that the referee had erre