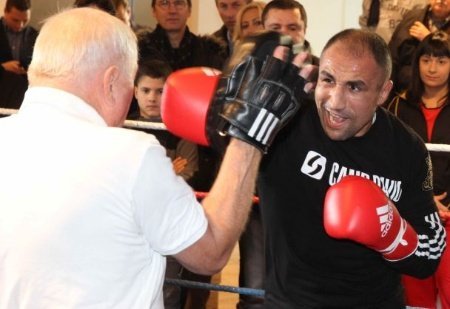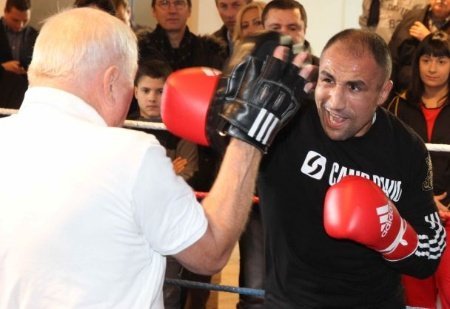 Photo: Udo Dreier — By Bill Phanco: WBO super middleweight champion Arthur Abraham (35-3, 27 KO's) isn't taking any chances that he might get beaten in his first title defense of his newly won World Boxing Organization 168 pound title, so he's dipped down low in the WBO rankings to find Frances' Mehdi Bouadla (26-4, 11 KO's) for a nice easy win this Saturday night at the Arena Nürnberger Versicherung, Nuremberg (Nürnberg), Bayern, Germany. Abraham considers a strong test, and it's hard to understand what he's talking about because Bouadla didn't look good in getting destroyed last year by Mikkel Kessler in a 6th round knockout defeat.
Abraham must have felt like he was in a meat grinder when he tested his skills against the very best in the super middleweight division in the Super Six tournament. Abraham was beaten left and right by almost every fighter he faced, and when the tournament was over Abraham left licking his wounds and was dismissed by a lot of boxing fans as a finished fighter. However, his promoters have rejuvenated him by matching him against a couple of fringe level contenders and then arguably the weakest of the champions Robert Stieglitz, and presto, Abraham's career has been turned around.
It's hard to see it that way, though. It just looks like one paper champion has been switched for another, although Abraham still has talent to give a lot of fighter problems on any given day. It's just that he doesn't have the size or the talent to beat the really good fighters at super middleweight.
Bouadla pretty much has zero chance of winning this fight. He's not a big puncher and he doesn't move very well, and his reach isn't long enough to keep Abraham on the outside. Bouadla needs to try and box Abraham if possible and stay out of the way of his big shots near the ends of each round.
Abraham mainly fights hard in the last 20 seconds of every round, which is a bad habit he's had since his days at the IBF middleweight champion. He gives away vast stretches of every round and then tries to steal the round by throwing a flurry of shots with most of them missing badly. The judges tend to still give Abraham rounds even when he's not working hard and just trying to steal them with flurries in the last seconds.