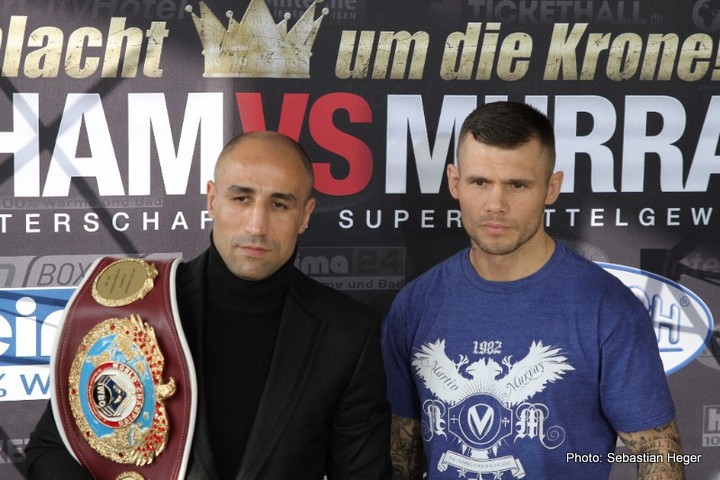 Making his fourth attempt at winning a world title, challenger Martin Murray (32-3-1, 15 KOs) came up a little short in losing a controversial 12 round split decision to WBO super middleweight champion Arthur Abraham (44-4, 29 KOs) at the TUI Arena in Hanover, Germany. The scores were 115-112, 116-111 for Abraham, and 115-112 for Murray.
The referee deducted a point from Murray in the 11th for holding. That was a really important round for Murray, because was clearly outworked in that round after the point deduction. Had Murray won the round and not lost the point, he would have had a good chance to win the fight. Many of the rounds could have gone Murray's way because he was the busier guy virtually every round of the fight.
A lot of his shots were blocked on the gloves of Abraham, but he was still able to land more than enough to deserve the majority of the rounds in the fight.
In the 8th round, Murray had Abraham hurt from a right hand. Abraham did a good job of weathering the storm and finishing the round strong.
Murray would have likely won more rounds if he had held less and thrown more punches. He kept holding Abraham when he was coming forward, and he really didn't need to.
For Murray, this has to be seen as a huge disappointment. It was his fourth world title shot in the last four years, and three of those fights were close enough for him to deserve a victory. Murray was arguably robbed in his fights against Felix Sturm and Sergio Martinez. His loss to Gennady Golovkin earlier this year was a clear defeat with him getting knocked out.
Next up for Abraham will be #1 WBO Gilberto Ramirez, who didn't look so great last night in defeating Gevorg Khatchikian last Friday night by a 10 round decision. If Ramirez fights like that against Abraham, then it'll be an easy win for Abraham.