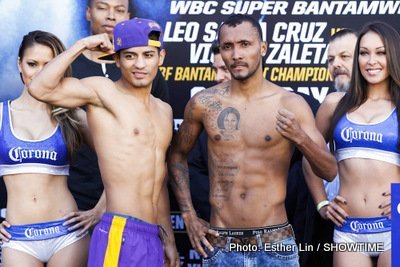 By Joseph Herron — Tonight at the Staples Center in Los Angeles, California, Abner Mares will defend his WBC Super Bantamweight title against slick southpaw Anselmo Moreno of Panama, in the main event of a Showtime Champion Boxing triple-header.
Although the 12 round championship bout won't begin until about 11:30PM EST, the actual three fight broadcast has a start time of 10PM EST, with Angulo/Casarez and Santa Cruz/Zaleta kicking off tonight's action.
While Gogue has been preparing his Junior Middleweight fighter, Raul "El Tigre" Casarez, for the always rugged Alfredo Angulo, the 29 year experienced trainer gave us his unique breakdown of the highly anticipated main event on this week's episode of "The Pugilist KOrner's: Weekend Wrap".
Even though the astute fight coach recognizes the talent and skill level of the incumbent WBC title holder, James Gogue believes that Anselmo Moreno will indeed be the toughest assignment for the 26 year old, two division champion thus far.
"Moreno is a tall order for anyone," insists the expert fight trainer. "Mares has fought southpaws before and has been successful against them. The 26 year old Champ is undefeated going into this bout, but he's never faced anyone quite like Moreno."
"He's really never faced anyone with the athletic gifts of Anselmo Moreno. The slippery Panamanian is a beautiful counter-puncher with excellent upper body movement and brilliant footwork. He's the consummate matador in the ring. He pivots around his opponents at angles and works in a way in which he doesn't leave many openings for his opposition."
"Moreno is a special fighter who is proficient at fusing his offense and defense together. He is one of the best fighters in boxing today. He's very intelligent. He knows when to put his foot on the pedal and take the lead effectively, but he also knows when to focus on his defensive skills and counterpunching ability. He has great instincts in the ring."
"Probably the most impressive trait of Anselmo Moreno is his reaction time. He has superb reflexes and can change fight tactics without choreographing his fight strategies. He's so crafty and technically brilliant. When he notices that he's frustrating his opponents with his upper body movement and footwork, he can instantly mount an offensive and crack his opponent with a shot they don't see coming."
"Although he's not the hardest puncher Mares has ever faced, he probably has the deepest arsenal of any fighter Abner has seen. Moreno is a very sneaky body puncher and mixes in hooks, uppercuts, and straight punches at various angles. It's almost impossible to plan for his attack. Abner Mares will have his hands full on Saturday night."
Despite the seemingly uphill battle that awaits the current WBC Super Bantamweight Champion, expert trainer James Gogue does identify a strategy that could be effective in handing Anselmo Moreno his first loss in over ten years.
"The first objective for Abner Mares is to cut off the ring and eliminate his movement. He obviously has to take away the southpaw advantage and anticipate his movement to his weak side. Abner has to make sure that he puts his lead leg on the outside of Moreno's front foot to set up the left hook, straight right hand to the body and chest of Moreno."
"One thing that Moreno does most proficiently is he hits his opponents while pivoting around them. He cracks his opponents and turns them, leaving them out of position for an effective counter. But if you consistently have your lead foot outside of his right leg, it will eliminate his pivot and keep him from moving to an orthodox fighter's weak side."
"Once Abner reduces Moreno's movement to his weak side and forces him in the opposite direction, he needs to focus on the body and chest when he finds his slippery opponent in range. He cannot try for the head to begin the fight because it will frustrate him early. Moreno has very slippery upper body movement and has an excellent "radar" or a sense of where his opponent's attack will come from at all times."
"Like most great defensive fighters, Moreno moves his upper body in unconventional angles to frustrate his opponents and make them miss. Abner must hit the chest and stomach once he's in range to attack. Moreno is not going to show him a perfect target to hit, so he should try to touch him anywhere that's available…anything to limit his movement and pay dividends in the mid to late rounds."
"After a healthy dose of shots to the body and chest, Moreno's upper body movement will slow down, ultimately leaving more openings to the head in the mid to late rounds. Also, when Mares is in range, he had better put four, five, six punches together in combination just like he did against Morel from mid to close range to slow him down."
"In addition, it's very important that Mares apply rapid pressure to Moreno. If he takes too long to shorten the distance between the two, he could find himself following around an accurate puncher instead of cutting off the ring effectively. If Mares can't cut off the ring effectively, Moreno's footwork will take over the fight. If Moreno is able to fight at a comfortable distance, he can keep his opponents at bay with his long, rangy jab and set up his combinations from mid to long range."
"It will be target practice for the Panamanian sharp-shooter. Moreno likes to get his opposition frustrated to point of lunging in and leaving themselves open for one of his deceptive uppercuts as they're trying to reach him. Moreno is a very crafty fighter who is proficient in creating traps for his more aggressive opponents. So Mares has to apply fast, intelligent pressure and close the distance in a very short amount of time. If Abner can't do that, then he will be in for a very long and frustrating evening."
While the brilliant fight strategist clearly sees a very challenging fight for both men, James Gogue feels that both fighters deserve a lot of credit for simply making this championship bout a reality regardless of the eventual outcome.
"This is one of the best fights that could have been made in a very crowded division. Both fighters deserve immense credit for even accepting this challenge. Both fighters are chameleons in the ring and are capable of beating anyone in the 122 pound weight division on any given day. Whoever loses this fight shouldn't hang their head down in shame, because there is never any disgrace in losing to the best fighters in boxing."
"This fight is exactly what boxing needs…two of the most proficient and confident fighters in the sport squaring off in a big event. Whoever loses this fight won't lose very much stature in the boxing community, but whoever wins on Saturday night should be considered in everyone's pound for pound list."
"This will be a great fight for everyone…the die-hard boxing fans and the casual fight fans. I hope we see more match-ups like this in 2013."