WBO super middleweight champion Billy Joe Saunders admits that he can't see any weaknesses whatsoever in the game of WBA/WBC champion Canelo Alvarez ahead of their main event fight on May 8th on DAZN from the AT&T Stadium in Arington, Texas.
Saunders (30-0, 14 KOs) and Canelo (55-1-2, 37 KOs) could be fighting in front of a crowd of 60,000 fans in two months from now. For the 31-year-old Billy Joe, this is the fight that he's been eager to get for the last decade.
He's finally getting it and wants to make the most of his opportunity. Saunders isn't saying what his game plan will be for the fight, but it's going to need to be the perfect one for him to get the 'W' on the night.
Saunders lacks punching power, so it's reasonable to assume that he's going to need to go the full 12.
That's not going to be easy for Saunders to go the distance with Alvarez, let alone beat him by a decision.
Saunders sees no weaknesses in Canelo
"No weaknesses at all, not one," said Billy Joe Saunders to DAZN when asked if he sees flaws in Canelo's game. "I'm probably one of his biggest fans.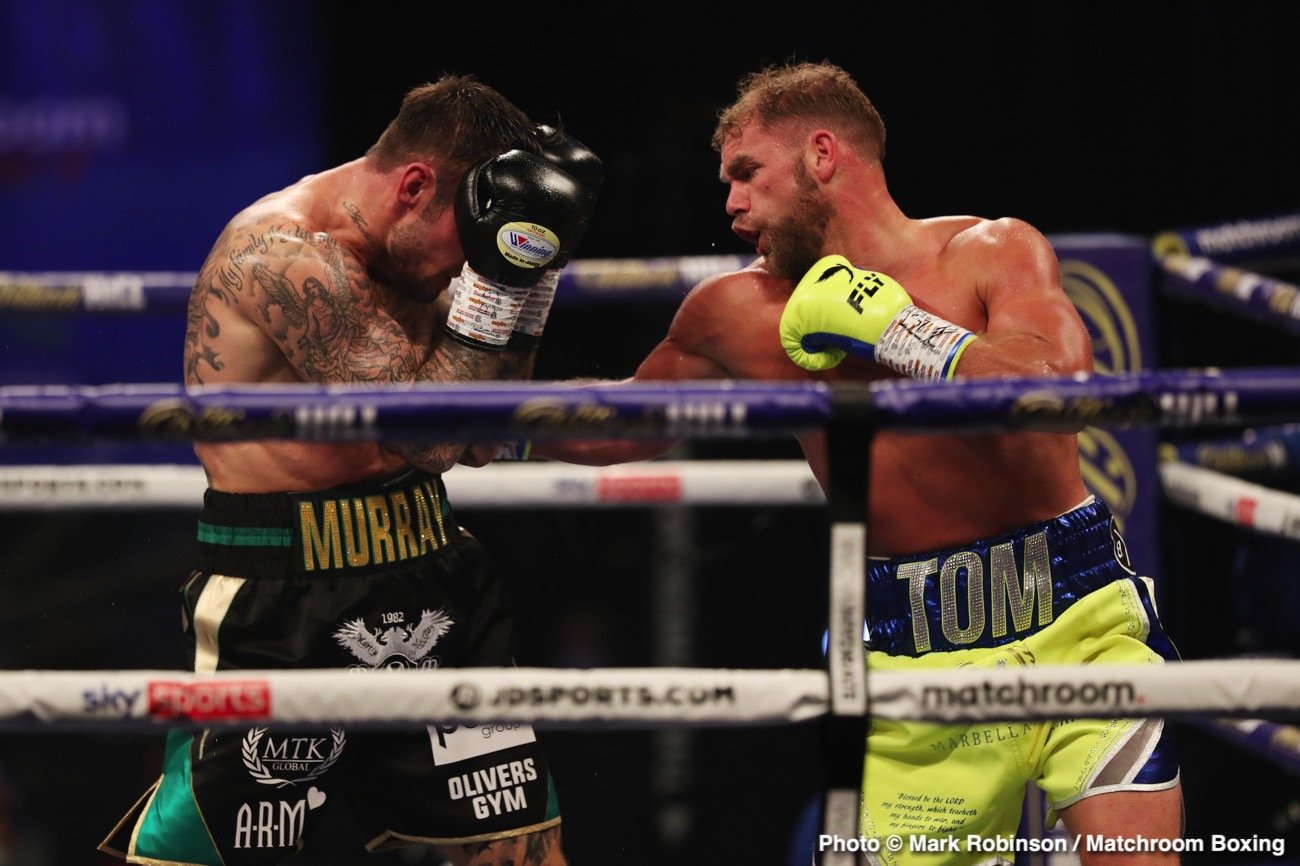 "I love watching him. I've got all his memorabilia. He's an icon figure," said a fawning Billy Joe.
It's not going to help Saunders by keeping his thoughts secret about the flaws that he sees in Canelo's game.
He's still going to be giving away speed, power, and defensive skills. On top of that, Canelo will have the AT&T crowd entirely on his side on May 8th, which means every punch he throws will be cheered loudly by his loyal boxing fans.
If there are any close rounds, you've got to assume the judges will give lean in the direction of Canelo.
Power doesn't help beat Canelo
Is that what you need, power?" asked Saunders when told that Callum Smith says he lacks the power to beat Canelo.
"He's got power; did it make any difference? Did Kovalev's power make any difference? Yeah, he was like a robot standing there," said Saunders when told that Gennady Golovkin couldn't beat Canelo despite having courage.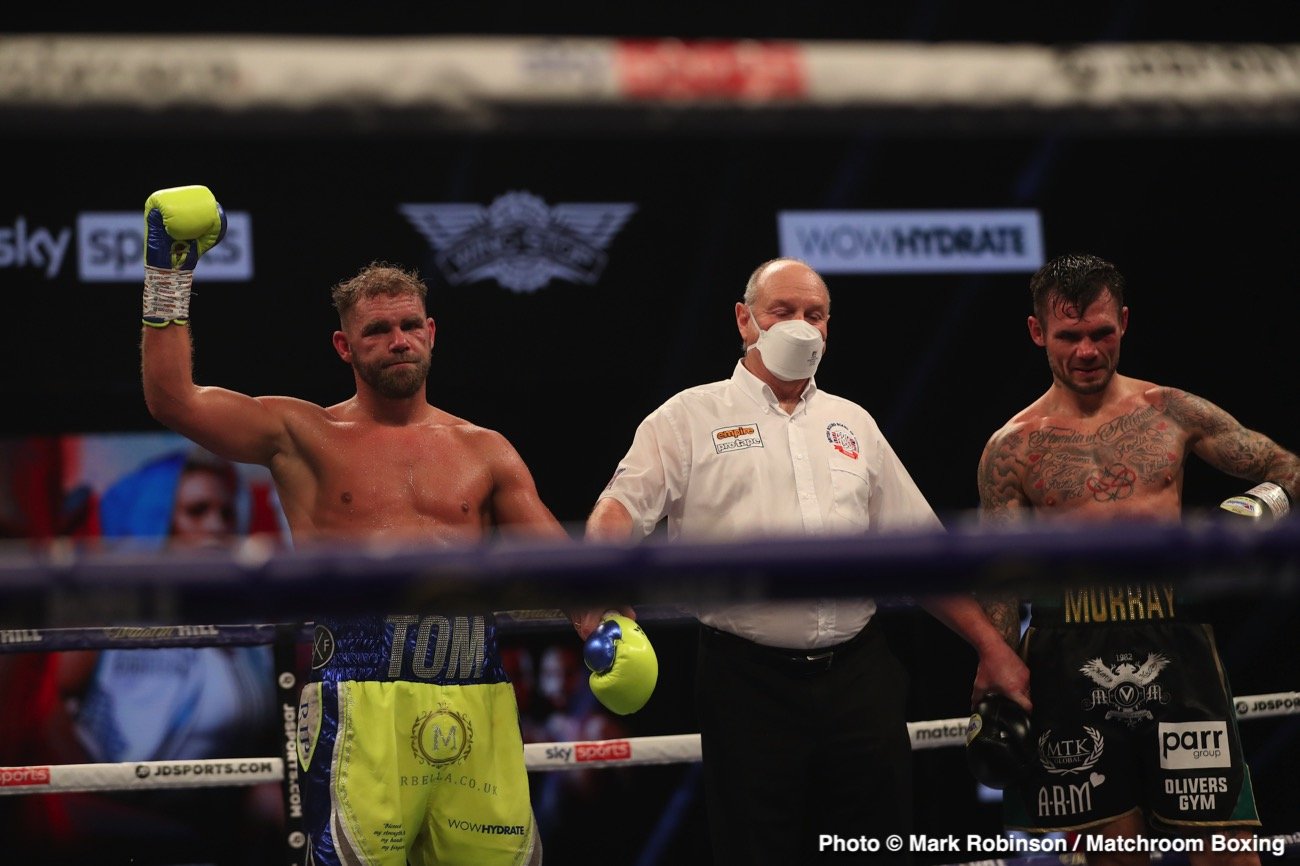 "I'll let you hit me, I'll hit you, and let's trade. Golovkin, I like him. He's a good man and good for the sport. But what was he when he boxed [Canelo], 35 or 36?" said Saunders.
Power does help against Canelo, but not if you're too afraid to use it. Canelo's last two opponents, Avni Yildirim and Callum Smith were both huge punchers, but they looked terrified to throw. The reason for that, they didn't want to get countered by him.
It was the same thing with Gennadiy Golovkin and Sergey Kovalev. They were afraid of being hit with Canelo's counters, so they were selective about throwing their punches.
Golovkin ended up taking a lot of the zip off his shots to improve his accuracy, which ultimately helped Canelo. Daniel Jacobs arguably had the most success against Canelo because he wasn't afraid to get countered, but he still lost because he wasn't busy enough in the first half of the fight.
Was Golovkin robbed against Canelo?
"There have been people previously robbed against Canelo, you're saying?" said Billy Joe.
"If they tried to rob Mayweather, so I've got to make sure they don't do it against me. Is that what you're saying?
"He [Canelo] hits very clean, very hard, very accurate, and very precise. He's got it all; I will give him his due," Saunders said.
It's pretty obvious that Golovkin did get a raw deal in the first fight, but he deserved the loss in the rematch. The reason the judges scored the first Canelo-Golovkin fight a draw is that Canelo landed the harder shots, which evened things out with the more numerous punches that Golovkin was landing.
Most of Golovkin's punches were jabs, and they didn't land cleanly the way Canelo's shots were.
Billy Joe grateful for the opportunity
"I just want to thank his team for this opportunity because I'm amazed by this opportunity," said Saunders about his happiness in having been picked by Alvarez.
"I'm overwhelmed. I'm going to be star-struck when I see him because you can freeze. It all depends," said Billy Joe when asked if he'll freeze against Canelo on May 8th.
"When you look at someone like an idol, and you see them face-to-face, it's a different story. Look at the man, look at the sort of machine he is.
"Look at the physique of him. No, I'm just talking the truth. There will be a lot of Gypsy's as well," said Saunders about his fans making the trek to watch him fight Canelo live at the A&T Stadium in Arlington, Texas, on May 8th.
"English, Irish, Scotch, Welsh, American, every nationality you can think of will be there. I think Canelo is one of the greats, isn't he?
"He's been in with everybody, and he's heard it all before. So I can only talk the truth about him. He's a good fighter, he's a brilliant fighter.
"Obviously, at the minute, he's the face of boxing. Positive drug test? He did have a positive drug test, didn't he? What we he taking for the drug test?" said Saunders about Alvarez.
Saunders is getting the fight only becaue Canelo wants to unify the super middleweight division, not because he bringing anything to the table in terms of popularity. This fight actually hurts Canelo because it won't interest American boxing fans as much as it would if the Mexican star were facing fighters they would prefer.
You can argue there are at seven or eight fighters that American fans would prefer Canelo to fight than seeing him face Saunders. This is a fight that Canelo wants because of Saunders' WBO belt.
If not for that, he probably wouldn't be getting the fight. It will help Canelo win more UK fans by fighting Saunders, but it'll come at the expense of fewer Americans being interested in the fight.
It's kind of a tradeoff. If Canelo wanted to get a lot of American fans interested, he'd fight one of these guys:
Gennady Golovkin
Jermall Charlo
David Benavidez
Edgar Berlanga
Demetrius Andrade
Jermell Charlo
Artur Beterbiev
Dimitry Bivol
Joe Smith Jr