Eddie Hearn was in the damage control mode last Saturday night after Josh Warrington was blown out in nine rounds by his tune-up opponent Mauricio Lara at the Wembley Arena in London, England.
Hearn blamed the brutal knockout loss that the 30-year-old former IBF featherweight champion Warrington (30-1, 7 KOs) suffered on him having "ring rust" from 16 months of inactivity before tonight.
On social media, many boxing fans were sticking the blame on Hearn's shoulders for Warrington vacating his IBF 126-lb title, and taking on a dangerous puncher like 22-year-old Lara (22-2, 15 KOs) after a year and a half layoff.
Hearn should have known that Warrington didn't have the right ingredients to take on a knockout artist like Lara.
You can easily question whether it was a wise move for Warrington to vacate his IBF title rather than face Kid Galahad in a rematch.
Hearn arguably compounded Warrington's problems by sticking him in with the unknown Mexican kid Lara, who could punch like a mule kicks.
Knowing Warrington's fighting style, which is standing in front of his opponents and trade, it was a foolish thing to match him against Lara.
Despite having been a professional for 12 years, Warrington had never fought a huge puncher like Lara before.
We always suspected this would happen to Warrington sooner or later once his promoters matched him against a slugger, but we didn't think it would happen against a fighter like Lara, who was a fringe contender.
Warrington could have won if…
"It just shows you how the sport can spin on its head," Hearn said to Boxing Social in discussing what happened to Warrington.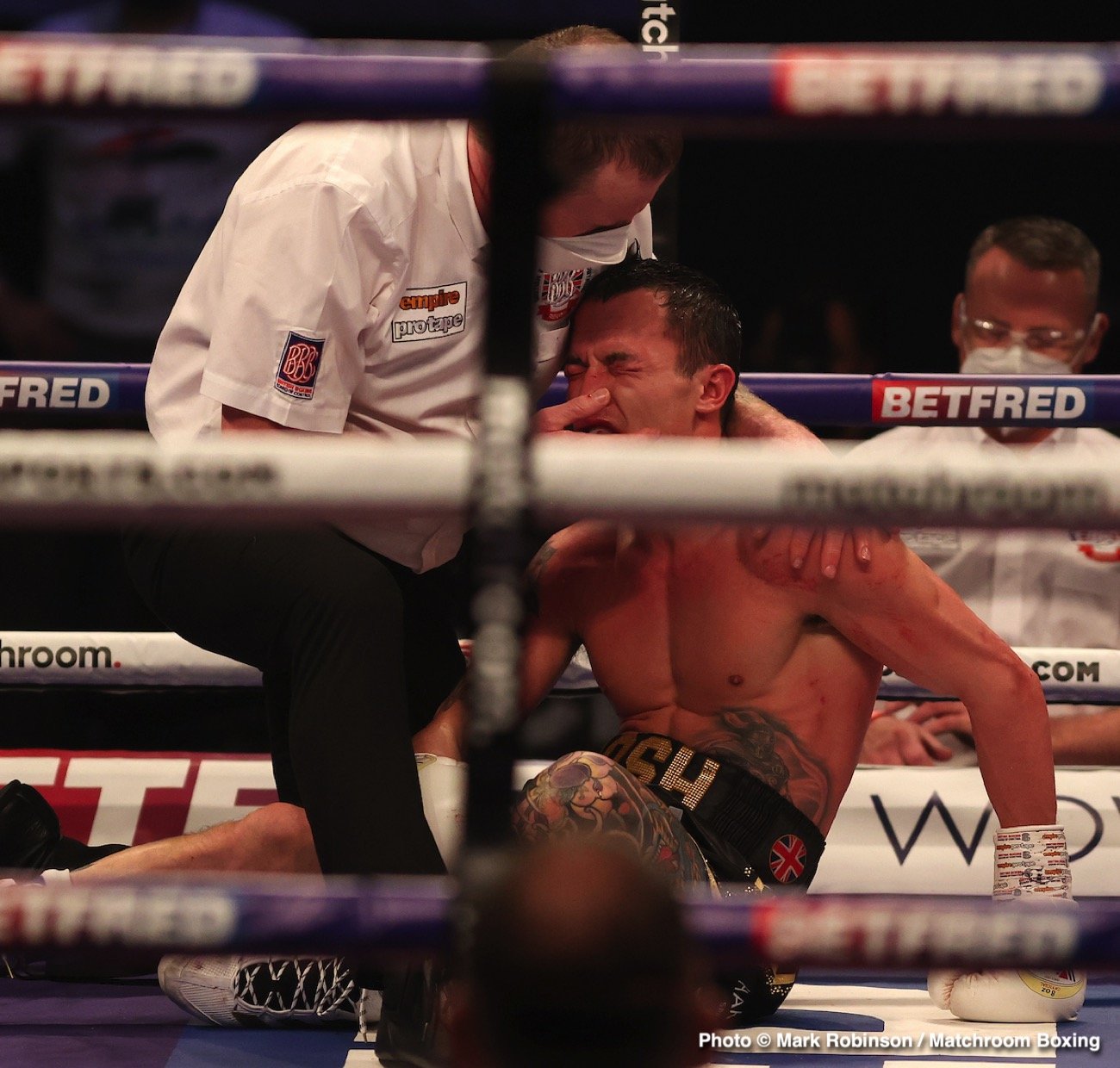 "Lara was always going to be dangerous because we knew he could punch. You talk about a young man [Mauricio Lara], a decent featherweight, who can punch, against the #1 Ring Magazine champion #1 fighter [Warrington].
"So you should be able to overcome that. It was just the way he started, the reckless nature of the performance.
"It was like, 'I'm going to blame this guy away in two or three rounds. If he'd had taken his time and boxed him, I believe he would have broken him down and probably boxed his earholes off.
"But he got hurt in the fight, he got concussed and he never recovered. I guess he did recover in the fifth round, but he never fully recovered," said Hearn.
You got to love Hearn's attempts to blame Warrington's loss on mere ring rust. If only that were true. The fact is, Warrington was an accident waiting to happen with his fighting style.
Warrington a high-volume puncher with moderate punching power, and that type of fighter is made to order for any type of slugger.
You can argue the only reason Warrington had gone this far without being exposed is because of the careful match-making that had been done on his behalf.
If they'd thrown Warrington in with Emanuel Navarrete, Gary Russell Jr, Vasily Lomachenko, or Leo Santa Cruz, he likely would have lost ages ago.
That's just a small list of guys that would have dealt Warrington his first defeat. You can pick out perhaps a dozen different fighters that would have done the same thing to Warrington that Lara did if they were ever given a chance.
Should the referee have stopped it?
"I thought his bravery was unbelievable," Hearn said about Warrington getting up and fighting hard after being dropped in round four.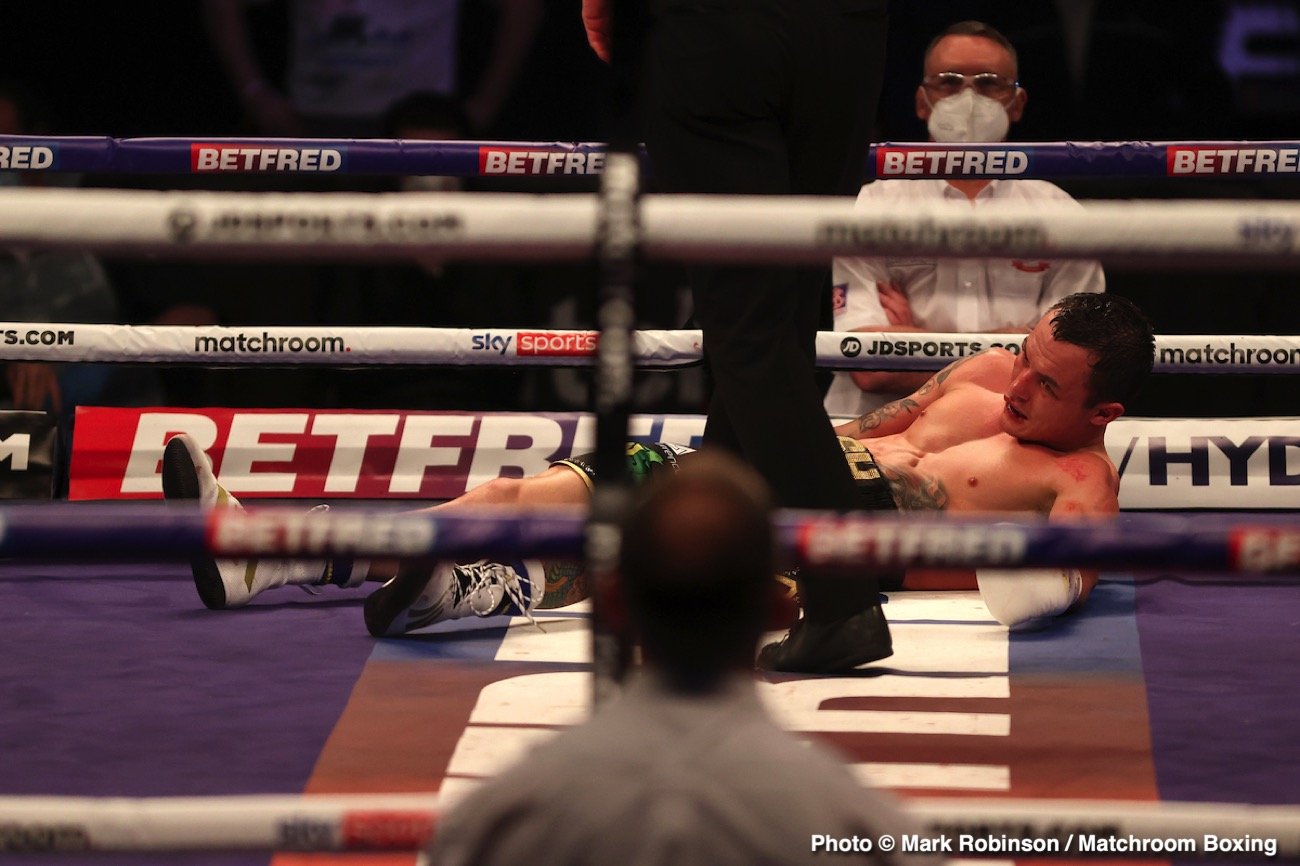 "It was a very difficult call for Howard Foster when he got up because you could see that part of Howard thought he shouldn't have gone on and part of him felt that 'I should give him the benefit of the down.'
"As I've said before when you're concussed, you can't recover. No matter what you do, people are saying, 'Move, hold, box,' but you can't do it. Imagine if he'd have turned it around.
"I thought at stages that he was going to, but Lara was too fit, too strong, too hungry and he punched too hard.
"It was a devastating finish. Possibly," Hearn said when asked if he thought that the referee would have stopped the contest if it were Lara down in the fourth round instead of Warrington.
"You shouldn't distinguish between one and another, but you've got a guy that is #1 in the world [Warrington]. 'I have to give him the opportunity to carry on.'
"When it's a guy that is expected to lose, I think even self-consciously, it's a different kind of decision.
"He [Warrington] had his dad in his corner, and they felt he could recover. He ultimately almost did, but as the rounds went on, the wear and tear were too much," Hearn added.
Many boxing fans talked afterward that they thought referee Howard Foster would have stopped the content if Lara had been the one that was dropped in the fourth.
Foster obviously should have stopped the fight in that round after the way that Warrington was knocked down. It wasn't just the knockdown, though.
It was the way that Warrington looked before and after being dropped. He was staggering all over the place and in terrible shape. Foster arguably dropped the ball by not stopping the fight in the fourth.
If he had done that, he would have saved Warrington from taking a lot of unnecessary punishment, which won't do him any good in moving forward.
Hearn not sure about Warrington – Lara rematch
"I know what Josh Warrington will be thinking even now because he's a fighter, but the people around him, and I put myself in that team, have a responsibility to make sure he's safe and well and that's the first priority," said Hearn when asked if there will be a rematch.
"He's gone to the hospital on his feet. When he wakes up in the morning, he's going to kick himself, he's going to be gutted, and he's going to want to fight Mauricio Lara again.
"It was one of the best fights I've seen up close, and one of the most thrilling fights.
"The promoter in me says 'the rematch is massive,' but the pal in me says 'just make sure he's alright.
"The rematch is a long way away,' but we'll see what happens. We made the same mistake a million times before, most famously at Madison Square Garden [for Anthony Joshua's first fight against Andy Ruiz Jr in 2019]," said Hearn when asked if Warrington was looking past Lara towards bigger fights.
"Although we didn't win, what that gave us tonight in entertainment is something we'll never forget," said Hearn.
Ideally, Hearn should be assertive and take an active role in ruling out Warrington and Lara's rematch. What Warrington's team needs to do is resume the type of match-making they were doing on his behalf before his fight with Lara.
That means, keep Warrington far away from any fighters that can punch because he lacks the right style to fight those types of guys.
In other words, Warrington has a nasty habit of standing and trading with his opposition, and that's something that won't go away anytime soon, if ever.
I'm going to predict it right now. If Warrington faces Lara again, he's going to get knocked out a second time, and his career will be on skidrow from that point moving forward.