Teofimo Lopez Sr says he expects Vasily 'Hi-Tech' Lomachenko to bounce back from his loss to his son and come back with a vengeance when he returns to the ring soon.
Lopez Jr doesn't understand why Lomachenko (14-2, 10 KOs) isn't mentioned by any other top lightweights in Ryan Garcia, Gervonta 'Tank' Davis, and Devin Haney.
There's a simple explanation as to why Lomachenko isn't being talked about by these guys is based on business.
It's not just those lightweights that want no part of a fight with Lomachenko; it's also IBF/WBA/WBC/WBO lightweight champion Teofimo, who isn't interested in fighting him again.
In watching their fight last October, one can see that Lomachenko would likely beat Teofimo if they fought a second time.
Hence, Teofimo continually says, "What for?" when asked why he doesn't give Lomachenko a rematch. It's a fight that would make Teofimo a lot of money, but he still doesn't want to face Loma again.
When a fighter like Teofimo walks away from millions, it can tell you one thing. Teo doesn't have the self-confidence to fight Lomachenko again, and he doesn't believe he can win.
They can make good money fighting each other, and they have good-sized fan bases. Lomachenko can spoil things for them, and he's arguably not as popular as those fighters in terms of his U.S appeal.
He feels that Lomachenko beats all three of those guys, and he'd like to see them face him to prove themselves.
WBC lightweight champion Haney (25-0, 15 KOs) has already said that Lomachenko no longer rates to be mentioned with the top guys due to his loss to Teofimo, and he's not interested in fighting him.
Tank and Ryan Garcia mention Lomachenko at all, period, which suggests that he'll never get a chance to fight them.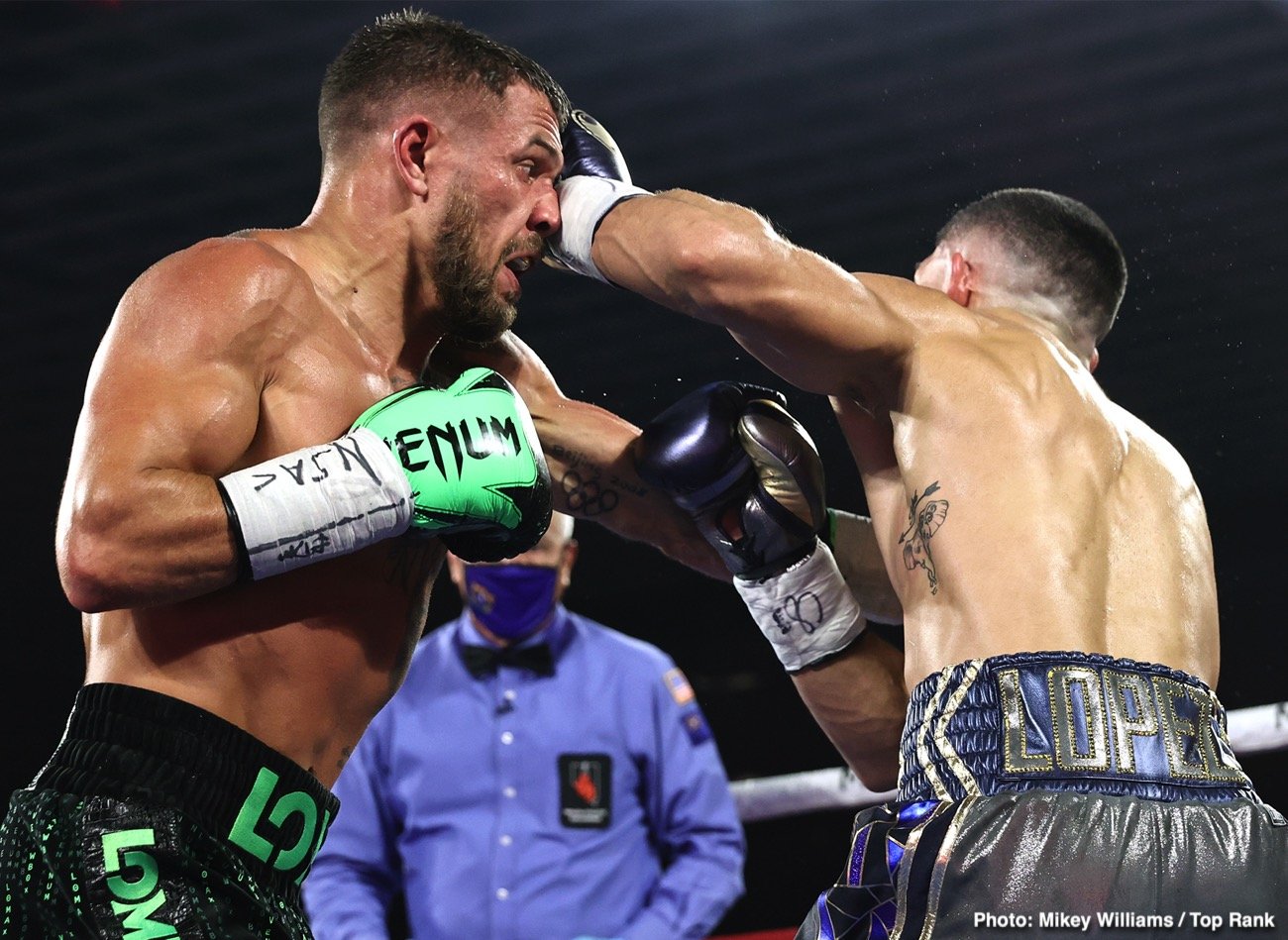 We're still waiting on Top Rank to announce the former three-division world champion Lomachenko's next fight, but you can expect him to be 100% healthy when he does return.
A shoulder injury limited the two-time Olympic gold medalist Lomachenko's success in his fight against bigger, younger and stronger Teofimo (16-0, 12 KOs) in their fight on October 17th.
Lomachenko gave away the important early rounds of the fight, and he was too far behind on the scorecards to pull out a decision. Teofimo won by the scores 116-112, 119-109, and 117-111.
Nobody beats Lomachenko at 135, says Teofimo Sr.
"I don't think anybody in the 135-pound weight division can beat Lomachenko fight now. I don't think so," said Teofimo Sr to ESNEWS. "I think Lomachenko is going to come back with a vengeance and be really focused on his next fight.
It's a fair statement from Teofimo Sr that no one can beat Lomachenko at 135, but they've found another way of beating him by shunning him.
Avoiding Lomachenko isn't as good as beating him, but it's the next best thing you can do if you lack the confidence and the talent to defeat him.
If you can't beat Loma, you avoid him, and that's clearly what Haney, Tank, and Ryan are doing.
If Lomachenko's surgically repaired right shoulder is at full strength, he'll be hard to beat against anyone at 130 or 135.
But Lomachenko needs to see the writing on the wall and realize that he will have to move back down to 130 if he wants to take on the best guys.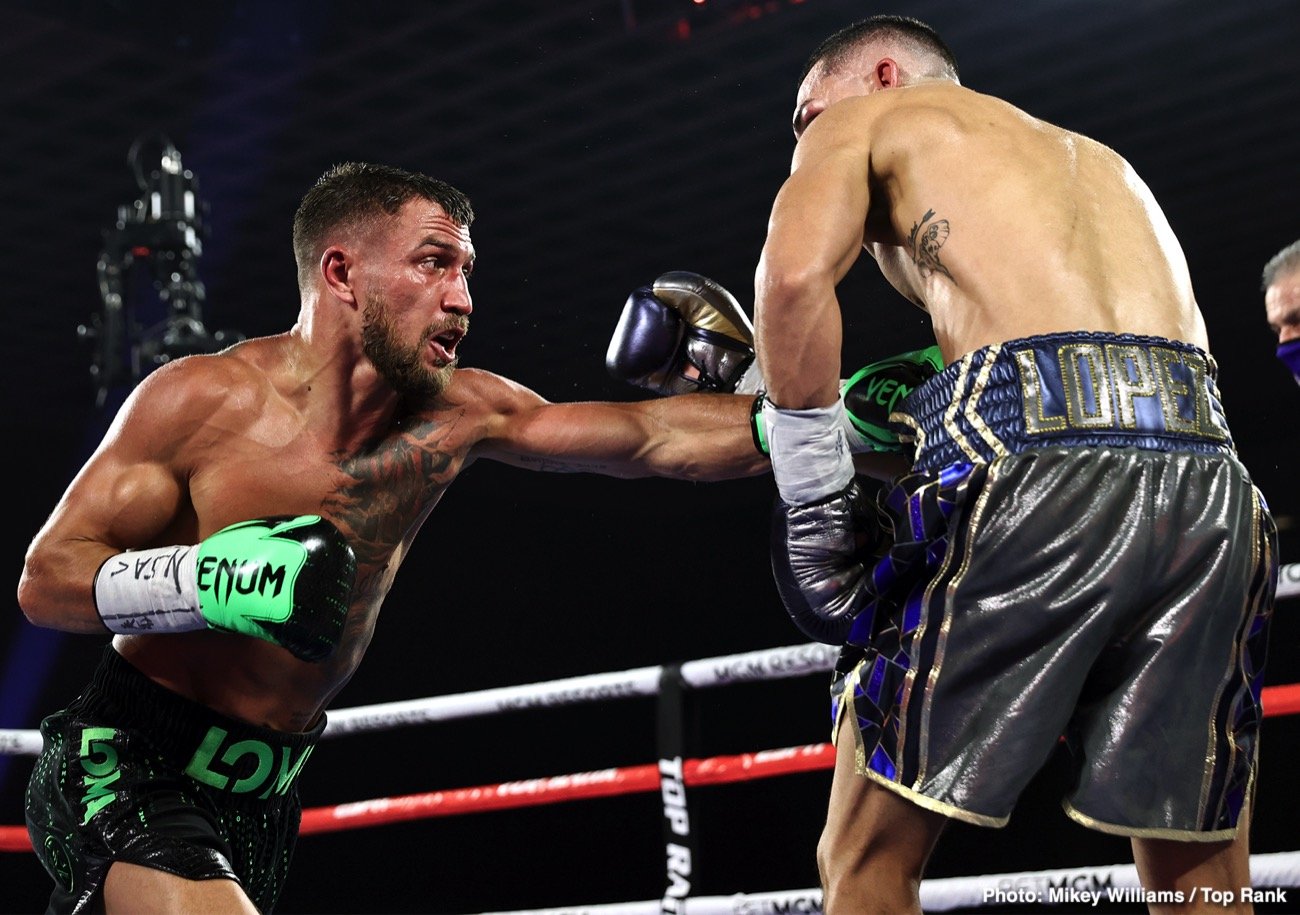 If Lomachenko moves down to 130, he'll be able to fight these guys almost immediately:
Shakur Stevenson
Oscar Valdez
Jamel Herring
Carl Frampton
Miguel Berchelt
As long as Lomachenko's promoter Bob Arum is on the same page as him in letting him fight those guys, we could see some fights in 2021 and 2022.
Staying at 135 will mean a lot of waiting around for the 32-year-old Lomachenko, and he doesn't have time to do that.
The only way that Lomachenko gets a fight against Tank, Ryan Garcia, and Haney is if the fight is ordered. Ryan isn't a world champion, so there's no way of forcing a fight between him and Lomachenko.
Why isn't Lomachenko being mentioned?
"How come they don't mention him? Teofimo Sr said about Lomachenko being ignored by boxing fans and the 'Four Kings' in the lightweight division.
"Nobody is mentioning Lomachenko, you know? We took a risk, a big risk in fighting Loma. Somebody that nobody wanted to fight.
As I stated, Lomachenko isn't being mentioned by the three aforementioned lightweights because he can get in the way of business for them.
Even Teofimo Lopez is among the group that is avoiding Lomachenko. Lomachenko has become 'invisible' to the top lightweights, and he will likely stay that way until he's past his prime and beatable.
At that point, the top lightweights will use Lomachenko to impress the casual boxing fans by beating him and making a big deal out of it.
We just saw that with Devin Haney facing 38-year-old Yuriorkis Gamboa and beating him by a wide 12 round decision. Gamboa is a fighter that likely would destroy Haney if he were still in his prime.
Additionally, if Gamboa were still in the zenith of his career, Haney would be treating him the same way he is Lomachenko by making excuses for why he doesn't have to face him.
Mayweather felt Tank wasn't ready for Lomachenko
Loma was chasing Tank. What happened? Floyd [Mayweather] thought he [Gervonta] wasn't ready, and that fight never happened. What I'm saying is, we took that risk," said Teofimo Sr.
It was an open secret that Mayweather Promotions didn't want to let Tank Davis fight Lomachenko for the last three years because they felt he wasn't ready. Now that Lomachenko has been beaten, Mayweather Promotions shows no interest in matching Gervonta against him.
It's easy to see why. Lomachenko is still more than good enough to cause Tank a lot of problems with his boxing skills, and he could outbox him and ruin his ability to fight on pay-per-view in the future.
Tank would be in a situation fighting Lomachenko where he would need not only to beat him but would also need to do a better job than Teofimo did.
As a result, it's a lose-lose situation for Tank if he takes the fight. If he beats Loma, he won't receive credit no matter what he does.
While we await @VasylLomachenko's return, here's a reminder of what he's done to opponents 😲 @trboxing pic.twitter.com/BFHrnl5yxU

— ESPN Ringside (@ESPNRingside) February 1, 2021