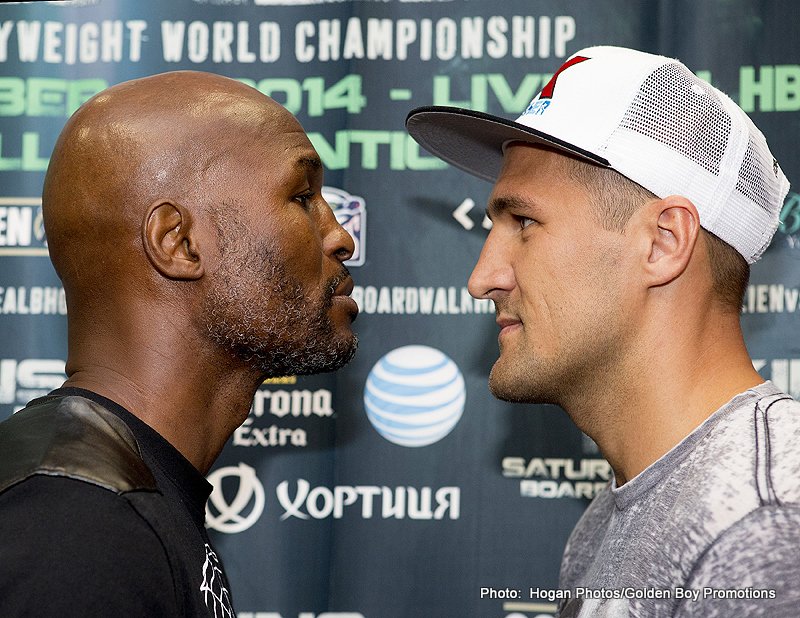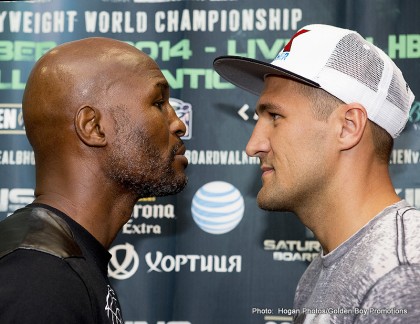 Oscar De La Hoya – We are getting close to what is probably the most anticipated event of this year, the main event, "Bernard Hopkins vs. Sergey Kovalev," which will be a 12-round light heavyweight unification bout. The co-feature, we're excited to announce is Sadam Ali vs. Luis Carlos Abregu, which will be a 10-round welterweight bout, and that event is being promoted by Golden Boy Promotions and Top Rank taking place at Caesars Atlantic City. We are excited to be also once again working with Corona Extra, AT&T, Hortitsia Vodka and Mexico – Live it To Believe It.
Tickets are still available but they are, as a lot of people here on this call can attest to it, going extremely, extremely well. Obviously, it's a testament to the great card that we have put together. Now let me, without any further ado, introduce to you a co-promoter of this magnificent event to introduce to you Kovalev, is the CEO of Main Events, Kathy Duva.
Kathy Duva
I'm just so pleased to be involved in such an exciting fight. I don't think I need to say anything to sell it, because it sells itself. It is the kind of fight that, sadly, doesn't happen often enough, and we're really pleased to be working with Oscar and Golden Boy and HBO and all the great sponsors involved in this fight, including our Russian sponsor, Hortitsia, to bring you such a fabulous fight.
I'm doubly proud to be able to bring it to you in my home state of New Jersey. The people at Boardwalk Hall and the people from Atlantic City, the CRDA, and the Atlantic City Alliance, and most especially, save the best for last, Caesars Atlantic City and Ken Condon, who really should be the patron saint of boxing in New Jersey, particularly Atlantic City, where he has made it his mission to keep our sport alive there. Everything came together just the way you'd want it to be, and it's almost to the point where you think it's meant to be. As Oscar said, we keep an eye on that box office every day, it is moving steadily and it is picking up steam every single day, we are headed to a packed house full of people who are going to be going crazy. So, it's the kind of thing that if you can be there you're going to want to tell your grandkids about it, so show up.
Having said that, I want to introduce to you the gentleman who I think should be the Manager of the Year in 2014 and '15 and probably '16. He has done an amazing job, kind of new to the boxing scene, but he has got so many terrific fighters, like Lomachenko, Gradovich and Sullivan Barrera who is also with Main Events, a few others, Lepikhin, Mikhaylenko, it is such a pleasure to work with him and the top fighter of his stable, as far as I'm concerned, someone who I think is going to lead Egis and Main Events to a whole new level in the sport. So I want to thank him for, as I do every day, for bringing Sergey Kovalev to my door, and I want to introduce Egis Klimas.
Egis Klimas
Thank you, Kathy. Hello to everybody. It is a great pleasure to participate in this conference call. I know this is going around the world. I just wanted to mention a couple things regarding how hard Sergey was working to get to this level, how hard he is still training, and how he is still dreaming about unifying the title. Of course it's a very, very tough fight, it's the toughest fight in his career and we all as a team are looking forward to it as well.
I wanted to thank everybody else, I wanted to thank our promoter, Kathy Duva, she does a very, very good job for Sergey Kovalev. I wanted to thank Golden Boy for putting this together. I want to thank legendary fighter Bernard Hopkins for taking this fight, because he could fight so many easy guys but he chose the most dangerous guy in the division, and I give him a lot of respect for that. I want to thank HBO. I wanted to thank all the sponsors. I wanted to thank everybody who's participating in this bout on November 8th. It will be very, very interesting, looking forward to meet you all in Atlantic City on November 8th. Thank you.
K. Duva
Thank you, Egis. Now it is my extreme pleasure to introduce to you the WBO Light Heavyweight Champion of the World, and today much more important than that a brand new father, the father of Aleksandr Kovalev, the Light Heavyweight Champion of the World and just a spectacular athlete who keeps asking for the toughest fight; don't give me easy ones, put me in big ones, it is such a pleasure to work with a guy like this, but again I want to publicly congratulate him now and let everybody know that Aleksandr Kovalev's father is on the phone, Sergey Kovalev.
Sergey Kovalev
Hello, everybody. Thank you so much, Kathy, for the congratulations. I'm very happy and very excited that I got my new name, "Daddy." It was for me the greatest day in my life. I cried a little bit out of happiness, because it was yesterday, when I saw on Skype that the baby was born, maybe two minutes after it happened. Natalia had to do this by herself, so most of the adoration goes to her, and she is still healthy, the baby is still healthy, and I am very happy.
This means for me everything right now, it is the most important thing in my life now and I felt it before in my head and also in my heart. And now I embrace this next big fight which I'm going to win and give this victory to my son, Aleksandr.
Q
If you go back in the earlier part of your career when you were fighting on untelevised shows and Egis and you were traveling around and trying to make something of your career, is this where you figured you would be, or, did you have no concept that this is where you would wind up, as one of the most significant fighters in the sport, fighting in a big fight like this and making a lot of money?
S. Kovalev
You never know what will be tomorrow, but if you believe in it, it can happen, if I trust and believe myself and you have a goal and you're working to this goal, then yes, this can happen. It can happen and then you push more, then you do more, and it's your dream to be getting close to you, closer and closer to you when you work as hard and push yourself.
When we fought three, four years ago with Egis, and we were traveling all over the country in America and fighting anyone who was ready, I didn't think that this fight would be possible. But I believed that I can to do it, and I tried to do it, and some very big thanks to my promoter, Kathy Duva and to Egis that they, from their conversations led me to sign a contract with the promoter,
That is when my fight began. I'll tell you why. I waited a long time at this level and waited for this fight, a huge fight. When I was a child I had a dream, when I watched TV, I watched it and I had a dream. I wanted to be there. I wanted to be there, and I will try to be there, and I'm here. Everything from your head and everything from your heart, if you want it, you can do it.
Q
Sergey, was there ever a time during that period where you doubted it, that it would happen, or there was never a moment where you thought, oh boy, this is not going to work out?
S. Kovalev
No, even right now I don't think about that. It's just the next step of my career. It's not the finish of my career. It's just the next step in my career. I'm not going to stop after this fight no matter the result, win or loss, it's boxing and this is a sport, and if I win I will grow more experienced and if I lose I will get more experience. I will get to do more fights and interesting fights, but the next fight will be much more interesting because I will get more experience from my next huge fight.
This is for me a huge fight and this is the fight of my life. It's a very important fight. I'm focused on this. Yes, my baby was born yesterday and I remember this, and my son pushed me more and is a big motivation for me, you know it. Now I understand who I'm doing everything in my career for. I'm doing it now not for me. I'm doing this for my family.
Q
Egis can you talk about the difficulties of Kovalev's early career and what you saw in him that made you continue to do it year after year until you got to the point where Kathy signed him and you were getting bigger fights and bigger purses?
E. Klimas
First of all, I saw in him as a good human being, a good person. We were in very hard times, we were in hard times with him during his career where I had doubts, should we go further or should we drop it? Do we belong here in this world? Do we belong here in boxing, or not? We were outsiders, like many others, like people coming from Mexico and people coming from Latin America here, and it's hard to find. But one time Sergey said, "America's a country where your dreams come true."
So, it was a hard time, but just because he is how he is, a human being and I have some other businesses, I have some other income in this world, so I was thinking about what he's going to do, where he's going to go if I'm going to say, okay, that's it, we're quitting. We're both not quitters, we both win, through the long career we still have the best relationship and because of our relationship and our nature we're still going.
The funniest thing was, I met Sergey in New York City, I met him in Russia before that, but when I met him in New York City and we already were going to North Carolina, Don Turner's boxing camp, his question was, "Egis," he says, "I don't have power. Can you ask the trainer to work on my punches?" And I was like, "Okay, I will." And I asked Don Turner, I said, "Don, can you work with him so that he can hit harder and be stronger?" And then we came in the first sparring he did in North Carolina Don Turner turned to me and he says, "Where the hell did you find this guy? This is bullshit. He doesn't need to know how to throw punches. He has everything he needs." That was a story I will remember probably through the rest of my life.
Q
Sergey, how much of an advantage is it to have John David Jackson in camp, given that he fought Bernard Hopkins and that he was with him for four years as an assistant to Naazim Richardson? What can he teach you about Bernard Hopkins and his abilities in the ring?
S. Kovalev
The most important for the team and for me is just to keep going systematically, and keep disciplined, and keep working, just as Egis said. I don't know what is the answer, just to keep going, keep working, and doing the same thing, the same that we did every day for any fight. What John David Jackson said is that it's a secret between me and him, he has the keys to my victory. I understand that everybody wants to hear what happened in my training camp with John David Jackson, but everything you will see in November 8th on HBO in Atlantic City.
Q
How do you mentally combat the fact that there's so much pressure? If you beat Hopkins they say you were supposed to beat him because he's 50 years old. If you lose to him it's even worse because he's 50 years old.
S. Kovalev
I don't worry about who's saying these things. I am just doing my job and doing the job for me, myself, not for them. This is my career. This is not other people's career.
K. Duva
I'd like to make a comment on that, if I may. I saw a poll, as I'm told about polls that are being done, and basically the press is about 50-50 on this fight, so when this is over I don't want to hear about how old Bernard Hopkins is, no matter what the outcome. This is a great fight between two fighters, it is competitive, it's exciting. Bernard's never been stopped. Sergey has knocked out just about everyone he's fought. It is a tremendous, compelling fight and I'm going to be very unhappy if the press decides that when it's over they're going to start raising the fact that Bernard is 50 years old, because they're not raising it now.
Q
Is that something that you have on your mind, that you can be able to be the first person to knock out Bernard Hopkins being as though that you come with so much power and force?
S. Kovalev
I don't know what I'm going to do. I go into the ring and I get my victory at any cost. If I need to fight, I will fight. If I need to box, I'm going to box. This is a fight. You can keep in your mind one strategy but these fighters can change. I don't have any strategy for the fight, just to go into the ring and fight like a street fight. I'm going to kick his ass because he's my opponent. Any of my opponents want to beat me. If I'm not going to beat him he will beat me.
Q
And, Sergey, now that you've been training with John David Jackson throughout this time, and he has a close relationship with Bernard Hopkins, have you guys taken the time to train on defensively combating his excessive holding?
E. Klimas
Thanks for giving us the tips.
S. Kovalev
I don't know what will be happening in the ring. I understand that there will be three judges ringside and one referee inside the ring. Any way I need to get a victory, dirty fight or clean fight, for me it doesn't matter. I will fight dirty, if Hopkins will fight dirty. I'm going to fight a clean fight, but who knows what will happen November 8th. It will be interesting, very interesting. I can't imagine what will happen. I don't know who the referee is or who the judges are – American or international. If I win, I will get the referee to hold up my hands. If I lose I lose. But I'm not going to lose.
E. Klimas
I believe we have set up that new rule that was passed for the video replay, is that correct, Kathy?
K. Duva
Yes. New Jersey has informed us that they're going to use instant replay, and HBO's working with them to mechanically implement that. So, there will be stories about it coming out, I guess, as we get closer to the fight. It's up to the New Jersey Commission to make those, with its new Chairman, Larry Hazzard, to make those pronouncements, but we've been told this is going to happen, so we're all very happy about that.
Q
Sergey, you talked about how you would like to make this a street fight. Could you tell us why specifically you would like that, given the Hopkins style of not throwing a lot of punches and evading punches in the fight, why particularly a street fight?
S. Kovalev
This is my style. I can fight just like that. Why do I need to throw more punches if this is my style, what I use right now gives me success.
E. Klimas
Exactly what he is trying to say is he's not saying the fight is going to be just like a street fight, that they're going to use knees and elbows and all of that. He's just saying when you're on the street and you run into the fighter, you don't have a strategy for it. You can't say, oh, hold on a second, let me think about it, what strategy am I going to use against you. That's what he's comparing it to. He's not comparing like we're going to go in the ring and we're going to fight like on the street. We're going to use elbows, knees, the dirty punches, hit below the belt. No, he's just saying I don't have a plan. Just like walking on the street and the fight comes in. That's what he meant.
Q
Okay. And what do you see as the weaknesses of Bernard Hopkins and where you would have advantages over him?
S. Kovalev
I think this question is very funny. I really like it. Maybe I will say to you and everybody about what you're asking about but it is my secret for the fight.
Q
Sergey, did I hear you correctly when you said that, "I'm not going to lose, but if I lose this fight?" Are you not 100% certain that you're going to beat Hopkins?
S. Kovalev
This is boxing. I can repeat for you, special for you, that this is boxing and everything in boxing can happen. It is not swimming. This is not cycling. This is not running. This is boxing.
K. Swanson
Okay, that was the last question for Sergey. Kathy, do you want to wrap this portion up, and then we'll turn it back to Oscar De La Hoya to make introductions for Bernard Hopkins.
K. Duva
Yes, well, I think Sergey said it all. I really don't know what I can add to that. So I just want to thank him and everybody else for being on today, and tell everybody just to make sure you tell your readers and your listeners and your viewers to be tuning in on November 8th. If they get the chance to be in the vicinity of Atlantic City they really should go get one of those tickets that's left, because they won't regret it. Thank you.
K. Swanson
Okay, thank you for that portion of the call. Now I'm going to turn it back over to Oscar De La Hoya to make the introductions for Bernard Hopkins.