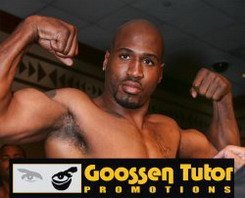 By James Slater: No stranger to having to do things the hard way, honest, hardworking pro Travis Walker of Houston, Texas has had big opportunities come his way before, only for the 33-year-old, 6'4," approx 250-pound banger to either fall short or go home feeling as though he was hard done by.
In compiling his 39-7-1(31) ledger, the powerful but sometimes shaky-chinned "Freight Train" has been stopped by Chris Arreola (after scoring a knockdown of his own in a tasty three-round slugfest), he has been blown away inside a round by Manuel Quezda ("a shot I never saw coming.") and he has dropped a close, debatable decision to Ruslan Chagaev ("I know I won that one.")
The softly spoken Walker has also been stopped by T.J Wilson (a premature stoppage, later avenged), Johnathon Banks and, in a fight that received far less acclaim than it should have done, Alex Leapai, in what was another premature stoppage, this time to a great up-and-down battle.
But throughout it all, Walker has never given up. After losing an exhausting 12-rounder with Kubrat Pulev last October, Walker finally bagged a big victory: an upset 6th-round TKO over Kali Meehan in Australia this March ("My biggest win to date, but my best win will come September 8th!") and now he has a massive opportunity against Tomasz Adamek on September 8th.
Walker knows he will receive no favours during the Adamek fight, but he says he will be as ready as can be for the fight that will take place in the Pole's adopted hometown of Newark, New Jersey.
"Serious training had just begun [when I got the fight with Adamek], but I was in pretty decent shape anyway, so the hard part had already been done," Travis explains during a brief break from a gym session.
"By that I mean I wasn't not out of shape [at the start of training camp]; I never get out of shape. I've been between training camps anyway, staying in shape, waiting for a big fight, which I've now got, so my timing is there. All I can do now is get better and better. I'm going to get my game-plan or game-plans together and I'll be ready."
Walker, like many other people, has had an eye on former light-heavyweight and cruiserweight champ Adamek, 46-2(28) for some time.
"I've been paying attention to Adamek, as I do to any name heavyweight. Of course I'm going to say he was better as a light-heavyweight and a cruiserweight, because we heavyweights are stronger physically and we're so much naturally bigger. But Adamek's held his own as a heavyweight, so I'm not going to downplay his size at all. He's shown he's a real heavyweight."
As impressed as he has been by Adamek's heavyweight achievements, he felt (as did a number of other fight fans) that the 35-year-old lost his last fight.
"I saw the Eddie Chambers fight (in June of this year), and I had Eddie winning all the way," Walker says with a sigh.
"But that's the sad part of boxing these days: certain guys, top names, cannot be beaten unless you knock them out. I see my fight [with Adamek] the same way. Actually, my whole career has been that way. I learnt a long time ago that I have to get the KO to win."
Walker, who is fully aware that this is his last chance, says he plans to leave no doubt as to who the better man is come September 8th.
"I can't fight his fight. You never fight the other guy's fight – you've always got to make it your fight. But I won't force the KO: I'll allow it to come, and I know it will come. I think, with his style, Adamek will always try to be somewhat careful against anyone who has power, so I think he may pot-shot. I think he'll try and move in and then get out, not take anything big. If he does that, I'll have a game-plan for it. If he trades with me, I'll have a game-plan for that. But if he does trade punches with me, it'll be like a Volkswagen going up against a Mack Truck! No, it will actually be a Volkswagen being ran over by a freight train (laughs).
"And after this, after I win, I can't see any way they can deny me a world title shot. I've been to the top, I've been to the bottom, and now [with this win], I'll be back at the top. What else is left but a title shot? I've finally been given my chance, the biggest fight of my career, and I will beat Adamek. And one more thing: I'm not at all worried about a hostile crowd. As a matter of fact, when that happens and the other guy's fans boo me, that gets me more excited and more motivated. That makes for a very dangerous fight for my opponent."