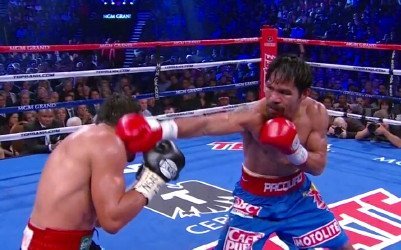 By Rob Smith: 39-year-old Juan Manuel Marquez (54-6-1, 39 KO's) and Manny Pacquiao (54-4-2, 38 KO's) have reportedly reached agreement to fight on November 10th, according to fightnews.com. It's still not official but the word is that Marquez and Pacquiao have reached an agreement for a fourth fight between them, which will take place the MGM Grand in Las Vegas, Nevada. Tim Bradley, the WBO welterweight champion, has been passed over for a rematch with Pacquiao, no doubt due to the poor pay per view figures that the Pacquiao-Bradley fight brought in last June.
Pacquiao has to beat Marquez in order to get a much bigger payday against unbeaten Floyd Mayweather Jr next year. It's still unclear whether that fight can even be made unless the two fighters can agree on the purse split and other issues.
A fourth fight between Pacquiao and Marquez might be well received by some boxing fans who have enjoyed the two fighters three previous fights together. However, other boxing fans are plain sick of seeing these guys fight each other so often and they prefer to see them go their separate ways. The fights have always been controversial and that's really taken away from them, as Marquez has fought well enough to deserve a decision in all three fights, and yet he's got two losses and a draw to show for them.