"This dude Dierry Jean don't even know what he got himself into, man. When they signed that contract, they signed that contract because they thought that this was going to be an easy contest. This is not a contest. This is a fight!"—Cleotis Pendarvis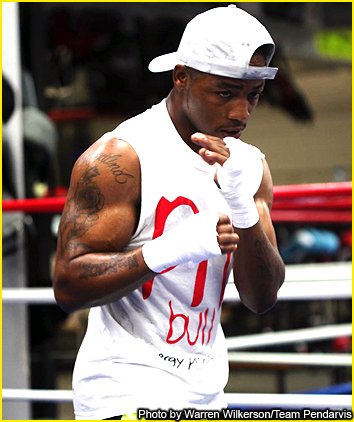 This Friday night on SHOBOX: The New Generation, a clash between junior welterweight contenders Cleotis Pendarvis (17-3, 6 KOs) and Dierry Jean (24-0, 16 KOs) will take place in order to determine the new IBF mandatory challenger. Last night I was afforded the opportunity to speak with Pendarvis, and the 26 year old Los Angeles southpaw shared his views on his upcoming opportunity. He also discussed a number of other topics, which included his boxing philosophy, working with Sugar Shane Mosley as his chief sparring partner for Friday's match, future aspirations, Floyd Mayweather's dominant victory over Robert Guerrero, the showdown between Lucas Matthysse and Lamont Peterson, and more. Here is a complete transcript from that interview:
GEOFFREY CIANI: Hello boxing fans. This is Geoff Ciani from East Side Boxing, and I am here today with junior welterweight contender Cleotis Pendarvis. How's everything going today, Cleotis?
CLEOTIS PENDARVIS: Oh, it's going on man. It's going fine. It's going well. You know I'm just toning it down. Camp went well. I'm basically ready.
CIANI: Great! Now your big fight coming up this weekend against Dierry Jean is an IBF eliminator bout that will be televised on Showtime. You said camp went well and that you're basically ready. Can you tell us a little bit more about your training and preparations?
Audio:

PENDARVIS: You know just in and out on a daily basis putting the miles in, the sparring in. One of the chief sparring partners was Shane Mosley and I brought in some young talent, which is around the same age as myself, very strong and powerful guys just to prepare me for the best Dierry Jean come May 10. I put in the work and did everything that I felt like I needed to do, and now camp is toning down. I'm ready to fly out and go out there and put on a performance for the world.