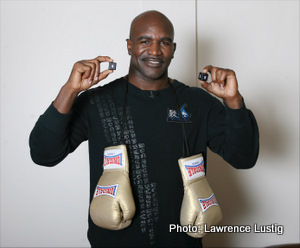 By James Slater: In this article, I look back at the decade that was the 1990's and it's ten finest heavyweights. The following choices are men that, while not all champions necessarily, were, in my opinion, the best over the decade. Some of the names you will read may have been heavyweights that featured uppermost in the top ten from a previous decade (or two, in one incredible fighter's case) while others still may be names that went on to achieve more in the following decade. But in this list, the names written are the ten most dominant, most talented and/or most successful big men from the entire ten years that made up the 1990's (again, in my opinion).
1. Evander Holyfield. "The Real Deal" is a real easy choice for best heavyweight from the '90's. A world champ of the big men for the first time in October of the new decade's first year with a quick KO of Tyson conqueror "Buster" Douglas , Evander would also reign a further two times before the '90's were over. Among the men Holyfield defeated from 1990-1999: James Douglas, George Foreman, Larry Holmes, Riddick Bowe, Mike Tyson, Ray Mercer and Michael Moorer. "Commander Vander" also held Lennox Lewis to a controversial draw, before losing a very close decision in the return match..
And to think, the two fights with Lewis came at a time when Holyfield was considered way past his best. The fact that he still almost won ( fight two, especially) goes to prove his worth as the best heavyweight of the 1990's.
2. Lennox Lewis. Britain's world heavyweight king achieved much in the '90's. As he did in the 2000's also. Indeed, it was in the decade that followed the 1990's that big Lennox may have been at his very, very best. Certainly, his biggest win came in 2002 – the brutal KO of Tyson. Much was accomplished ten years before, though. Lewis captured the WBC title by way of his frightening destruction of the feared Donovan Ruddock in late '92. This win prompted real champ Riddick Bowe to dump the WBC strap rather than face Lewis, therefore Lennox reigned by default. His genuine worth was soon proven, however. After losing to Oliver McCall in a huge upset in late '94, Lennox gained revenge – and the WBC belt – four years later. Then, finally, in November of 1999, Lewis became the one true, universally recognised king via his points win over Holyfield.
Again, some of Lennox' finest wins may have come in the following decade, but wins over the likes of Ruddock, Tony Tucker, Tommy Morrison, Ray Mercer, McCall, Andrew Golota and Holyfield were enough to have made him the second best big man of the '90's.
3. Mike Tyson. Undeniably, "Iron Mike" was at his absolute peak in the 1980's. Tyson still had plenty left as a formidable heavyweight in the '90's, though. Though some say he was never the same after the loss to Douglas in early 1990, Mike did go on to win plenty more big fights, as well as reclaim two portions of his lost championship. Post-Douglas, Tyson was able to wipe out the dangerous-punching Alex Stewart in less than a round, earn two hard fought wins over massive hitter Donovan "Razor" Ruddock and then, after a three year prison term, regain both the WBC and WBA versions of the crown. Mike's 1996 KO's over Frank Bruno (WBC) and Bruce Seldon (WBA) actually rekindled much of the old Tyson aura. He was still more than capable of scaring fighters again, as these two quick wins proved.
This was not enough against Holyfield, however, and by '97 Tyson was pretty much done as a world beater. The five wins listed above still make Tyson the third best big man of the '90's, though.
4. Riddick Bowe. If only "Big Daddy" had lived up to his full potential. He might well have topped this list if he had done so. In excellent condition only a handful of times for major bouts in the '90's, Bowe let his career go south by way of overtime at the refrigerator. Indeed, as strange a question as it may seem to ask, Riddick's wins over Holyfield aside, who else of real note did "Big Daddy" actually beat? After a thrilling and courageous world title fight win over Holyfield in late '92, Bowe's peak had clearly been reached. Sadly, however, he wasted it with meaningless defences against a shot Michael Dokes and an overmatched Jesse Ferguson. An overweight loss to "The Real Deal" followed, before a short tenure as WBO champ. Then, shockingly, after his rubber match win over Holyfield in late '95, Bowe was all done as a top talent. This much was proven in his two horrible fights with "The Foul Pole," Andrew Golota, the following year.
His time at the top may not have lasted too long, but for a time Riddick Bowe thrilled and mesmerised us like few other big men ever have. In short, the all-time classic trilogy of fights with Holyfield is enough to make Bowe the fourth best heavyweight of the '90's.
5. George Foreman. Talk about a blast from the past! "Big" George surely belongs in a top-ten list of 1970's heavyweights? Indeed. But, due to enormous self belief, never before seen willpower and straight up genuine toughness and an ability to ignore the aging process, Foreman also more than made his mark while fighting in a decade in which he was many years removed from his prime. Ever since his unlikely comeback began in 1987, George told anyone who would listen that he wanted his title back, and George figured his shot at getting it back would come against Tyson. Well, that dream fight never happened. But George did tangle with the unbeaten Holyfield for the crown. Losing a fine effort on points, George then shocked the world and made his dream come true by KO'ing Holyfield's conqueror in Michael Moorer. At forty-five years of age Foreman made history by becoming the oldest heavyweight champion of all-time. His comeback had been a glorious success.
George's unexpected triumph over Moorer, and with it decent wins over Gerry Cooney, Adilson Rodrigues, Alex Stewart, Lou Savarese and Shannon Briggs (damn what the judges said) are more than enough to make him my choice for fifth best heavyweight of the '90's – even if he really had no business fighting there! And one final point, old George was able to take everything Holyfield could hit him with. Mike Tyson, on the other hand, was taken out by "The Real Deal." I still wonder, who would have won had Tyson and Foreman actually met?
The Next five.
1. David Tua. "The Tuaman" was a wickedly powerful hitter. Short and stocky in the Mike Tyson mould, David actually looked like the new Tyson for a time. People still talk about his nineteen second annihilation of future champ John Ruiz. Indeed, when you throw in Tua's KO's over Hasim Rahman and Oleg Maskaev, it's clear to see David was a man capable of beating world championship material. Unfortunately, the title eluded the Samoan throughout the '90's. Indeed, Tua, recently retired, just might be the best 1990's heavyweight never to have won a major title.
2. Donovan "Razor" Ruddock. Though never world champ, "Razor" made a huge impact on '90's heavyweight boxing. A truly chilling KO of the still useful Michael Dokes, his two battles with Tyson and his war with Tommy Morrison all served to light up the heavyweight scene for about five eventful years. Ruddock is my choice for seventh place on this list.
3. Michael Moorer. Though notoriously suspect-chinned, "Double M" was good enough to have two brief reigns as heavyweight champ. His win over Holyfield earns him major points in this poll, while decent wins over Axel Schulz and Francois Botha don't hurt. Ultimately, however, Michael is remembered for losing to "Big" George.
4. Oliver McCall. "The Atomic Bull" is featured here primarily due to his great win over Lewis. A follow-up defence over veteran former champ Larry Holmes was less impressive, but at the time it looked like McCall might stick around as champion for a while. His points loss to Frank Bruno doesn't look good on his record, though, and neither does his meltdown defeat in the return with Lewis. Still, Oliver made his mark, was a world champ, and to this day has
never been down on the canvas once.
5. Ike Ibeabuchi. One from the "what might have been" section Ike may well be, but "The President's" wins over Tua and future champ Chris Byrd are superb wins that were achieved nonetheless. We know what happened next, though, don't we? Thrown in jail shortly after the KO of Byrd, Ike deprived '90's heavyweight boxing of a potential future star. It says a lot about Ibeabuchi's talents that he still makes it into this top-ten. Many fans will probably argue that Ibeabuchi should be ranked higher than Tua on this list. Had he kept his nose clean, avoided jail and had more time to prove himself, maybe he would have been.