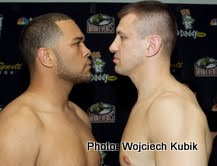 By Michael R. Cumberbatch: Fight Night comes to Brooklyn on Saturday, March 24th at the Aviator Sports Center. Televised nationally on NBC Sports Network, the event will feature Zab Judah vs. Vernon Paris and co-feature Sergei Liakovich vs. Bryant Jennings. Tomasz Adamek will also face Nagy Aguilera.
I had the chance to sit down with the Main Events Queen and, as usual, she did not disappoint.
MC: I'm here with Kathy Duva; Kathy, how are you?
KD: I'm doing well. How are you?
MC: Well. You have a big card coming up on the 24th of March which will be televised nationally on the NBC Sports Network. Before we talk about the card, let me ask you this: how were you able to get the deal done with NBC Sports Network, especially considering it was tried years back with Top Rank and the plug was eventually pulled.. How were you able to convince them to go back there again?
KD: Actually, the deal in the past had been with the people from Comcast. Main Events has a long relationship with NBC and when the merger happened, it was the people from the NBC side that convinced the Comcast people to give it a shot.
MC: You said that in this venture you would be willing to welcome all fighters and promoters to work together. How has the response been from fellow promoters and their fighters?
KD: We've talked to lots of them and gotten a lot of positive response. Obviously, at this point, there are a few dates — so it's not that we have that many dates. The goal here is to build this up to 2013. We'll do more shows and at that point, I think you'll see other promoters getting involved. Our goal is to put on great fights. If people are willing to put their guy in competitive fights, we're talking to them. We have a few things coming together and are confident.
MC: Let's talk a little bit about the card. You have your guy Zab Judah going up against a tough Vernon Paris, who is a young and undefeated fighter from Detroit. What are your expectations for Zab in this fight?
KD: I'm expecting Zab to rise to the occasion. He seems to do it most of the time. He understands the importance of this fight. This gets him right back into title contention, which is where he wants to be. He's willing to take this very risky fight on pretty short money because he wants to get back into contention. Being home in Brooklyn will give him that edge, so we expect him to win the fight.
MC: Do you see this fight as a crossroads fight?
KD: This a classic crossroads fight. We have a young talented fighter in Vernon Paris. We have Zab who is the charismatic veteran fighter who has a huge following, name recognition, and experience. This is the type of fight that the prominent networks have not been interested in showing. They both have an awful lot to lose and that's what a crossroads fight is. The winner moves forward, the loser goes back to the drawing board. It's a mandated fight. The winner becomes the IBF #1 contender. It's got everything.
MC: You have Tomasz Adamek on this card as well. He's coming back from the Klitschko loss. What do you expect from Tomasz?
KD: We're all going to see. He was added to this card as an extra. The co-feature is going to be Sergei Liakovich who is fighting Bryant Jennings. With two great fights already in place, Tomasz wanted to fight in March and stay busy. He wanted to fight on this card. He spent a lot of time working with his trainer, Roger Bloodworth, and he's very motivated to get back into the title picture. We'll all be interested in seeing how that loss to Klitschko affects him. He is someone who is generally able to shake off whatever adversity he faces. That's what I expect from him.
MC: You mentioned Liakovich. He's got a tough fight ahead.
KD: This fight is particularly interesting to me. Bryant Jennings who stepped in the last minute on the January 21st card and beat a very game Maurice Byarm. Bryant wanted this fight. He's only got a dozen fights, so he's taking a big step up. Sergei, on the other hand, has been sidelined since the Helenius fight. He suffered some really serious injuries in that fight. He had two broken bones in his nose and he was swallowing blood. I still believe he would have won, had he not suffered those injuries, but he did. We were able to make this fight very quickly and easily. We've got two motivated heavyweights who like to throw punches. I honestly don't know what to expect.
KD: We also have Curtis Stevens on the card — another guy who has the ability to connect with everyone in a room.
MC: (Cutting In) Another Brooklyn guy.
KD: Yes
MC: Thanks Kathy we're looking forward to the card
KD: You're Welcome
Tickets to this blockbuster event are priced at $200, $100 and $75 and may be purchased by calling Main Events at (973) 200-7050; Peltz Boxing at (215) 765-0922; or online through www.peltzboxing.com. The non-televised undercard fights will begin at 7:30 p.m., the NBC Sports Network Fight Night broadcast will begin at 10 p.m. ET on Mar 24th.
The Aviator Sports and Events Center offers free parking. You can also take public transportation via the Q35 MTA bus from the Flatbush Avenue/Brooklyn College subway station.