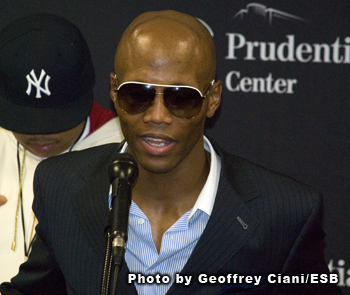 Boxing returns to Brooklyn, NY, on Saturday, March 24th, with NBC Sports Network's "Fight Night". The blockbuster fight card featuring some of the best fighters of the sport in fiercely competitive bouts is sure to thrill true boxing fans. Even though the action inside the ring is expected to be furious, the star of this show may in fact be the state-of-the-art venue that will host it.
The Aviator Sports Complex is the perfect example of the modern sports and entertainment locale that transforms the visitor's experience from merely watching an event into being a real part of it all. Although fans will come to watch the fights Saturday night, they will find many other things to do between the matches.
The Aviator Sports Complex, home of the Brooklyn Aviators hockey team, also offers great food and a full bar. We're not just talking hotdogs and beer here. During the heat of "March Madness", the numerous big-screen TVs throughout the Complex will ensure that sports fans won't miss a moment of all the championship college basketball action..
The Complex is a former airplane hangar that has been converted into a massive indoor/outdoor recreation and entertainment center. On the way to the fights, visitors can take a stroll through "Main Street", the historic aviation-themed entryway that is complete with games, a flight simulator, a rock climbing wall, and other interactive experiences.
The Complex has hosted numerous boxing shows in the past, but this card is by far it biggest boxing event to date. Once fight fans take their seats, they will be treated to a fantastic night of boxing. The main event pits Brooklyn's own former five-time champion Zab Judah in a 12-round IBF Title Eliminator against undefeated Vernon Paris of Detroit. Also featured is a pair of 10-round heavyweight matches. The first is a crossroads fight between former heavyweight champion Sergei Liakhovich and up-and-coming young gun Bryant Jennings of Philadelphia. The second is a contest between Tomasz Adamek, a former two-division champion, and Nagy Aguilera, a big puncher known as "Dominican Dynamite".
Those who come to the fight instead of watching on the NBC Sports Network, get to see several untelevised bouts featuring some of the best rising talent in the sport, including Brooklyn middleweight Curtis Stevens, and undefeated knockout artist Santander Silgado.
There really is nothing like watching a fight live from ringside. Even more than other sports, the live crowd plays a huge role in the event itself. Countless times in the history of boxing, a cheering crowd has inspired a losing fighter to turn a tough night into a great victory. Saturday night in Brooklyn should be no different. With most of the fights too close to call, they could come down to the wire on fight night. If you haven't experienced boxing live, this is the night to become a part of it.
March 24 Fight Info:
The Zab Judah vs. Vernon Paris fight is a 12-round IBF junior welterweight title eliminator featured on NBC Sports Network "Fight Night". The fight is part of a triple header that includes Sergei Liakhovich vs. Bryant Jennings in a 10-round heavyweight fight and Tomasz Adamek vs Nagy Aguilera, in a 10-round heavyweight fight. A full all-star under card will support the three main bouts. Tickets to this blockbuster event are priced at $200, $100 and $75 and may be purchased by calling Main Events (973) 200-7050, Peltz Boxing (215) 765-0922, or online throughwww.peltzboxing.com. The non-televised undercard fights will begin at 7:30 p.m., the NBC Sports Network Fight Night broadcast will begin at 10 p.m. ET on Mar 24th
The Aviator Sports and Events Center offers free parking. You can also take public transportation via the Q35 MTA bus from the Flatbush Avenue/Brooklyn College subway station.
Be sure to tune into NBCSN for all the action following the NCAA basketball tournament!
To find the location of the NBC Sports Network on your local cable, satellite or IPTV provider, click here:http://www.nbcsports.msnbc.com/id/30092015/ns/sports/
"FIGHT NIGHT 36: ZAB JUDAH"
All-Access Show Premieres Wednesday, March 21 at 10:30 PM ET
Re-airs of "Fight Night 36: Zab Judah" are March 22 at 11:30 p.m., March 23 at 9:30 a.m. and 7:30 p.m., March 24 at 6 p.m. and at 9:30 p.m. as the lead-in to the Judah-Paris fight. All times ET.