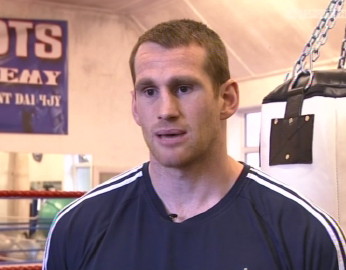 By James Slater – Promoter Frank Maloney today officially announced the David Price-Sam Sexton bout, for the British and Commonwealth heavyweight titles Tyson Fury chose to vacate, will go ahead at Aintree, Liverpool on Saturday May 19th.
Maloney, having a dig at the recent Haye-Chisora brawl in Germany, said the upcoming fight will be "between two gentleman, not two thugs." Both Price and former Commonwealth champ Sexton have a history and they have nothing but respect for one another. Rest assured, though – when the bell rings there will be action.
28-year-old Price, 12-0(10) must first come through his U.S debut – set for March 24th in Atlantic City against Frenchman Josue Blocus, 16-2(14) – but he will almost certainly enter the ring against Sexton as a substantial betting favourite.. But it is to be hoped 27-year-old Sexton, 15-2(6) will be able to give Price a decent test – perhaps one that tells us a little bit more about the 2008 Olympian.
Sexton has shown his capability before; twice beating the tough Martin Rogan (who is headed towards an intriguing fight with the aforementioned Fury). The Norwich man has also twice been in with Dereck Chisora, losing both but giving "Del Boy" a hard night on both occasions. Sexton, last seen winning a 5th-round TD over the huge Larry Olubamiwo (the fight stopped due to bad cuts picked up by the winner) has shown he can handle strength and power. But 6'8" Price looks to be a genuine star of the future. Without doubt the toughest, most daunting fight of Sexton's career, the title clash could be lively early but Price is, in my opinion, sure to come in strong at some stage, getting the win.
We still don't know about Price's chin and maybe Sexton can test it (although, with just those 6 KO's, Sexton is no banger). Sexton also has the experience of going into the later rounds of a tough fight (stopping Rogan in the 8th-round of their first meeting, being stopped in the 9th by Chisora in their rematch). Price on the other hand, has gone past the 6th just once, in a fight he was easily winning.
Again, I take Price to win this one, almost certainly by KO, but it would be a pretty big statement from the man from Liverpool if he were to halt Sexton as quickly as he did John McDermott. But with the power Price carries in that right hand, a 1st-round KO could certainly happen. Sexton is often a slow starter and if this is the case on May 19th (the night Amir Khan has his much anticipated return meeting with Lamont Peterson – will SKY Sports do a live doubleheader? We sure hope so), Sexton will be in big trouble.
In all honesty, I can't see this one going more than three-rounds. The action will be exciting for as long as it lasts though.