"What made Mike Tyson so special was the way that he knocked people out so savagely" – Emanuel Steward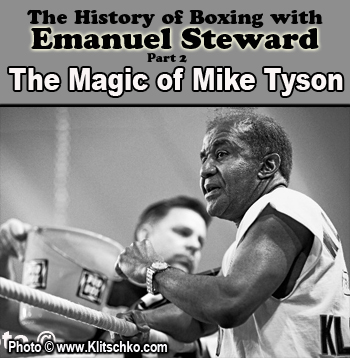 Exclusive Interview by Geoffrey Ciani – With his vast wealth of knowledge, experience, and success, Emanuel Steward is undoubtedly one of the greatest trainers the sport of boxing has ever seen. Steward has trained and/or managed 41 World Champions, including former heavyweight champion Lennox Lewis and the reigning heavyweight king Wladimir Klitschko. Steward's success with training heavyweights for world championship fights is simply impeccable. I had the opportunity to speak with Steward in his area of expertise regarding one of the most popular and thrilling heavyweight champions of all time—"Iron" Mike Tyson. Steward has followed Tyson's career since his days as an amateur and thus has a unique insight into the man who was once viewed as "the baddest man on the planet". Steward shared his views on one of the most enigmatic personalities in sports history and provided opinions about his career, his legacy, and his recent induction into the International Boxing Hall of Fame. This is Part Two of a new series with Emanuel that will explore past champions, historical fights, mythical match-ups, great rivalries, memorable fighters, and Steward's own personal experiences as a world class trainer.
GEOFFREY CIANI: Emanuel, Mike Tyson was recently inducted into the Boxing Hall of Fame this past year and I'm wondering, when was the first time you had the opportunity to watch Mike box and what were your initial impressions of him?
EMANUEL STEWARD: Well the first time that I saw Mike Tyson actually box was in 1983 I guess. Actually I think it was the National Golden Gloves Finals and he was fighting a boxer who was on my Detroit team named Craig Payne. I definitely thought that Mike won the fight. I'd heard so much about this little guy with the great punching power and I thought he won the fight, but nevertheless they gave it to Craig Payne. Since then I had watched Mike and he has got to be in my mind one of the most amazing fighters, or characters, or personalities ever that I have experienced in my lifetime because of the unbelievable impact that he has had on boxing that pretty much in its own strange way equaled Muhammad Ali. This is weird because of arguments with a lot of the people who say he shouldn't be in the Hall of Fame because he never won a big super match with a big fighter of his era. The truth of the matter is there wasn't too much around in his era at the time when he was in his prime, anyway. You know but the impact that he had on boxing is undeniably one of the greatest. The fact fighters today are still wearing black, they didn't used to wear black a lot and he made black popular. Black never was popular in the past. All of the fighters wanted, and the champions in particular wore white. Even Ray Robinson who always wore white, but when he fought Joey Maxim who was the champion he had to wear black because Maxim wore the white. For him to come on and be totally the opposite of Muhammad Ali to some degree, and have had that impact on boxing where you see more fighters today still mimicking Mike Tyson. I don't really recall anyone trying to mimic Lennox Lewis, or Larry Holmes, or any of the other heavyweight champions. Everywhere you go in the world people know Mike Tyson. His personality of being from such a wild street guy and a puncher, and now he's laughing, he's comical, he's in comedy movies, he's on talk shows. He's truly one of the most amazing personalities that we've experienced in our lifetime I guess in sports. He has had an unbelievable impact on a just whole generation of people, and he really was a big part of what got you HBO and all of the big boxing matches on pay-per-view channels because you only could watch Mike Tyson on HBO, and that's why you would pay to get HBO—just so you could watch Mike Tyson.
CIANI: Now as an amateur, what type of potential did you see in Mike? Did you think he would ever go on to have one of the brightest futures out of those amateur heavyweights at that time?
STEWARD: No. I did not see anything that special to suggest that. But what we must all remember, which to me is one of the reasons I admire him so much, is he was always a small guy! Nobody looks at what he accomplished fighting those big guys. It was amazing. The big guys who really had skills and were not intimidated by him were when he had his roughest fights, because Mike was a small guy. I never thought he would be what he became. I thought he was just a decent little heavyweight, but physically was just too small to ever hang with the big time guys—but he did it! The fights where he had his tougher fights were with guys like Tony Tucker, Mitch Green, Buster Douglas—those were big guys! Those were about 6'4" guys, 6'5", and he still was only like 5'10.5" or 5'11" guy. So when you really look at it, for the most part a lot of times he was giving away six inches in height. This was tough, especially when he fought guys with some pretty good boxing skills. But nevertheless, what made Mike Tyson so special was the way that he knocked people out so savagely. The manner was like with the clock ticking, Mike got ten minutes and if he didn't knock out or kill this guy, someone was going to murder his loved ones and family, or something like that. He came out and fought with that type of intensity. I don't think I've seen any heavyweight in my lifetime fight with that type of intensity, and very few fighters outside the division. I remember one night on a Friday night, it must have been about 1989. I was out having a good time and I remember I told all of my friends I have leave and go home. They asked why I had to go, and I said because I got to go see Mike Tyson knock somebody out. They asked who he was fighting, and I said I don't know who he's fighting, and that's the only fighter that I recall in my lifetime who had me like that, next to Ali—but Mike more so than even Ali when it came to that. I didn't even know who he was fighting and I didn't care, but that was the kind of excitement Mike Tyson created and I had never known anyone else to do that. It was because of how he knocked the guys out in such savage manner, with their heads snapping around. And he came out with that intensity, he had that little walk-around look, and he'd look over at the guy, and puts his head down, and look at him again and just walk around. He had no socks, the little black shoes, and no robe. I mean it was totally different and we're still experiencing that today. It was totally the opposite of Muhammad Ali with the long pretty white robe, the white shoes, the pretty looks, and the dancing. Mike came out totally just the opposite and eventually became just as exciting in his own way as Muhammad Ali.
CIANI: Okay, now Tyson built up a record of 27-0 with 25 knockouts when he first challenged Trevor Berbick for a portion of the heavyweight title. What were your expectations going into that fight and what were your thoughts on that fight itself when Mike won his first championship?
STEWARD: When Mike Tyson fought Trevor Berbick for the title I thought it would be an interesting fight. I thought Mike had an edge because of the activity level, and the speed, the punching power, and at the time he was what we would call "on a roll". But I didn't expect him to do that kind of damage with just one little short punch to a fighter like Trevor Berbick. That was just the beginning I guess of watching him destroy all of the guys at that time in his era, Pinklon Thomas, all of those guys, he was just walking through everyone. Not that they were really great heavyweights, but they were not that bad. They were still good heavyweights, and the manner in which he knocked them out, Tony Tubbs and all of those guys, he was just a little destruction machine and he could punch with either hand—left or right, right uppercut, left uppercut, right hooks, straight rights. With any punch he just had so much speed and power. Then I think the chemistry between him and Kevin Rooney was just a great chemistry. I don't think Kevin Rooney would have been able to have that type of chemistry with any other fighter in his life, and the same with Mike. They had a great chemistry from up in their Catskills days, and it worked perfectly for them, and the style that they were, the Cus D'Amato style was perfectly aligned for a guy just exactly like Mike Tyson. So everything was happening right in place, and everything was synchronized with those short little punches and that bob and weave style. No one else would have executed it as effectively as Mike Tyson I think because of the way he was built, and because of the natural speed and power that he had.
CIANI: Now by the time Mike unified the titles, there was a perception of an aura of invincibility that surrounded him and he had totally captured the imagination of the American public and boxing fans. How was Mike Tyson able to create that 'aura of invincibility' where the idea of him losing was simply inconceivable to most people at that time?
STEWARD: Mike Tyson created an aura of invincibility from the manner in which he knocked out his opponents. Ali was a great boxer and technician and he had that, but nobody created because of just the pure power, and the speed, and the intensity, and the anger that he fought with. I have always said that most heavyweights don't have the biggest hearts. Usually the strong dominant heavyweights were always strong minded guys. When you look at Larry Holmes, Foreman, Ali, Joe Frazier, they were all strong minded guys, not just big guys physically. Then Tyson came along and his opponents would be unsure of themselves and trembling. They couldn't hold up. Tyson was a very effective guy a lot of times because of the intimidation factor that he brought into the ring with these fighters, and these guys didn't know what to do. I was there when he fought Carl "The Truth" Williams and it was just one short left hook. I mean—bam!—right on the chin! And then it could have been a short right hand. You never knew. Like I think with Spinks I think it was an uppercut. Guys didn't know how to protect themselves. So most of the guys who came into the ring with him, I would say about 70% were already defeated before they came in the ring.
CIANI: Now you brought up Larry Holmes a moment ago. Larry Holmes is arguably the greatest name victory on Mike Tyson's resume, but he was older at the time at 38 years old and he had been out of the ring for awhile. This is often a topic of debate among boxing fans on message boards, but how much credit in your view does Mike Tyson deserve for his victory over Holmes looking back on it?
STEWARD: You know myself, with the boxing people that I deal with, I don't think any of them really give him a lot of great praise for the Holmes win, because I think everybody realizes that at the time Mike fought Holmes, Larry was not himself. As a matter of fact, that would have been one of the guys that in his prime Mike would have had a problem with. Larry Holmes is the most underappreciated heavyweight in the history of boxing as a champion. But at the time he fought Larry, he just had too much short power punching for Larry because at that age Mike was able to get in closer. Larry couldn't create space to see the punches coming. He was crowded by him. But I have never given him that much credit for beating Larry Holmes, and it's never taken away from my respect for Larry as a fighter, that one fight.
CIANI: On a related note, Michael Spinks was a young guy in his prime who was expected to be the toughest test for Mike Tyson to date at that time. A lot of people were giving Spinks a real chance in the fight with Mike Tyson, and it wound up being just 91 seconds before Tyson stopped him. What are your views on that fight and how it pertains to Mike's legacy?
STEWARD: I think the fight with Michael Spinks is the fight that really gave Mike Tyson that certification so to say of real greatness. I remember at the last minute a friend of mine Mike Ilitch, who is the guy who owns the Detroit Redwings and the Tigers, and he said, "Emanuel, I normally don't follow boxing but I got to go see this Mike Tyson and Michael Spinks fight". The day before the fight we had a private plane to go in there, and when I got the tickets they were like $1,500. We called, we got the tickets, and by the time we got in the ring and got settled in pretty good Michael Buffer was introducing people and he started to talk about everybody that was in the arena and this and that. I said, "What's the problem? Why haven't they announced the fight yet?" I left and went down there and found out that Michael Spinks was down there and he was scared to death. They couldn't get him to come out of the dressing room. That was the fight that gave Mike Tyson that certification of greatness, but Mike Tyson fought a fighter who was really afraid that night. Nevertheless, that wasn't Mike Tyson's fault. He did what he was supposed to do.
CIANI: Now just two fights after that, Mike Tyson would of course meet Buster Douglas in Japan who was a big time underdog, and he shocked the world and what is widely viewed as the biggest upset in boxing history, if not sports history. What were you thinking at that time going into that fight, the fight itself, and the immediate aftermath? With that whole scenario, what were your views on that during that time?
STEWARD: I was kind of shocked with how the fight turned out. I had a strange feeling going into that fight, because I had known Buster Douglas all of his life. His dad Bill and I were on the National Team together. I was the National Golden Gloves champion at 118 and he was at 160. We had fought representing the United States for a couple of matches together. So I had known Buster all of his life, and I was kind of surprised because he has always been an inconsistent fighter, both as an amateur and a professional. But for that particular fight everything was just right for an upset. Buster was extremely motivated to the point where he was like, "If I never win another fight in my life, I will win this fight" because he was doing it for his mother. He was very closely and emotionally attached to her and she had just died. So when a guy is in that state of mind, he is a very, very tough guy to beat. The fact that he crawled off the floor, even with possibly a long count still, but he crawled off the floor after being seriously hurt and still came back—he was just on a mission that night. At the same time, Mike was going in the opposite direction, riding the crest of just the glory, and his abilities, and the aura about him, and fans going crazy over him. I know he didn't train that serious and he had no real dedication to boxing the way he should have, so everything mixed up just right for a major upset where one guy underestimated his opponent and didn't train and the other guy was totally on a mission and thought he was going to win that fight even if he never won another fight. It was a major upset. If you look Buster Douglas never did anything major after that. That was the highlight of his career that particular night, but that happens in sports.
CIANI: Now after the loss to Buster Douglas, Mike Tyson helped reestablish himself after his two fights with Donovan "Razor" Ruddock. Do you think that Tyson was back on the right track based on those two performances against Razor?
STEWARD: Well I never felt that he was really back on the right track, because even in the fights with Ruddock he had some rough moments there. Guys had more confidence in fighting him after that. The aura of invincibility was gone after the fight with Buster Douglas and from that point on, most of his fights were difficult after that compared to what they were before. As I said earlier, one of his biggest advantages was intimidation itself. Even with "Bonecrusher", "Bonecrusher" Smith if I remember fought very cautiously, and was very concerned about not being knocked out, and then when the fight was near the end he decided to fight a little bit and he did well and I think even won the last part. Tony Tucker was one of the few guys who was never afraid of Mike, and Mitch Green. Those were the guys that gave him problems because they had skills and they were big guys. But his aura of invincibility was destroyed and taken away after the fight with Douglas.
CIANI: Okay now after the Razor Ruddock fights, Mike of course went to prison, and when he came out people were excited about Mike Tyson coming back to the ring even though it had been five years. So he started fighting guys like Peter McNeeley, Buster Mathis Junior, and then he actually had a rematch with Frank Bruno. When he came out of prison in these first few fights back, what did you see in Mike as a fighter compared to what he had been prior to going away?
STEWARD: When Mike Tyson came out of prison, the first thing I noticed was the fact he came out of prison and he had this aura about him that was so great that after doing five years in prison or whatever it was for rape, the man came out getting $20 million offers, he had converted to Islamic faith, and the world was just going crazy over him like he was a returning hero even though he was coming out of prison. What I admired about Mike, all throughout this time in prison there was a lot of controversy back and forth about whether he was guilty, or not guilty, or whether he was set up. Mike himself never, ever complained about anything, and I have so much respect for him for that. So he never complained about anything himself, and promoters complained, and a lot of fans and a lot of other people. He did his time, came out, and naturally with his style of fighting, all fighters slow down a little bit when you fight with what I call "the youth and aggression" style of fighting, like the Joe Fraziers, and many years back with a lot of other fighters. Whenever you fight with that type of style, usually when you hit about 30 you always slow down a lot. That's why they don't have the longevity of the guys who are the standard fighters, and the boxers, and the basic fundamental guys like Ray Robinson and Ali. When you fight with just aggression, and speed, and instincts without even thinking, that slows down so that was normal. But with the aura that he had built up, people were still looking at him like he was Mike Tyson of '88 or '89. They just wouldn't let it go. The McNeeley fights, and those fights with Buster Mathis, people just wanted to see Mike Tyson. That's what to me was the amazing magic with him. They didn't care who he fought. They wanted to see Mike Tyson. He had a natural excitement that people would never let go of. Even when he fought Lennox Lewis, the people were still looking at Mike Tyson of '88 or '89. That was what always amazed me. People were just so fascinated with him, that he had won a spot in their hearts for being such a vicious, hard punching, aggressive, killer, "Iron" Mike, that they still came to the arena in Memphis looking for that Mike Tyson, even though he had been beaten before and had some struggles in fights. He etched in the minds' of the public an "Iron" Mike who was crazy and had such an image that people wouldn't let go. Today still when people think of him, even with his losses people don't even remember them that much because he created so much excitement in the early part of his career that it was just etched in people's minds, including me, permanently.
CIANI: You mentioned the excitement he generated in those fights against McNeeley and Mathis. The fans were onboard again. They did believe in Mike again, but at that time after the Frank Bruno rematch rather than defend against Lennox Lewis, who you were working with at this time, Mike decided to drop the WBC belt and instead take on WBA champion Bruce Seldon. Looking back on this now, what do you read into that situation?
STEWARD: Well there is a lot going on when you're going into those type of fights on that level. We just see the general fight, but a lot of times it's the promoter. I think at the time Don King maybe couldn't get a promotional deal of some type with Lennox Lewis, which meant he wouldn't have been covered. So he fought Bruce Seldon. It's a whole lot more than just who fights who in boxing if you look at the behind the scenes things that go on. But I don't think Mike himself was ever afraid of anyone or dodged anyone. Those decisions are made a lot on politics, and don't forget Mike was a major, major money maker for boxing. When he fought the WBC got big sanctioning fees and everyone, so everybody was going overboard, and the WBA was doing pretty much what they had to do to accommodate Mike Tyson, and actually Don King was doing what he should as a promoter, which is what the promoters are still doing. They just don't get criticized as much. He didn't want Mike to fight with somebody he didn't have some type of options or control over. When they did actually fight eventually, it was a fight where Lennox and Mike fought and no one had any control. It took years for that to happen, because Mike was still with Showtime and Lennox Lewis was with HBO. There were a lot of complications back then, but Mike himself never dodged anyone.
CIANI: After the Seldon fight Tyson went on to fight Evander Holyfield, who was largely viewed as a dead man walking going into that fight. There weren't too many people giving him a chance, as he was not too far removed from a knockout loss against Riddick Bowe, and he had the issues with his heart and whatnot at the time. How surprised were you to see Evander rise to the occasion in those fights when he fought Mike?
STEWARD: When Evander fought Mike Tyson, I told Don King. I said, "Don, you made one of the biggest mistakes you ever made. You should never have made this fight". He said, "What do you mean?" Holyfield I guess passed the medicals after he had some problems with his heart, and I told him I trained Evander I remember in 1993 when he was training for his second fight with Riddick Bowe. All throughout the whole training camp, all he talked about was his obsession with fighting Mike. Now once again Mike would fight a fighter who had the same type of mental determination as Buster Douglas did the night that he fought Mike. Evander from an incident we had in the amateurs had always wanted to beat Mike, and when he sparred with Mike they went at it real hard and heavy when Evander was the light heavyweight and Mike was a heavyweight in the Olympic training camp just prior to the final Olympic trials. From that experience Evander always knew that he was going to be a real tough guy for Mike. So he was never, never afraid of Mike! In fact, it was just the opposite! He was obsessed with wanting to beat Mike. That was the goal for Evander Holyfield's entire career was to one day beat Mike Tyson. So when I was training him '93, and he was telling me, "Everybody is afraid of Mike, but Emanuel, if you start fighting Mike and pushing him back, Mike will start folding". That was always what he had in his mind, and when they made the fight I told Don that Evander has always been obsessed with beating Mike Tyson. So when he beat Mike I was not surprised. In fact I picked him to beat Mike and then in the rematch. Evander Holyfield, if they had fought ten times, would always beat Mike just because of the determination and style. After the first fight Mike told me he butted him really bad, and said even though he beat him that he butted him and cut him up. In the next fight I was doing the broadcast with Nick Charles, and I was telling Nick that he was frustrated. I said, "Watch, Evander is butting Mike", and he butted him again. "Mike has been so obsessed with Evander butting him from the first fight that I think he might snap". In the second round I think Mills Lane broke them, and Mike was bleeding from the other eye different from the first fight. Mills said it was an accidental butt, and no way in the world was Mike buying that, because that's what he was worrying about and complaining about way before the fight. So then in his mindset, and I know Mike, when he went to his corner he was thinking like he had ten more rounds to go in one of the biggest fights of his life and he had to fight with his eye torn apart. So he went out the next round and Evander butted him again! If you look when he bit him, he was getting butted again. So Mike bit him, and when a piece of Evander's ear came off, if you really watch Mike had no remorse at all. He felt in his mind that this was right. We have ten more rounds to go. I'm bleeding. You're bleeding. In his street mentality mind, he thought he butted me and I did something back to you. If you notice right after that, they went at it real heavy and that was the best Mike fought! He felt it was an equal fight then. Then I think he bit him again and he got disqualified, and he went crazy! He felt that he had been mistreated and butted in two fights, and no one ever noticed or felt sorry for him. He did what he thought was retaliating, and he wanted to fight everybody. I remember when he came by the press section that I was at, and he wanted to go after the fans. He just went totally berserk. That's the side of the story that nobody ever hears, but he was butted though. He was just at that state where it didn't take much for him to snap. But straight up and up, he would never have beaten Evander I don't think, just style-wise.
CIANI: Okay. Now you mentioned the Lennox Lewis fight before, and that was obviously Mike's next and really his last big chance for glory under the spotlight. He went into the fight with Lewis and had some success in the first round, but then Lennox basically went on to dominate him. I'm wondering if you could talk about that fight in some detail, and I'm wondering if you believe that fight could have been more competitive if it had perhaps taken place some six years earlier?
STEWARD: Once again we go back to the fight that Mike was still a small guy. We forget that there is a reason why they have weight classes, and we look at Lennox and Mike and to me it was always going to be a fairly easy fight because Lennox is a big guy! He's still a 6'5" 250 pound man. Going into the fight everybody was once again—Mike is from the streets, Mike's coming back, Mike's going to whip Lennox up, Lennox is a Momma's boy, Lennox was all that stuff. But people don't realize Lennox is a thug himself. If you know his background and where he comes from, he was one of the guys that when anybody had trouble Lennox would come at them, and whop their ass, and drag them down the street. It was a rough crowd. When you look close enough, everybody was looking at what Mike was going to do. I knew Mike was not going to do anything to Lennox, and one of the reasons was just because Lennox is a big guy and had the same mental toughness as Mike, even though it didn't appear that way all the time. So the strategy in the first round was go out and get respect. So they had all of those guys lined up across the ring, trying to stop Mike from running across the ring and going crazy. You know Lennox was just standing there waiting. When they had the altercation at New York at the press conference, people don't remember—Mike ran across the stage, and as soon as he got there Lennox hit him! Lennox hit Mike first. Lennox didn't run away. He was the one that hit Mike and knocked him down to start the fight. So Lennox was never afraid of Mike is what I'm saying. Then you take the physical size and the fact that Mike's best years were behind him, but nevertheless everybody was holding onto the Mike Tyson image of '88 and '89 still. I felt that it was a fight that Mike didn't really want. I think his heart was not in boxing at that time anymore, his skills had eroded, and he was just in a situation where he went through the fight but I don't think he really had the fire and intensity that he should have had. On the other hand this was Lennox's greatest moment, because he would get his biggest super fight that he always wanted. So he was at that emotional high again. When Mike went in with these guys like Holyfield, and Douglas, and Lennox—they were at the emotional height of their careers. They were emotionally stimulated and Mike just couldn't hold up. These guys were bigger, and with Holyfield it was just style-wise. Lennox was never afraid of Mike Tyson at all. In the first round Lennox was told to go out and stand toe-to-toe with him to get respect. I didn't care whether he won, or lost, or got knocked down. We must go toe-to-toe! We didn't end up winning that first round, and if you notice Lennox went out and fought Mike toe-to-toe. He didn't start running from Mike, and clinching like he would often do. In this case the plan was to get in his face, and after the first round then we went to our strategy, which was jab, jab, jab all the way through, wear him down systematically, and it worked! So after the first round the fight totally changed. The first round was a round to go in and get respect, and we got that in the first round.
CIANI: Going back to something you said earlier, Kevin Rooney and Mike Tyson did have one of those unique trainer-fighter chemistries that really seemed to work together. A lot of fans and observers maintain that had Tyson never parted ways with Rooney, that he would have stayed more focused and that he may have been able to go on to succeed and accomplish more. Do you think there is any truth to that view, that if Tyson had stayed with Rooney his career would have turned out better?
STEWARD: I think they had a great chemistry. Everything worked good, but there is a certain time with all of us in boxing. As Mike started fighting and was going up, he was 19, 20, but as he got to a certain age—22, 23, 24, I don't know if even Kevin Rooney could have controlled and done that much with Mike. Mike had come into his own as a man. They had him more as a kid. Even with Cus, I don't know if Cus would have been able to maintain and control him. He was at a different stage in his life. But at the time it worked. Regardless, when Mike started fighting those big guys—and I always keep going back to the size factor. He still was a little guy. He could neutralize his size handicap with speed. His speed was so effective that the big guys were often clumsy uncoordinated who were bigger than him, until he fought those big guys who had skills and were not afraid of him. But the big guys who were not super skillful, he would neutralize the size disadvantage with tremendous speed, footwork, head movement, and punching from short angles with all different types of punches. But the bigger guys I've always felt would have given him a problem. I think Lennox Lewis would have always been a problem for him. Kevin I thought was the best chemistry that he ever had, but I don't know if that would have held up at a certain stage because Mike had grown and changed as things went along, but it worked perfect and all you can do is work with what you got. It happens often in boxing when personalities have unbelievable great chemistry. You can go and on and on and on with fighters that have that chemistry with one trainer who doesn't have it with any other guy. For them, and their system, and the way physically Mike Tyson was built, it was a great combination and it worked good when they were together.
CIANI: Boxing fans often like to talk about these mythical matchups with fighters from different eras, especially with heavyweight boxing you see this come up a lot. The matchup that seems to come up more often than any other matchup in the minds of the fans is a prime Ali versus a prime Mike Tyson. I just wanted to get your views. If these two were to meet when they were each at their absolute best, do you give Mike Tyson a chance against "The Greatest"?
STEWARD: I think that he had a chance, but I think that Ali would have been too big. Once again it's a big man, and Mike Tyson would have been handicapped with the speed and the size. Ali had a great chin, Ali was very good at fighting all types of styles, and then Ali had unbelievable stamina. Mike was extremely explosive and dangerous, for the most part in his career, for the first four or five, six, seven, eight rounds maybe. But Ali had unbelievable stamina for a whole fight, the movement, and great speed himself, and I think all of his all around skills would have been a big problem for Mike Tyson, and he would have won the fight.
CIANI: Emanuel you mentioned earlier how when Mike fought Lennox, people weren't seeing the Mike of 2002. They were seeing the Mike Tyson of 1988 and 1989. I'm wondering, if Mike ever did decide to comeback today, and say he scored an early knockout victory against an opponent of no major consequence. Do you think the fans would be excited and start demanding a matchup between him and your current champion Wladimir Klitschko?
STEWARD: Yes. I would never underestimate the magic of Mike Tyson. I would say yes, to some degree. There would still be a lot of excitement. Mike Tyson created excitement like nobody I've ever known of to create in my life as a heavyweight. Ali created it because of the showmanship, the entourage, the style, but Tyson was just pure raw excitement and explosiveness. Mike Tyson is the guy. Like I said the two guys who had the biggest impact on boxers in my lifetime, and I've been in boxing more than 57 years, have still been Mike Tyson and Muhammad Ali. I see more people trying to emulate Ali and Mike Tyson than all of those other champions if you put them all together. I don't see anyone else trying to emulate any of those other champions, but that's the kind of impact that Mike Tyson had. I think people would still pack in to see him because of all of the crazy drama that he's had in the ring and outside the ring. People still love Mike Tyson, and right now at this stage in his life it's really so pleasant to see him. I see him at the fights with his kids, and he's got his new wife, and he's just a very humble man who takes pictures and autographs. He's truly an amazing character, and one of the greatest I would say sports figures, even though he's done some crazy stuff. At this stage of his life he is very, very good for boxing and I was happy to see him elected into the Hall of Fame. He generated that excitement!
CIANI: For my final question Emanuel, do you have any final thoughts on Mike Tyson and how do you think future boxing historians will view him and his legacy?
STEWARD: Well Mike Tyson to real pure boxing enthusiasts, they will say well he didn't win any super fights, and he didn't do this, and he lost his big fight with Lennox Lewis, and all of that. But forget all of that! His impact is like Jack Dempsey. When you go back in history, he didn't even fight that often or whatever, but he became a folklore hero for the fans. I think that the general public sees the impact he had on boxing, which to me in the last 50 years has only been equaled or exceeded by Muhammad Ali. Automatically he has to be considered one of the greatest boxers ever just from his boxing appeal and the money that he generated alone. He definitely belongs in the Hall of Fame. He's one of those rare cases where he didn't beat any big superstar fighters, but there weren't many out there at the time. The two that he did fight that were probably the biggest names at heavyweight and he lost to them, which was Evander and Lennox. Michael Spinks was a fight that got him a lot of credibility, even though Michael was not really established as a big heavyweight and Michael was scared to death going into the fight. But nevertheless the excitement with those two undefeated guys at the time going in, there was a lot of excitement and hype and Mike did what he was supposed to do. He just crushed Michael Spinks regardless of what was Michael's state of mind. That was not Mike Tyson's problem.