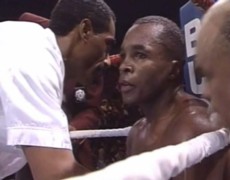 By Ted Sares: The king, the master, my idol. —Muhammad Ali
The Combatants
I confess to being an unabashed Robinson fan. In my book Boxing is my Sanctuary, I included a piece (Chapter 50) on the top 100 fighters since 1950 and had Ray number one. Here is what I said:
"1. Sugar Ray Robinson's final record was a gaudy 175-19-6-2 with109 KOs. In a career that spanned three decades, Sugar Ray embodied the essence of the Sweet Science. He was a world welterweight champion and held the middleweight title five times. He never lost to a welterweight.. When he gave up the 147- pound title to challenge Jake LaMotta for the middleweight championship in 1951, his record was 121-1-2. The lone loss was to LaMotta and both draws were against middleweights. Incredibly, he was so great for so long that he won his first Fighter of the Year award in 1942 and his second award in 1951. Talk about book ends! The fact that I don't have to say much says it all. In 201 fights over an amazing twenty-five-year career, Robinson failed to finish a fight only once when he was felled by heat prostration against Joey Maxim in a fight he was winning handily."
He is considered by the majority of boxing historians as the greatest of all time. He started his career at lightweight but could knock out middleweights with one punch from either hand. Completely dominant at welterweight, His peak record was 128-1-2. He had a 91 bout winning streak against first class competition. He could do it all. He had speed, power, fluid boxing skills, and could take a tremendous punch. He was never physically knocked out in over 200 fights. He was as close to perfection as it gets in boxing. Ray received 60% of the Boxing Historian's first place votes. 27 of 30 placed him inside the top three, and he is the only fighter who did not receive a vote outside of the top 10.
Again, in my book Boxing is my Sanctuary, I rated Sugar Ray Leonard number seven and here is what I had to say about him:
"Sugar Ray Leonard's final record was 36-3-1 with 25 KOs. Like Ali, he was equipped with super speed, ability, and charisma. Leonard filled the boxing void left when Muhammad Ali retired in 1981. With the American public in search of a new superstar, he came along at just the right moment. Like Ali, he was another right person for the right time. An Olympic gold medal winner, he was named Fighter of the Decade for the 1980s. He won an unprecedented five world titles in five weight classes and competed in some of the era's most memorable bouts. He won the unofficial round robin of his era by beating Benitez, Duran, Hearns and Hagler which is enough of a platform for entry into any Boxing Hall of Fame. No one could exploit an opponent's weaknesses better than Leonard and there were few better and more ruthless closers in boxing history."
Like Muhammad Ali before him, Leonard was the right man for the right time. His amateur record was pristine and he carried it over into the pros. He seldom fought low level opposition (for example his second opponent, Willie Rodriguez, was 10-1 coming in), and competed in some of the era's most memorable contests.
The Setting
H [SRR] boxed as though he were playing the violin
—Sportswriter Barney Nagler
Here is how I see a mythical fight between the two playing out at a particular point in time (about 65% into their respective careers). Leonard comes in at 27-0 while Sugar is at 128-1-2. "When SRL fights SRR, there is no PPV, but the welterweight fight is seen as one of the most important in boxing history. The promoters bill it as: "Whose Sugar is Sweeter." The promotion includes a mega purse before the word "mega" was a word. The fight is held in the neutral ground of the Chicago Stadium which sells out in two days.
Note that Sugar had 104 more fights than Leonard coming in and significantly more rounds boxed. Leonard retired with 40 fights under his belt and a frequency index that doesn't begin to compare with that of Ray's, but SRL'S quality index is beyond dispute as he duked with outstanding opposition. On balance, they both fought excellent competition coming into their fight, but I give the edge to Robinson who, by that time, had fought the likes of Jake LaMotta four times, the great Marty Servo, rugged (as in dirty) Fritzie Zivic, California Jackie Wilson, Henry Armstrong, Kid Gavilan, Bobby Dykes, Maxie Shapiro, and future Hall of Famer Sammy Angott. There were many more.
Robby was coming off a 6-fight tour of Europe. Leonard had just sent Dave Boy Green into UK dreamland.
The Fight
While their respective styles were similar on paper and concerned many that the bout might be less than compelling, the fight turns out to be a sizzler as Leonard tried to bully Robinson early and punishes him in the clinches with sharp body shots. At one point, he even shoves his Robinson to the canvas. Leonard seems to take early control by pressing matters and backing Robinson up, but Robinson may be looking for the Maryland's boxer to miss with an uppercut so that he can catch him with a fight-ending left hook.
While both men are super fast, fluid, adept with either hand, have punishing jabs, and have KO power in either hand, Robinson seems to demonstrate just a little bit more in each category, though Leonard's flurries seem more flamboyant. And judges like flamboyance.
SRL attempts to exploit Robinson's weaknesses but finds to his frustration that Robinson doesn't have any. As each round starts to come to a close, Robinson smothers Lenard and prevents him from stealing the round. The Harlem stylist then begins to out-counter Leonard and slows him down just enough to take control in the 8th stanza. On one occasion, he rocks SRL while backing up and this visibly shocks Leonard who now realizes that he can be hit by any punch at any time and from any position.
Going into the championship rounds of this 15 round match, the fight is extremely close. But Robinson asserts himself with cute maneuvers, quick leads, and even one or two bolo punches that seem to confuse and frustrate SRL but also impress the judges. This continues into the last two stanzas when they both let it all hang out, engaging in furious exchanges and all out action. The sound of leather hitting flesh resulting from fast combinations can be heard well back into the dark and smoke-filled crowd.
After one particularly malicious exchange in which each fighter lands flush sweat splattering shots, both fighters touch each other's gloves in a spine tingling nod to Old School. The crowd was up and roaring its approval. This was what it was all about back in the day.
The Result
Robinson does enough down the stretch to win a razor thin UD, but both fighters know they were in a great fight. And so does the MSG crowd as it rises as one and screams its approval. As they hug, both seem pleased with the result even though it is Leonard's first career loss.
Once again, the lesson here is to take into account all essential variables when making comparisons between old and modern. When this is done, nostalgia and myth is removed from fact. When this is done, you are not engaging in generational prejudice. Of course, when I do this, I affirm that Sugar Ray remains in a league of his own.