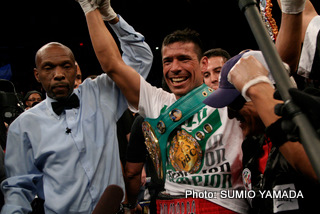 By Vivek Wallace – For the past 364 days, the world of boxing has seen an incredible run, equipped with every emotional angle known to man. Everything from triumph to tragedy and in between materialized at some point, and at the end of the day, few can complain about the many amazing nights we encountered! With the year coming to a close and all the action firmly placed in the rear-view mirror, today, we take one last look back at the memorable archives of 2010:
From the "Who Would Have Ever Thought?" archive: Sergio Martinez vs Paul Williams
Back in 2009, these two men gave us what most would argue to be the true fight-of-the-year. Fast forward a few months, and wow…..isn't it funny how some things completely turn around? Martinez looked strong in early 2010 against Pavlik, while Williams looked less than impressive in a Cintron showdown that would end in controversy; but no one in a million years expected to see what eventually unfolded on the night of November 20th, in Atlantic City's Boardwalk Hall! Heavy action commenced when the bell rang, and never stopped in the first round. Moments later after being told in so many words to tighten up his defense, the proverbial "shot heard around the world" landed, sending Williams to the canvas where he would fail to beat the count..
The irony here is that we've seen the parallel to this story before. Years ago, there was another fighter who had many quietly question the durability of his chin. He fought to a controversial victory that many disputed in the first encounter. He later returned for a clarification bout to appease the fans, yet didn't have to, and also saw his worst dream become a reality, as the cuckoo clock struck a high chord. That man was Roy Jones jr. Roy would come back for a third bout and was able to avoid the same fate, yet found himself on the losing end of the stick, again. Will 2011 bring a Martinez/Williams trilogy? Not sure it's necessary, but it'll be interesting to find out. Stay tuned.
From the "King of Queens" archive: Arthur Abraham vs Himself….
Arthur Abraham was once one of my favorite fighters to watch, but the year of 2010 did him no favors, as Abraham went from looking bad, to worst, by years end. In March of 2010, Abraham face Andre Dirrell and was thoroughly outclassed for most of the fight. With little time remaining in the bout, urgency got the best of Abraham, as he impulse led him to hit a man who was already clearly down. The act itself was forgivable, as few have the discipline to control such an impulse in the heat of the battle, but what made things worst for Abraham was that he went on record after the fact saying that Dirrell was "acting", and completely refused to take ownership of an act gone bad.
There's a street adage which tells us that "new-age karma comes with GPS, as it always knows its way back around"! Abraham would learn this the hard way, as the excuses he gave for a loss to Dirrell could not be used in the drubbing he took from the U.K.'s Carl Froch. In the previous segment we touched on the Antonio Tarver/Roy Jones jr. debacle, so in apt fashion, I pose Tarver's patented question to Abraham, in hindsight: "Got any excuses today"? In 2010, Abraham went down in stature. In 2011, he plans to go back down in weight. Will he fall short there too? Stay tuned.
From the "You Can't Do That On Television" archives: David Haye vs Audley Harrison
In an era of marketing and promotions, the David Haye brand has really seen its stock fall hard in 2010. First it was the back-and-forth drama in the Klitschko sweepstakes, then came this……For starters, no one cared one iota about a showdown between Haye and Harrison, accept those two. What made it worst was that promoters had the audacity to stage it on the same day as the Pacquiao/Margarito showdown, which made it a bigger joke. As if it couldn't get any more comical, what happened next stole the cake! The first round literally went the full three minutes without one punch (OK, maybe two) landing the entire round. The second round went pretty much the same.
After a weak start to round three, some very lucky cameramen caught an unprecedented angle which clearly showed Haye mouth the word "NOW", letting Harrison know that he was gonna put together a barrage of blows to end it all. Guess that explains why Harrison hit the deck despite Haye never really landing flush in the process. When it rains it pours! The Haye brand can look no worst right now. Hope like hell for his sake that Wladimir and Vitali have added acting to their resume, because at this rate, the only one that'll touch the deck when he yells "NOW" against them will be him! Will Haye actually give us a chance to find out in 2011? Inquiring minds wanna know!
From the "Big Heart, Big Steps, But P4P, Not Yet" archive: Amir Khan
If there was ever a header that hit the spot squarely, it's this one! In Amir Khan, we see a man who has finally come full circle in many ways. A few years ago he took a lickin', and kept tickin', proving to the world that he has the heart to overcome certain adversities in an effort to rise to the top. Since that devastating loss, he has come a long way and taken some huge steps in rebuilding his career, but despite the effort shown, his most recent showdown with Maidana was proof that he has not yet entered the realm of P4P contingency. Maidana is not a P4P leader on any list in the sport, yet he gave Khan pure hell, even leading trainer Freddie Roach to contemplate stopping the fight.
The good thing about Khan is that he's still young and has much time to improve. The key to his success will be careful matchmaking, as a fighter with better fundamental skills who can make Khan miss more frequently would have his way with the still green rising star. It'll be interesting to see what 2011 brings for Khan, but for those who feel a bit overzealous…..please….stop the Mayweather chants! The kid is not yet ready for that level! Funny thing is that he knows this too….
From the "I Didn't Think He Had It In Him" Archives: Floyd 'Money' Mayweather vs Shane Mosley
I can still remember like it was yesterday. Few things in life are important enough to get me to voluntarily skip a birthday celebration of one of my children, yet on only the 2nd birthday of my little princess' life, I found myself 2,000 miles away from home, walking the Vegas strip, en route to the MGM Grand to see if Floyd Mayweather jr. had what it takes to defeat a man who has said he didn't for nearly a decade. After a somewhat uneventful first round, I watched closely as the action heated up in round two. At the precise moment that I began to glance away from the action to type in a note, I saw the knees of Floyd Mayweather jr. buckle like a strap in a new sedan! My immediate thought was "Wow, I'm on hand to witness the first Floyd Mayweather jr. defeat"! As I looked at the young lady in the media row next to me, she gasped as if asthma set it, and literally couldn't dispense her words!
As shocking as that moment was, what left me even more amazed was seeing him enter the press conference an hour later without a scratch on his face in the aftermath. We always wondered if Mayweather had another gear in him, and my words to him in a brief one-on-one was the best caption I can think of to date to cement this triumphant night. That statement….."Champ, you didn't defeat Mosley the way his critics said you would (running)….You defeated him the way your critics said you couldn't! Which was face to face, eye to eye, do or die"! I knew the guy had skills, but to quote the aforementioned title….."I didn't think he had it in him"! Can he possibly trump this effort in 2011? Damn…….I can't wait to find out!
From the "B-Hop Turned Beast-Hop" archives: Bernard Hopkins vs Jean Pascal
We've seen Bernard Hopkins do some awfully crazy things over the years, what he did on the evening of December 18th across the border in Canada proved that nothing this guy does ever truly amazes me! To perform the way Hopkins did at the age of 45 was nothing short of awe-inspiring. Absolutely incredible, to say the least. Not only did he do it in another man's land, but he got off the deck twice and turned back the clock, showing the world what discipline, fundamentals, and a passion to succeed can be worth in crunch-time! We don't know if he'll ever step in the ring again, but for the sake of a sport that could use his grit, I hope his date with destiny comes sooner rather than later. 2011…..Make way…..here he comes!
From the "Never Say Die" archives: Juan Manuel Marquez vs Michael Katsidis
After being shutout by Floyd Mayweather jr., many found themselves saying Marquez was "washed up" and "no longer the same fighter", and even a hand full of occasional "bloated" statement or two. By the end of the night, it was funny to see how those statements faded away, and suddenly, everyone remembered that this is a top 3 P4P contender who entered the ring against Katsidis at practically the same weight he entered the ring against Mayweather. Mayweather knocked him down once, Pacquiao knocked him down 4x, so the "bigger, more powerful" argument doesn't quite hold. Truth is, styles made the difference with Marquez/Mayweather, just like it did in Marquez/Pacquiao. Like Hopkins, Marquez may be aged, but so is the best fine wine on the shelf! So, sip up, fellas! Toast to Mexico's finest! Does he get the trilogy with Pacquiao in 2011? We may soon find out!
From the "Is There Anything He Can't Do" archive: Manny Pacquiao vs Antonio Margarito
We saw him take out lightweight David Diaz. We saw him go up and take out jr. welterweight Ricky Hatton. We saw him go up from there and take out welterweight Miguel Cotto. We saw him go from there and take out big welterweight Joshua Clottey. When you thought he was done….we saw him go up even more and take out jr. middleweight Antonio Margarito. Up next? Margarito conqueror, Shane Mosley. A win here, and like the Beastie Boys once said….."No Sleep 'Til Brooklyn"! You guessed it….Put him in with Shannon Briggs for a tune-up to the Klitschko's! Seems no other true challengers await, and Haye's famous "NOW" line isn't part of the K-Bros script!
Humor aside, it's been an amazing year in the sport, and contrary to what most believe, I don't think the sport is dying. But it is funny that the biggest heart in the sport happens to be in the chess of one of its smallest men. Is there anything he can't do? I don't know, but what I do know is that 2011 is the year he'll finally change his mind on something he said in the past that he won't do……and you know where I'm going with this one, ladies and gents! See you in Las Vegas, and bring a coat! As Shawn Stockman of BoyzIIMen once said……."It'll be another cold December night" when it all goes down! Just like the end of this year, as it relates to this mega fight, I'm afraid "THE TIME HAS COME"!
(Blessings to each of you, and may the new year bring much peace, much prosperity, and most of all, much progress…..Peace……God Bless……One Love!)
(Vivek Wallace can be reached at vivexemail@yahoo.com, 954-292-7346, Youtube (VIVEK1251), Twitter (VIVEKWALLACE747), Skype (VITO-BOXING), FaceBook, and Myspace)