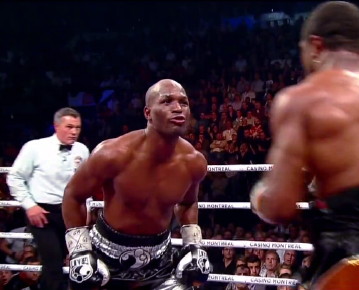 By James Slater – Quite often, after a controversial decision has occurred, those on the receiving end calm down after having vented a lot of anger on the day of the fight. And Bernard Hopkins' co-promoter Richard Schaefer certainly was fuming on Saturday night, moments after his fighter had been handed a majority draw instead of a win after his spirited challenge of light-heavyweight king Jean Pascal.
However, we are now well into Monday, and Schaefer is still mad as hell. As fans know, Pascal is actually contracted to face Chad Dawson next, via a rematch clause that was in place when the Haitian-born Canadian won the light-heavyweight title in a big upset. But of course, Schaefer (and Hopkins) wants an immediate rematch to take place between Pascal and the amazing, soon-to-be-46-year-old. Schaefer has even gone as far as to say Golden Boy will, "if necessary, use our vast financial resources to sue the WBC, sue the Canadian commission or whatever it is. "
By "if necessary," Schaefer presumably means if the WBC don't go along with his demands and strip Pascal if he goes ahead with the return with "Bad" Chad. However, in speaking with Yahoo Sports, the Golden Boy CEO said Jose Sulaiman is on his side..
"I did talk to Jose Sulaiman and he feels as well that this [draw] is highway robbery and that he will order that Jean Pascal will have to defend his title immediately against Bernard Hopkins," Schaefer said.
So will Sulaiman force Pascal to fight Hopkins again next, and if he does, where will this leave Dawson? Dawson is as entitled to his rematch with Pascal as much as Hopkins is entitled to his – if not more so. Wouldn't the sensible thing be for Pascal to go ahead and fulfil his obligation to Dawson, and THEN fight Hopkins a second time? And if the slick southpaw were able to take the title back from Pascal, then Hopkins would be accommodated by way of a first shot at Dawson.
That way, everyone would be happy (the fans especially, as they would possibly get two intriguing fights taking place back to back) and there would be no need for anyone to start suing anyone.
It's easy to see why Schaefer is so angry. Hopkins, a remarkable fighter, put on yet another remarkable performance, yet he was denied his history-making victory. But to insist that Hopkins elbow Dawson out of the picture so as to get his own shot at "revenge" is wrong. Suppose Hopkins beat up and soundly thrashed Pascal in a rematch and then chose to retire – where would that leave Dawson? Sure, he could then fight Pascal for the vacant title, but if he were to win people would say he only beat a damaged, even ruined fighter.
The WBC's president for life has a tough decision to make over this one.