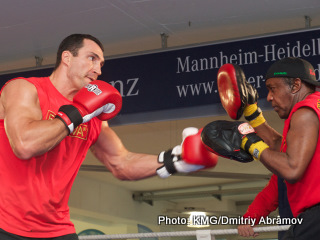 Every Wednesday ESB will feature a new published letter directly from hardcore fight fans just like you! Each letter will be published with a response from boxing scribe Vivek Wallace. Send all 'Open Mic Fan Mail' letters to wallace@boxing247.com, and remember to keep content short and concise, and profanity free. Today's segment comes from Alex H. of Cincinnati, OH:
Vivek,
A group of my friends and I who are all fight fans have had a pretty interesting conversation going regarding some of the trainers in the sport today. Alot of emphasis is put on certain fighters and the trainers that they have, and it often seems that some trainers get too much credit, while others don't quite always get enough. My position is that without a good trainer, it doesn't matter how good a fighter is, he won't ever truly live up to the hype and potential he thinks he has. When you look at someone like Manny Pacquiao, he's the best P4P fighter in the sport, but without Freddie Roach, he would have been the same one-handed fighter who struggled with men like Erik Morales. Ali had Dundee, Pacquiao has Roach, Wladimir Klitschko has Steward. No matter who you look at in the sport today, all the best fighters have the best of the best in their corner and they get the results as a result..
My buddy holds the position that some fighters are just born with "the gift" (as he puts it) and it doesn't truly matter who you put around them, they are just natural born fighters with the ability to perform on that level. I don't really think that this is possible. Michael Jordan, Peyton Manning, or Kobe Bryant can be called a "player/coach", but in boxing, I don't think there's any such thing. Without the guidance of a good trainer, I just don't see any fighter really amounting to much. I know how the young guys are when they first come to my old gym.When you look around the sport today, you see a bunch of great fighters trained by the same men (Roach, Steward, Richardson, and a few others). My questions to you: Who do you think the best trainer in the sport is, and do you think fighters can truly be effective without them?
Alex H. (Cincinnatti, OH)
(RESPONSE TO QUESTION BELOW)
Alex,
I'll start by saying that personally, I find validity in the statement of both you and your friend. The trainer/fighter union is one that is necessary, but at the same time, it doesn't guarantee success. What guarantees success is the level of chemistry between the trainer and the coach. The flipside to this argument, however, is that you also have fighters who do in fact have that "gift", but it should be duly noted that even in those who do have it, something was cultivated by someone who initially instructed, whether it be their current trainer or not. You pointed out Manny Pacquiao as as example, and I think you're right, Pacquiao has greatly benefited from the teachings of Freddie Roach, similar to Amir Khan who has made a quantum leap in demonstrated ability since joining Freddie Roach.
The flip-side to that is the fact that Pacquiao was a visibly gifted fighter from the beginning. He was who we see today from the start, he just happened to cross paths with a man who knew how to get even more out of him, cultivated by a strong bond. Before I touch on who I think the best trainer in the sport is today, I think we also have to address what you termed the "gift". It's very difficult to identify these fighters, because few can be identified as being that naturally gifted, but when you look at a talent like Floyd Mayweather jr., there's no secret, the man is quite blessed from a talent standpoint. The best example of this was when he faced Zab Judah, and actually struggled to adjust for the first few rounds under the care of his trainer. This all changed when his trainer was removed from the corner due to the melee that broke out and Mayweather actually coached himself to a smooth victory and actually established a little separation on the scorecards.
Now, we can look at Mayweather and say "he was just that gifted", but the reality here is that he wouldn't be who he is today without (by his own admission) the offensive instruction of Roger Mayweather, paired with the early career defensive fundamental training of his Father and former trainer, Floyd Sr. The interesting thing about that story as it applies to this scenario is that as good as we see Mayweather, (talent-wise), it actually took TWO DIFFERENT SPECIALIST to make him who we view him to be today. One that focused solely on defense, with less offensive emphasis (Floyd Sr.); and one who focuses on speed, reflexes, and offense, with very little defensive emphasis (Roger). As I stated earlier in the response, it takes chemistry between the two men involved, no matter how good the fighter and trainer are. Floyd was lucky to have two men with blood-rooted chemistry, but the average fighter has to search for someone close enough to bond with, or at least work with.
Now, when you get into the question of "who the best trainer today" is, I don't think that's a fair question to really attempt to address. Roach has made a tremendous difference in a few men, but there were many others who he was never able to redirect, too, (ODH, Mike Tyson, James Toney, etc). Naazim Richardson has proven to be one of the best strategist in the sport, but remove Hopkins and the Mosley of 2009 from his care, and suddenly, the resume isn't as deep either. Same with Emanuel Steward. He has helped redirect the fortune of Cotto, and made Wladimir Klitschko look like a beast; but Jermain Taylor and Kermit Cintron would strongly beg to differ.
My point……all of these men often get credit for being the best in the biz, but logically, it has everything to do with the chemistry they have with the men in their care who finally pan out. I think at the end of the day it probably does start with the talent of the fighter, because lesser known trainers of the world have proven that the sky is the limit when you pair a good talent with a great voice. Fritz Sdunek (Vitali Klitschko/Dariusz Michalczewski), Nacho Beristain (Juan Manuel Marquez), Gabriel Sarmiento (Sergio Martinez), Virgil Hunter (Andre Ward), and even Enzo Calzaghe (Joe Calzaghe) get a helluva lot out of their men, yet you never hear anyone saying "I'm gonna leave my trainer and consider this group of guys"! So, I can't say any one guy is technically "the best" trainer. It all comes down to chemistry and influence.
What I can do, however, is name a few fighters who I'd love to see under better care to accent what appears to be "diamond-in-the-rough" type talent: Paul Williams, Chris Arreola, Andre Berto, Joshua Clottey, Zab Judah, Kelly Pavlik, Arthur Abraham, David Haye, and Luis Collazo! These men under better fundamental (or in some case aggression) trainers would prove that a lot of talent and a little bit of tweaking from the right voice is priceless! I'm just sayin'…..
(Check out weekly "Saturday Roundtable" discussions and daily buzz topics with Vivek Wallace on FaceBook. Vivek Wallace can also be reached at vivexemail@yahoo.com, 954*292*7346, Youtube (VIVEK1251), Twitter (VIVEKWALLACE747), and Skype (VITO-BOXING)