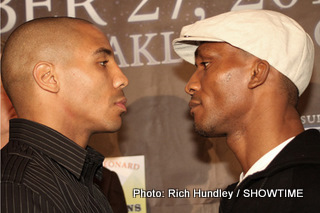 OAKLAND, Calif. (Nov. 24, 2010) – World Boxing Association (WBA) super middleweight champion Andre "S.O.G." Ward and world contender Sakio "The Scorpion" Bika met with local Bay Area media members on Wednesday to discuss their anticipated world title fight just three days away.
It will be the second consecutive defense of his world title for the local fighter Ward (22-0, 13 KOs), who will have his hands full against Bika (28-4-2, 19 KOs) of Sydney, Australia, via Douala, Cameroon on Saturday, Nov. 27, live on SHOWTIME (live at 9 p.m. ET/PT).
In the first fight of the split-site doubleheader, "King" Arthur Abraham will meet Carl "The Cobra" Froch in the final Group Stage 3 bout of tournament for the vacant WBC super middleweight world title. The world title match will be televised on same-day-delay from the Hartwall Areena in Helsinki, Finland..
The Oracle Arena in Oakland will be the site of the World Championship night of boxing which will begin at 4 p.m. featuring undefeated Jr. middleweight and 2008 US Olympian Javier Molina (4-0, 4 KOs), Sacramento's undefeated lightweight Stan Martyniouk (10-0, 1KO), Houston's power-punching Cornelius White (15-0, 14 KOs), plus four other bouts with the main event featuring Oakland's finest starting at approximately 7 p.m.
Tickets are priced at $150, $75 and $35 are on sale now at the Oracle Box Office or visit www.coliseum.com or www.ticketmaster.com.
Goossen Tutor Promotions and TNT Boxing are promoting this night of World Championship boxing, with the championship bout in association with Golden Boy Promotions, the promoter for Bika.
Here's what the principals had to say on Wednesday.
ANDRE WARD:
"I thank God for the opportunity. I don't take this time in my life for granted. I take my job seriously and appreciate the compliments, but I still feel that we have a lot of work to do before it is considered anything great.
"Sakio Bika and I have both had great camps. Come Saturday night I know that I am prepared both physically and mentally.
"Whether there are two or 100,000 fans in the stands makes no difference to me because I will still come in here to do my job."
When asked about running in the ring:
"I step up and show what they're dealing with in the ring. I am a fighter that doesn't take a lot of punishment. Like Floyd Mayweather."
SAKIO BIKA:
"I am happy Andre Ward has given us the opportunity. I am looking for the win. Training camp went very well and we will win this fight.
"We have been training hard for six weeks."
On his preferred style of fighting:
"I don't care what kind of style of fighting an opponent brings to me. I do what I have to do to win the fight."
VIRGIL HUNTER, Ward's Trainer:
"It's good to be here once again in our hometown and at the Oracle Arena. We have a difficult, tough task ahead. Sakio Bika is a world class fighter. In this training camp, we have no stones left unturned. We prepared diligently and have plans to prevail. We wish Sakio Bika luck. When I say luck, I mean that he goes home to his family in tact. We plan to win just like we've been winning for years. When Sakio Bika gets into the ring with Andre Ward it will be a whole different ball game on Saturday night."
On Bika's style:
"Sakio Bika is a very determined and aggressive fighter. I've seen him get hurt on a few occasions and it intrigued me how he did get hurt and how he knows what to do when he does get hurt. We know he's aggressive and we know how to neutralize that."
On Andre Ward's past knee injury:
"Andre Ward's knee has finally healed. He beat Miranda, Kessler and Green with one leg. I am glad that he has his lateral movement back and that he is finally pain free. I'm glad to have all the weapons back. I am happy that he his healthy once again."
RONNIE SHIELDS, Bika's Trainer:
"It's a pleasure to be here out in Oakland. Sakio Bika is ready to go. We are just looking forward to Saturday night. Sam Watson asked me to train Sakio and I said yes because of the type of fighter he is. I know that he is talented and I know what he is capable of in the ring. That's what we are prepared for and we're ready to go.
"We know what we're up against with Andre Ward. We have a great fight on our hands. Andre Ward can keep his spot in the Super Six Boxing Classic Tournament. We just want the WBA Title.
"I have never seen Andre Ward fight live but I have watched him on television. He's a great fighter."
DAN GOOSSEN, Ward's Promoter:
On the Super Six World Boxing Classic:
"The Tournament is a great, great concept. When it can be accomplished we'll see a lot more come about with this great concept.
"Today is about this Saturday's fight. When you get this close to a fight, you're just thinking of retaining this title.
"Antonio Leonard (Ward's manager) said it best when he said that Andre Ward has the wits and the ability to put it all together. He will be one of the superstars in the sports in the years to come.
"I am proud of Andre Ward and his march to making history. Everyone is witnessing something special for the Bay Area and Oakland. This is a privilege for Oakland and the entire Bay Area to have a man born and bred and who wants to continue to perform in front of his hometown fans. This man epitomizes what a mother, father, brother or whoever you are can be proud of. I am extremely excited about him and who he is as a person.
"Bika and his camp have talked a lot about their plans to dismantle Andre Ward and pin the loss on him. I believe that Virgil put it best when he said that people underestimate Andre Ward."
ANTONIO LEONARD, Co-Promoter TNT Boxing:
"This is our fourth fight back in Oakland and nothing has changed. Andre is still the best 168-pound fighter in the world. He has done everything he said he would do when I met him in 2002. You don't have to talk the talk and walk the walk .No doubt in my mind that Andre Ward wins the fight like always."