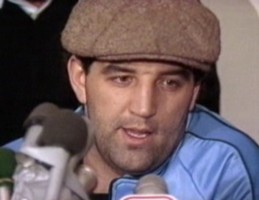 By James Slater – Heavyweight legend Gerry Cooney retired in 1990 with a fine 28-3(24) record, yet the man who battled a who's who of heavyweight greats is sadly best remembered for the fights he lost. Never able to capture the heavyweight crown – despite two brave attempts, one of which made up one half of one of the biggest and best fights of the 1980s – "Gentleman" Gerry nonetheless became a household name and a fan favourite.
Today, aged 54, Gerry hosts a boxing radio show every Friday, and he is also well known for having financially given back to the sport that made him famous. One of boxing's good guys, Cooney remains a big fight fan, and he was more than happy to talk to me when I called him earlier today.
Speaking in the soft, well mannered way he became famous for in his fighting prime, Gerry sounds no different today. Recalling his biggest fights as well as giving his opinion on some of today's biggest stars of the sport, Gerry had the following things to say:
James Slater: It's a real special pleasure to be able to speak with you, Gerry. I kind of expected someone else, maybe an aide, to answer when I called!
Gerry Cooney: Okay, call back and I'll get an aide to answer (laughs).
J.S: It's great speaking with you, as I said. I am a big fan. Anyway, firstly, are you still a big fight fan these days?
G.C: Sure I am. I do a radio show every Friday, it's on 241 F.M service radio. I am a fight fan. I think boxing had its problems and kind of fell away for a while, but it's coming back strong now; it's made a comeback over the last two years or so.
J.S: Who do you like watching today, Gerry?
G.C: I like the Klitschko boys, I think they're in a class of their own. I like Manny Pacquiao. All the super-middleweights are great, with their [Super-Six] tournament, all great fights. And now they're doing a bantamweight tournament. It's very exciting. Like I say, boxing was on the floor, but it got back up.
J.S: You mentioned Pac-Man – I've got to ask you on the record: who wins if he and Floyd Mayweather ever do fight?
G.C: You know, I've bounced back and forth on that. At one time I thought Mayweather was too big for him, but Pacquiao is a great guy and a southpaw, and he started off at 106-pounds – the same weight Mayweather started at as an amateur. I had Harold Weston on the show – a welterweight who fought everybody – and he was telling me what he thinks. I'd love to see Pacquiao beat him, I've got to say.
J.S: But will the fight ever happen, especially in light of Floyd's current legal troubles?
G.C: I'm disgusted right now. The fight was there to be made a while back – a great fight – but then Mayweather started all that drug testing stuff, which was just nonsense really. Mayweather was making all these unnecessary demands, maybe because he never really wanted the fight. It's hard to believe that, what with all that money on the table, but you never know.
J.S: Well, a lot of people do seem to think that maybe Floyd didn't want to risk losing that zero on the end of his record. And as much I would never call any fighter scared, maybe Mayweather felt he couldn't beat the guy!
G.C: It just shows, the unhealthy way Mayweather has been behaving lately, all that acting out before the press and the fans. Who knows? But I put it [the fight between the two] on the shelf now, I'm done with it. Let's see all the other great fights out there instead. Let's see Pacquiao fight his next fight [against Margarito] – a guy who I really don't feel should be fighting.
J.S: Margarito, because of the hand-wrap thing?
G.C: Exactly. I don't think he should be allowed to fight.
J.S: That's another contentious issue, and boxing has had its problems, as you said. But you said you like the Klitschkos; do you like today's heavyweight division?
G.C: A lot of the athletes moved away from boxing, into UFC – which I think is really crazy, where they elbow to the head and knee to the jaw. I think that's really a barbaric sport – but boxing is coming back. With the Klitschkos, though, unless someone comes around, they can stay where they are forever! The heavyweight division is lacklustre, and it will be until someone comes along who can test them.
J.S: You in your prime, at 6'6," you would have been as big as them. Do you ever think about that; how you'd do in your prime against today's champions like the Klitschkos?
G.C: Let me tell you, I got messed up between my fight with Ken Norton and my fight with Larry Holmes; I got messed up with alcohol. I needed at least a year more experience, with three or four more fights before I fought Holmes. But I couldn't get any fights. Don King had all the contenders, and unless I signed myself over to him, I couldn't get a fight. With that said, the way to beat the Klitschkos is to get inside, under the jab, and bang to the body. Do that for two or three or four rounds and then the hands will come down and then you turn them over. It's like chopping a tree down. These guys try to headhunt when they fight them and that won't work. But you back them up, the younger brother especially, and he loses heart.
I was talking with Teddy Atlas recently, about his fighter [Alexander Povetkin], and he told me the kid needs more time to get ready – maybe another year-and-a-half. And I agreed with him. I needed more experience before my fight with Holmes.
J.S: It's amazing, talking about the fight you are probably most famous for – can you believe it's been over 28 years since you and Holmes had that great fight! Does it seem that long to you?
G.C: How old are you?
J.S: I'm 39. But I can remember that fight. The late, great Harry Carpenter called it over here. It was a huge event, in all the British papers.
G.C: It is amazing that it's that long ago, 28 or 29 years, whatever it is. We had a great night, but unfortunately I needed at least three more fights before that one. But I couldn't get them and I did the best I could. I did the best I could with the cards I was dealt with. Had I had another year, I think I would've beaten him – and Larry Holmes even said that himself; that if I'd had another year to get ready I'd have beaten him. Me and he are good friends today though, and that fight was a great moment for me. I lost, but then I had to move on and get on with my life.
J.S: I don't really want to ask you about the loss to Michael Spinks, because I know you weren't in any way at your best for that fight. I remember a video interview with you from before you fought George Foreman a couple of years later, and you said you felt like "a rubber band that had been stretched and put back in, stretched and put back in" before the Spinks fight.
G.C: Yeah, it was on, off, on, off. It was ridiculous. He didn't belong in the same ring as me, but I wasn't taking good care of myself because of drink and he beat me.
J.S: Then you got yourself in real good shape for the Foreman fight in 1990. You wobbled him real good in the 1st-round, with you trademark punch, the left hook!
G.C: Yeah. Gil Clancy told me to move around for six or seven rounds, but when you're a puncher and you catch someone, you got after them. And in that fight my timing was off and I got caught. But that's just the way it goes, you know. I had to move on and get on with my life. Today I have a great life. I have three kids and a beautiful wife. I play golf every day. I give to charities. I'm in a lucky position.
J.S: Today, the fans still talk about Gerry Cooney, saying you're one of the good guys. You have given back to boxing with your F.I.S.T organisation and other benefits you've set up. I don't think any fans have a bad word to say about you.
G.C: The only regret I have in my career, is my managers wanted a big payday, and I wanted four or five more fights before going in with Holmes. That would have made all the difference.
J.S: Well, it's been a real pleasure speaking with you, Gerry. Thank you so much!
G.C: Okay, Call whenever you need anything.