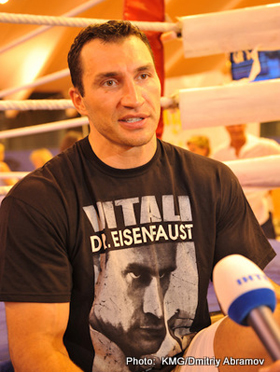 by Geoffrey Ciani – This week's 88th edition of On the Ropes Boxing Radio featured an exclusive interview with reigning IBF/WBO heavyweight champion of the world Wladimir Klitschko (54-3, 48 KOs) who is scheduled to have a rematch against Samuel Peter (34-3, 27 KOs) on September 11. Klitschko and Peter first squared off almost five years ago in what was one of the more entertaining heavyweight fights in recent memory. Klitschko was officially dropped three times during the contest, but despite suffering multiple knockdowns, Klitschko persevered and overcame adversity. He was awarded a unanimous decision victory where all three judges scored the fight 114-111 in his favor. Most observers view this as a turning point in Klitschko's career. Here is a complete transcript of the Klitschko interview:
JENNA J: Anyway guys, it's time for our second guest of this week's show. He is currently the reigning, defending Ring Magazine heavyweight champion of the world. We have Wladimir Klitschko. How's everything going today, Wlad?
WLADIMIR KLITSCHKO: Thank you. I'm doing just fine. How are you guys?
JENNA: I'm doing great. We're definitely happy to be talking to you today, and I just wanted to ask you how your training has been going for your September 11 bout with Samuel 'The Nigerian Nightmare' Peter?
KLITSCHKO: The training is going very well as usual. So I just have another opponent and I have to adjust myself to this opponent with a strategy and tactic. Once in awhile, in the beginning, I had like kind of nightmares and they had like a little bit of a Nigerian taste in it, but after the first couple of weeks it got back to normal. So I'm sleeping well and recovering after workouts, so I'm looking forward to this September 11 fight.
JENNA: Well the fight you have here is a rematch from a bout that took place almost five years ago. What do you think has changed in you as a fighter since your first fight with Samuel Peter?
KLITSCHKO: Well it's called a rematch. It's more maybe probably on Samuel Peter's side a rematch. Samuel Peter is the number one contender and I have to defend my title. I did fight him five years ago and I believe Sam said that he didn't really lose that fight because the referee didn't give him a chance to win this fight or something like that. I just heard it on his interview on-line, and that's actually pretty interesting to hear. But I feel great about this fight and I'm looking forward to the challenge in this fight, because Samuel Peter was one of the toughest opponents that I had. I think that the fight five years ago was a really, really tough fight for me.
Anyway, I won this fight and I believe that Samuel Peter got better than he was two years ago when Sam was fighting Vitali. Now he's got a new team, he's got a new coach, he's got a new promoter, and he won his last four fights by knockout, so his confidence is building up. He lost a lot of weight so that means his speed picked up and he's still taking a good punch. I never fought a guy that could take so much punishment, so many punches, and didn't go down. So Sam is a really, really tough opponent and I'm seriously preparing for this fight. I know that I will have a challenge in the ring on September 11 and I'm looking forward to the challenge.
JENNA: Alright now in the first bout, you were knocked down three times. Some of the knockdowns were debatable as they were behind the head, but a lot of people consider that bout with Samuel Peter as a turning point in your career. Obviously you had the two previous losses to Brewster and Corrie Sanders, but this fight here was the one where you overcame the adversity. I'm just wondering, how do you feel about that bout and do you think that really was the turning point in your career?
KLITSCHKO: The first Samuel Peter fight was very important to me, because Sam was undefeated. He was actually basically after each fight screaming, "Who Next?" and I was "who next". His manager, Ivaylo Gotzev, described me, "Wladimir Klitschko is a dead man walking". So I was a dead man walking in their eyes and I actually, to be honest with you, everyone was nervous also around me. Can I make it? Sam is a very dangerous opponent. He is a very dangerous opponent, but I never lost belief in myself and I knew Sam actually from the past as he was my sparring partner before the Charles Shufford fight when I was training in Las Vegas. I remember he came one day, he got a bloody nose, and he never came back to the camp. But I think he did a good job also as my sparring partner.
Later on, he did an even better job in the ring and he gave me such a good challenge. At that time, after two losses in one year against Sanders and Brewster, that was important to have such a tough opponent, an undefeated opponent like Samuel Peter. That fight was at that time for the North American championship and that was for the number one position in two world ratings. So I wanted to get back. I wanted to become a champion again, and I was very motivated for this fight considering we knew how tough Samuel Peter is, and he was incredibly tough. As I said, of those I've faced, he was probably one of the toughest opponents in my career.
JENNA: Well Wladimir, besides myself, we're also on the line with my Co-Host Geoff.
GEOFFREY CIANI: Hi Wladimir. It's a pleasure to have you back on the show.
KLITSCHKO: Hi Geoff.
CIANI: Wladimir, I'm curious, originally you were slated to defend your titles against Alexander Povetkin. Were you at all surprised that Alexander Povetkin dropped out of this fight?
KLITSCHKO: To be honest with you, I wasn't. My gut feeling just told me and I said to Emanuel, Emanuel Steward my coach, I said, "Emanuel, I won't be very surprised if Povetkin doesn't go through with this fight" and Emanuel had pretty much the same feeling. He had a chance a few years ago when he was paid a purse of $3.2 million to have a fight with me, but unfortunately he got injured right before while he was running in the forest. Two years later, he got the number one position. He was supposed to fight me. He came to my promotional company. He was going to make over $2 million so there was enough money to fight for him and his promoters as well. I just basically have no emotions about it.
I'm a little bit surprised that the guy fought his way up the ratings to become the number one contender then he is getting his biggest pay day. He's Olympic champion, he's 30 years old, and I think there's time to be mature enough and not just listening to his trainer or promoter or manager, "You're not ready for the fight, you need a little bit more time", and then to get to this nonsense with fights in between, which is actually against the rules. As official contender, you couldn't make some fights that are kind of made on the sly. I guess Bruce Seldon he was fighting. So I was very surprised to get to know all these facts and to get to know later on that his trainer said, "You're not ready yet".
I was actually very surprised. How much does the guy want to wait until he's going to get ready? He actually was dropped in the ratings right now and I don't know how many years he's going to need to fight his way back. But anyway, I think it's time to get mature for Alexander Povetkin. He's an Olympic champion, he's undefeated, he was twice already my number one contender for the title, and he twice didn't accomplish to get to the ring, but I just wish him the best of luck with whatever he plans and wants to do in boxing or outside of boxing. But it's not an issue for me right now.
I'm glad that Samuel Peter stepped in. He showed up several weeks before the fight at the press conference. That shows that Samuel Peter is not considering any contract issues as Povetkin's promoter was concerned about, or anything like that. There never were issues with any contracts, that was just an excuse from Povetkin's promoter. But Sam just stepped in because he's confident, he wants to become champion, and I respect him for it. It's a very short period of time to make this final call and decision. I definitely give respect to Samuel Peter for it, so Povetkin is not an issue to me at all. I am surprised, but it's over now.
CIANI: Wladimir, one of the biggest criticisms that the media accuses you of really isn't your fault. It deals with the fact that the heavyweight division isn't filled with a lot of great talent right now. I'm wondering, are you at all disappointed that there isn't a great challenge out there for you, someone like a Lennox Lewis caliber fighter in today's division?
KLITSCHKO: Well, I would say probably it's not the time when Muhammad Ali, George Foreman, Ken Norton, and a lot of other fighters were around at the same time, and Liston, and Joe Frazier. So there was a lot of excitement, a lot of big names. That's what we don't have right now in the heavyweight division. I want to correct you a little bit. The challenge is there. I fought Eddie Chambers, and Eddie Chambers was, he's probably going to beat any other heavyweight with his speed and his ability to move and he was perfectly motivated for this fight. He fought his best fight in his career with me.
The challenge is there, and the challengers and fighters are there. It's just a question, will you get a chance to them to proceed to get through with their strategy or not. So that's my goal as a champion, to keep the titles in my hand as long as I'm in the ring and as long as I'm motivated. I just realized Geoff, actually later in my career, that boxing is a chess game. I realized and understood it later on, and as far as the fight, it's a lot of strategy, it's a lot of technique, and you actually can eliminate the opponent pretty good and eventually you break him mentally and physically down the road during the fight. It is a challenge that brings me a lot of fun, to get in the ring, and preparations first of all, and then exactly what we plan in the preparations we accomplish it in the ring. I say "we", Emanuel Steward and I. This work just gives us so much satisfaction and the challenge is definitely there. I just want to tell you. Good opponents are there. They don't have good names. That's the problem.
But we have British champion David Haye, who holds the WBA title, and then we have Tomasz Adamek who's coming up. I spoke to Emanuel about it and he said, "Wladimir, we just have to stick to the strategy, keep winning, walk through these guys, and all the big fights are going to happen." It was always in boxing like that. Joe Louis had it in his time until he surprisingly lost to Max Schmelling and then suddenly everyone paid attention to the rematch and what was going on. Actually, Mike Tyson had certain criticisms with the same issues, but he was spectacular with his way of fighting and his knockouts. Even Emanuel said with Lennox, his fight against Mike Tyson was really the highlight of his career. Of course he had Holyfield in between, but I think the highlight of Lennox Lewis' career was at the end of his career in the fight against Mike Tyson.
So the strategy is simple. You have to do keep doing your job as good as you can, and big fights are coming, and good names are coming, and so on, and so on, and so on, and recognition and everything else. So that's the side effect of this success, yes.
CIANI: Now you mentioned Mike Tyson being Lennox Lewis' best fight late in his career, and one of the things I always wanted to ask you was, you had some experiences with Lennox on a film set in the movie Ocean's Eleven and I'm wondering if you could tell the fans a little bit about what those experiences were like?
KLITSCHKO: That was an amazing experience and I remember I got this proposal from Warner Brothers to be in the movie and play actually myself and fighting Lennox Lewis in this movie. Actually, the premiere of the movie was in December 2001, and there was supposed to be a fight between Lennox Lewis and me because I was WBO champion and Lennox was champion for another version. So that was the basic idea, and I said "Of course". Then I flew over to Las Vegas and we spent two weeks in Vegas and it was an amazing experience with all of these movie stars from Ocean's Eleven.
We had such a great time. It was also an experience to just play around with Lennox Lewis in the ring, because we have to probably make twenty takes of this sequence, and another. We'd be kind of boxing with Lennox, but it was even to me very exciting. Like okay, how does he move, what he does. So he was looking up to me to see what I do, I was looking up to him to see what he does. There was a good exchange of information on how we were going to fight each other later on if the fight was going to happen.
I remember he was preparing for this fight against Rahman, the first fight against Rahman that he lost in South Africa. That was such a difficult time for Lennox because he was in Las Vegas shooting a movie and he was preparing for the fight against Rahman. So he flew over to South Africa I guess like the week before. So he was shooting a movie and preparing for the fight. It was a very difficult combination, and I remember Lennox, he took Rahman at that time very easy. Also on the movie set he was talking about, saying he was going to hang his gloves from a nail if he won't make it, or something like that because this guy was going to roll over. He was very confident. I could tell even at that time he was overconfident probably, and that's eventually what cost him the fight. He was too relaxed, and that's what can happen in the heavyweight division. If you're too relaxed for just one moment, then BOOM—you have a new heavyweight champion.
Now it's in history and it was a tremendous and amazing experience to be on the set with all the movie stars from Ocean's Eleven and also to kind of shadow box or kind of sparring with Lennox. That was fun.
JENNA: Now Wladimir, originally you were trying to make a fight with somebody other than Sam Peter and other than Alexander Povetkin, and that was with David Haye. Now I was just wondering if you could clear it up for the boxing fans out there. What exactly went on in those negotiations, and if there was in fact a 50-50 deal in place for you to fight David Haye and he rejected it?
KLITSCHKO: That was exactly it. In April this year when I officially called out David Haye through the social network YouTube, I just wanted to make it as direct as possible that it's not my manager talking about it, it's not my lawyer talking about it, or it's not a journalist writing down what I said. So I spoke out directly to the boxing fans and to David Haye. Just let's make it. The deal, it doesn't matter. 50-50, I agree with that. Just let's make it. Let's do it. I was open because the money is not an issue at a certain stage of my career. The challenge and the excitement about the sport, that's an issue, and we have a huge fan base for this sport and I just want it so that we have one heavyweight champion who unifies all the titles and all the belts. David, let's make it!
Instead, I never heard anything back and it really just makes me feel upset with the excuses with the contracts, that actually he already signed before when he was supposed to fight me and then, exactly what I am saying right now, bitched out two weeks before. It makes me really upset about it. I generally see David Haye as a good promoter. He promoted himself very good to get into the top ten and to get his name out there, but at a certain time you overdo it. You get people and fans excited about the fight, and then you're backing out. This is just disrespectful, not only to me, but it is disrespectful to the sport and to the fans of the sport.
David Haye is nothing but the dog that barks, and as you know barking dogs don't bite. So for right now, David Haye to me is nothing but just a name in the air and nothing else. So there is no action and no following through. I am excited about the Samuel Peter fight and that's going to be huge and exciting and a great challenge in the ring. It's going to be really, really good. I'm very, very excited also about the fact that fans in the United States will get a chance to see the championship of the world on free network that is ESPN. They will see it live and they will see it on tape delay on the next day, and that's great. It's going to be covered pretty good in the US and that really makes me happy.
JENNA: Speaking of American boxing fans and going back to David Haye for a second, a lot of people seem to be criticizing Haye for not taking a fight with you and some are now even questioning him as a champion. What do you think of David Haye not pursuing the toughest challenges at heavyweight?
KLITSCHKO: You know even my own opinion, I'm a boxing fan as well, and the thing with fans around the world—they're not that stupid. They see things pretty clearly, and this fight against Audley Harrison if it's going to happen, it's actually a London championship fight. It's just a local fight that's probably going to make good pay per views in England, but basically for the sport, it doesn't really mean anything. I just feel at the same time, I feel worried about David Haye because there is also the potential that this guy is going to get knocked out. Then such a fight between one of the Klitschko brothers and David Haye won't happen. So the whole thing is going to go away, but it doesn't matter. The title and who holds the title, that's secondary. So the title belt is out there, and we hope that with David Haye, sometime down the road, the Klitschko brothers will get his title in the family.
CIANI: Wladimir, when David Haye turned down this 50-50 deal, I asked Tomasz Adamek about that and he laughed about it and said, "Well I propose that he offers me 50-50 and I'll sign the deal tomorrow". I was just wondering two things. One, what do you thought of Tomasz Adamek's move into the heavyweight division and the success he's had there so far, and two, whether you might be interested in fighting him someday after the Samuel Peter fight if David Haye never comes around?
KLITSCHKO: I think this is great that former cruiserweights are moving up to the heavyweight division and they're having success as Tomasz Adamek has. I think it's great. It's bringing more excitement in the heavyweight division. It gives some names out there and I think about it very positively and I wish Tomasz Adamek luck in his next fight. Down the road, as a champion you have to defend the titles. At a certain time I think he's going to be or he's already number one with the WBO version where I'm a champion, so that means Tomasz Adamek has to fight a champion and I have to fight him to defend my WBO title. So this fight's going to come up and to be honest with you, this is all about the future that we're talking about now. I'm just about two weeks from my fight against Samuel Peter and that's going to be the greatest challenge that I have, and I'm looking so forward to it. I'm very excited about that fight more than anything else. So the September 11 fight, that to me is still the most important fight to have and be focused on.
JENNA: Well Wladimir, we have just a couple of more questions before we let you go, and I wanted to get your opinion on your brother's upcoming fight against American Shannon Briggs on October 16. How do you see that fight going down?
KLITSCHKO: I think that Shannon Briggs has amazing punching power. He has very fast hands. That right now he's fighting Vitali, I think Vitali will get a really, really tough challenge in the ring. I believe this fight will bring a lot of attention worldwide, because Shannon Briggs is a well known boxer that was fighting George Foreman, and Lennox Lewis, and he was champion as well, and WBO champion. So I believe this fight. Vitali's not another short guy and Shannon is also a big guy so they're pretty much going to be at the same eye level for the fight. I think it's going to be a very exciting fight especially for the boxing fans. Don't forget it, I am a boxing fan. So I'm talking as a fan from the outside, and I think it's something challenging in the ring and I think it's going to be really, really exciting and interesting to watch.
JENNA: Back to your fight with Samuel Peter, what do you consider to be the most important thing that you have to do to be victorious on September 11?
KLITSCHKO: As I have usually done, defend my titles. It's actually not about the titles. I've repeated in this interview a lot, this word "challenge". That's my motivation. I love a challenge, and I told it to Sam, "Sam, I'm looking forward to when we have the stare down, I'm looking forward to this fight and to this challenge." It's going to be great. So I'm looking forward to it. I know exactly what to do and it's only two weeks to wait. So you guys just enjoy the fight. It's going to be broadcast in the US live and tape delayed the next day on ESPN, on the regular ESPN. So just enjoy this fight, especially since you can see, and we can see, Samuel Peter five years ago and Klitschko five years ago, so with this fight we'll know who got better. That's going to be a good comparison.
JENNA: What is your official prediction in the rematch against Samuel Peter?
KLITSCHKO: My official prediction, I will win this fight as soon as possible and I will dominate Samuel Peter like I never did.
JENNA: Alright, and finally, is there anything you want to say to your fans out there and all the listeners of On the Ropes Boxing Radio?
KLITSCHKO: I want to say thank you for following all of the boxing fights, and in particular the fights with Klitschko brothers. Thank you very much for being with us and being supportive. Even to the fans that don't like Klitschkos. I appreciate you for it, too, because that's the controversy that we need actually. You have followers and you have haters, but that's what it means when you're champion. You have both sides. So I want to say to the fans that are for Klitschkos or against Klitschkos, thank you very much for all of your interest in the sport and we will do our best inside of the ring so that the excitement will never disappear, so good luck to you and all the best.
JENNA: Well it's been fantastic interviewing you again, Wlad. We wish you the best of luck against Samuel Peter on September 11, and we just hope all the fans tune in on ESPN 3 and check you out on your way to victory.
KLITSCHKO: Thank you very much. Thank you for having me.
CIANI: Thank you, Wladimir. Good luck.
KLITSCHKO: Bye bye. Thank you. All the best.
***
For those interested in listening to the Wladimir Klitschko interview in its entirety, it begins approximately one hour and one minute into the program.
***
For more information about On the Ropes Boxing Radio please visit our website:
http://www.ontheropesboxingradio.com
To contact Geoffrey Ciani or Jenna J:
ontheropes@boxing247.com
To read more by Ciani or Jenna please visit The Mushroom Mag:
http://www.eatthemushroom.com/mag