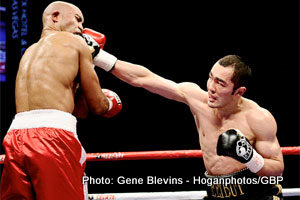 By John G. Thompson – This article should be about the emergence of Gabriel Campillo now 19-3 (6 KOs) on the light heavyweight scene. Instead, the question becomes how did Judge Patricia Morse Jarman score this fight 117-111 for Beibut Shumenov 9-1 (6 KOs) when the score was the opposite according to Judge Levi Martinez and just about everyone else watching? I actually had the score 117-110 because I thought that Shumenov was beaten so badly in the ninth round Campillo had earned a 10-8 round.
The televised under-card displayed the prowess of highly-decorated former Cuban amateur star Erislandy Lara 10-0 (5 KOs) as he took on a steep challenge in Grady Brewer 26-12 (15 KOs) from Lawton, Oklahoma. Proving he was no mere journeyman, Brewer stretched Lara harder than any of his nine prior professional bouts. Coming off an eight fight winning streak, Brewer, who was cut badly by an accidental head but in the sixth round, showed poise and skill, and although he was not winning, he managed to keep the match competitive. In the tenth and final round, during a clinch, Lara threw a vicious uppercut to the chin of Brewer while his head was low. Brewer never saw the punch coming and dropped. He got up but Lara swarmed him with shots and forced referee Tony Weeks to stop the bout..
Gabriel Campillo out-threw and out-landed Beibut Shumenov throughout the majority of a fight which saw back and forth action in virtually every round. Typically, Shumenov would win the first thirty seconds to a minute of each round, picking his shots and loading his punches; then Campillo would take over with constant pressure and combination punches to the head of Shumenov for the remainder of each round. Campillo almost finished Shumenov off in the ninth round, landing every punch imaginable to his opponent's head and somehow Shumenov stayed on his feet. Somehow referee Jay Nady decided not to stop the fight. And somehow Judge Patricia Morse Jarman scored the fight 117-111 for Beibut Shumenov.
True, it took two judges for the split decision, and Judge Jerry Roth scored the bout 115-113 for Shumenov. Beibut did win the first, possibly third, fifth, tenth, and arguably the twelfth round, though that would be a generous scoring. How Jerry Roth found two additional rounds to give to Shumenov, is a mystery. To give Campillo only three rounds in the entire fight, however, is simply crazy. A review of Jarman's past decisions reveals a competent judge with a plethora of experience, which makes this all the more confusing. Perhaps the managers of Campillo should pursue legal action in order to get the decision overturned.
While not yet ready for a bout with someone of Light Heavyweight Champion Chad Dawson's caliber, Gabriel Campillo should be 20-2 and set to face the Tavoris Cloud and Jean Pascal's of the light heavyweight division, or perhaps the winner of the upcoming Glen Johnson vs. Yusef Mack fight. If there is a saving grace to the awful scoring of this fight, it is that Campillo and Shumenov will most likely square off for a third time in what will certainly be another crowd pleasing fight.
Agree or Disagree? You can find me at: BoxingWriterJohn@gmail.com