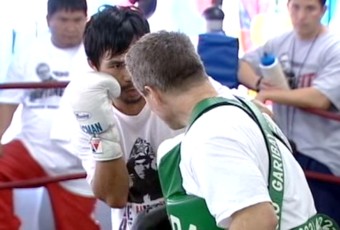 By Brandon Desmond – Paying close attention to the developing negotiations between Boxing's two best and brightest superstars, I was surprised to learn that the principle terms to the contract were agreed upon so quickly. Early in the negotiation process, the purse split, the gloves, the ring size, the contract weight (all points that I expected would be contentious) were agreed upon. I, like many boxing fans and media, expected a long, up-hill battle to get this fight made. When it looked like all there was to settle on was the venue of the fight, it seemed like it went too easy. I don't know about anyone else, but the quickness with which it appeared to be shaping up almost took some of the luster off of the fight!
I can't help but remember negotiations for Pacquiao vs. Hatton, where Hatton demanded a 50/50 split, finally forcing Pacman to acquiesce by threatening to walk away from the fight. Of course, that fight did extremely well on Pay-Per-View, and we all know what the outcome was. But to me, there was never any real hype leading up to that fight. Aside from the tiff that almost wrecked it altogether, there was really no reason for Hatton and Pacquiao to fight each other, except for that whole "Proving who is best at 140" idea. There was very little trash talk from either camp leading up to the event, and in fact, the fighters had nothing but respect for one another. All that being said, again, Pacman vs. Hatton did very well on PPV, although it was far from a record breaker. The promotion relied on the expectation that it would be a great fight because you had two face-first brawlers coming at each other in there.
Cut to December, 2009. Of course everything is being agreed on! Negotiations running smoothly, everyone's getting what they want and not asking too much. It looks like we're getting the fight earlier than originally projected (March 13th as opposed to some time in May). And even though an arduous negotiation was expected, it seemed to all make sense. This would be the most hyped and anticipated fight since Leonard vs. Hearns I, and potentially the biggest money fight since Mayweather vs. De La Hoya, possibly shattering the records set by that event. Pacman and Floyd would both have to be complete 'tards to screw this up! Right? WHOA, wait a minute! Mayweather is threatening to walk away from the fight if Manny Pacquiao doesn't agree to Olympic-style drug testing. No pro boxing match (that this writer is aware of) has ever had Olympic-style drug testing in it's contract. This would seem to make more sense if Pacquiao had, at some point in the past, tested positive or was suspected of using performance-enhancing drugs. But he has not. In fact, until this point in the negotiations for THIS fight, accusations of that kind were limited to whispers from guys like Paulie Malignaggi and Floyd Mayweather Sr. (whose fighter, Hatton, was erased in 2 rounds by Pacquiao). Aside from the fact that Pacquiao has never tested positive for any banned substance before or after a fight. A lot of people in the media, and a lot of boxing fans including myself are getting a wafting whiff of something fishy going on. But I don't necessarily think this has anything to do with the accusations of Pacquiao taking PEDs. I think the fishiness has a lot to do with the hype of the fight.
Here's my theory. At some point, everyone agreed to the terms of the contract, and everyone all but signed it. But before the announcement of the fight, the promoters (Top Rank and Golden Boy Promotions) probably thought the event could use a little more hype and a little more anticipation. Think about this. Isn't this whole drug testing fiasco making you lick your lips even more for this fight? Don't you wish it would just get done already? Right now, isn't everyone that cares about this (outside the fighters' camps) wondering if this fight will ever happen? I think both fighters are clean, and I think both fighters and their respective handlers know this. With the proposed date of March 13 steadily approaching, the promotion teams don't have the usual 4-6 months to build the hype needed for an ultra-mega fight such as this one. So they needed to do something unconventional to 'invent' some extra hype and anticipation. People, I think we're being strung along.
I have to admit, this is pure speculation. And it really does hurt me to think that there are people out there who are buying into the suspicion toward Pacquiao, who has always proven himself to be an absolutely clean, hard-working, god-fearing pugilist. But if what I'm suggesting is true, we boxing fans have nothing to worry about. Not only will Mayweather vs. Pacquiao happen, but it will break Pay-Per-View and attendance records, and I have an inkling that the action in the ring the night of March 13th will absolutely live up to the hype we are currently being dragged through. And here is one final prediction: Both fighters will pass all drug tests administered before and after the fight.
Any questions or comments can be directed to my email, otpbrandon@yahoo.com. Everyone on ESB have a safe and happy New Year!