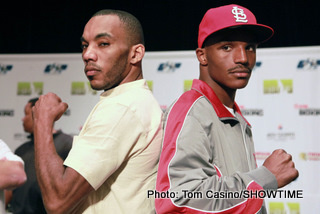 Veteran promoter Don King believes that Devon Alexander will become his latest World Champion at the expense of Junior Witter this weekend. Witter will attempt to regain his old title at the Agua Caliente Casino in California on Saturday night with the vacant WBC Light Welterweight title on the line against the undefeated Alexander. King has overseen the 22-year-old St. Louis native's impressive rise up the Light Welterweight rankings and he believes that Alexander has the potential to become a major star.
"I saw something special in Devon from the beginning," revealed King. "He doesn't drink, smoke or take drugs. He takes care of his body. His smile lights up a room. He's also a great role model for young people. I can't say enough good things about this talented young man. Now he has received an opportunity in the land of opportunity and he plans to make the most of it. Those in attendance at Agua Caliente and watching across America on Showtime are going to see a very special young fighter win his first world title.."
Naturally Witter has other ideas and he's determined to reclaim his old belt with a dominating win over Alexander. "I'm going to go out there and do my thing because as long as I perform to my best then I know that the title's coming back home with me," predicted the Bradford switch hitter.
"I know I'm good enough to beat Alexander so it's all about me fighting my fight. I'm not going to worry about what Alexander has planned. I've watched him fight and he's a talented guy. He's unbeaten in 18 fights with 11 KO's so the numbers are certainly impressive. He's young, ambitious and he's an aggressive, come forward southpaw with fast hands so I rate him as a good fighter."
Although he's had a smooth rise to the top Witter plans on showing Alexander the other side of the pro game on Saturday night. "He hasn't had to face adversity yet in his career because everything's gone his way so far and he's probably expecting that to continue. The fights in the U.S. so everything's in his favour but Junior "The Hitter" Witter loves a challenge and the Hitters going to take his title back home."
Witter is adamant that he will be back to his best after admitting to a below par performance in losing the WBC title on a split decision to American Timothy Bradley in May of last year.
"I had some problems outside the ring going in to that fight and it actually led me to overtrain. I didn't rest my body enough and I wasn't easting properly but I've addressed those problems and the training camp for this has been great.
"I've had excellent sparring at the Ingles Gym in Sheffield, there are some great guys coming through in the gym at the moment and that kind of competition keeps you sharp and helps to drive you on."
Alexander has also arrived in California from his training camp brimming with confidence ahead of the biggest night of his career. "He's already had the title we're fighting for, and I feel like it's my turn now," said Alexander.
"I'm not stopping my undefeated run for anyone. I'll never have a chance at the biggest fights in the world against Floyd Mayweather or Manny Pacquiao unless I win this.
"I've watched tapes on Junior Witter and he's a crafty, slick fighter that likes to take pot shots at you when he gets the opportunity. My goal is to give him something where he will not be able to stay with that all night. I want to dominate him for 12 rounds. I want to be smart and aggressive at the same time."
Alexander says that fighting for the World title will fulfil a childhood ambition. "It means a lot to me to be fighting in my first world championship match. I started in boxing when I was 7. I come from a rough St. Louis neighbourhood where most people go to jail or end up dead. I heard gun shots every night where you have to hit the ground and check to make sure the bullets didn't hit you. This is a tremendous opportunity God has blessed me with to be fighting for a world title."
Alexander's trainer Kevin Cunningham is in no doubts about the outcome of Saturday's contest. "This is a terrific opportunity for Devon," said Cunningham. "He's been preparing for this moment since he was 8 years old when I heard him say he wanted to fight for the 'green belt' of the WBC.
"Training has gone great. Devon is peaking at the right time. He's been excellent in training and sparring. He's looking spectacular. The kid is definitely ready.
"From what I've seen in Witter, I see an experienced, savvy veteran that can be awkward at times but I think a sharpshooter like Devon can make him pay for his mistakes.
"Youth, speed, talent and persistence are things that Devon is blessed with so he can overcome anything he put his mind to. It's just a mater of execution. I think at some point in this fight it's going to come down to the fact that Junior Witter is going to realize he's in the ring with a young, hungry and extremely talented fighter that will prove that he wants it just a little more."
Six Questions with Devon Alexander "The Great"
Devon Alexander "The Great" knows the big knock against him: He's young and lacks experience. But that's not going to stop the 22-year-old from putting on a show for the SHOWTIME viewing audience come Saturday night during the first half of a world championship doubleheader. The undefeated No. 2-rated Alexander (18-0, 11 KOs) of St. Louis will face No. 3 Junior Witter (37-2-2, 22 KOs) of England for the World Boxing Council (WBC) belt that Timothy "Desert Storm" Bradley Jr., voluntarily relinquished.
Their eagerly awaited showdown will air live on SHOWTIME® (9 p.m. ET/PT, delayed on the west coast) and will precede the 140-pound world title fight between unbeaten World Boxing Organization (WBO) 140-pound champion Bradley (24-0, 11 KOs) of North Palm Springs, Calif., and challenger and former unified lightweight belt-holder Nate "The Galaxxy Warrior" Campbell (33-5-1, 25 KOs) on SHOWTIME CHAMPIONSHIP BOXING.
Alexander recently took time out to answer six questions posed by SHOWTIME:
QUESTION: Were you surprised when Timothy Bradley Jr. decided to not fight you and gave up his WBC belt instead?
ALEXANDER: "Yeah, I was. I would have never done that. You know I'm going to fight. For me it's not about the money but about fighting the best and I'm going to do that. If you keep winning the money's going to be there. I just want to keep fighting all the fights I have to and someday retire on top.
"He gave up the belt and he has his own reasons for that. I can't get inside his head. But now Junior and I are fighting for it and it's going to be a good card. We'll see what happens; if there's going to be a unification after this or not."
QUESTION: What concerns you most about Junior Witter?
ALEXANDER: "Junior's a crafty, slick fighter. You have to be patient and fight smart but at the same time maintain that aggression. He's a veteran and I know people say I'm young and inexperienced but what people don't realize is that I've been around Cory (Spinks) my whole life. Junior fights like Cory and he's been getting me ready. He's not going to show me nothing I haven't seen before. I just have to show up and be smart and I will win this fight."
QUESTION: What do you say to the people who say you're too inexperienced to take this fight?
ALEXANDER: "People don't know me. They don't know I've been fighting guys bigger than me and heavier than me my whole life. I've been the underdog my entire life and I've proved people wrong my entire life. So it doesn't matter who I fight."
QUESTION: How would you describe your style in the ring?
ALEXANDER: "I can go either way. I can be a boxer or a puncher. If you watch some of my older fights you see that I was fighting more like an amateur than a professional but the progression has gone more and more toward professional. I can either box with you or throw with you. Either way it doesn't matter. I'm going to be a smart fighter and do whatever it takes to get the win."
QUESTION: You've been surrounded by the same guys your entire career which is kind of a rarity in this sport. How have Kevin Cunningham (manager/trainer), Don King (promoter) and Cory Spinks (sparring) helped your career?
ALEXANDER: "It is a little unusual but I have a dynamic team in front of me so why would I ever change it? I have a lot of examples in front of me so I just try and take something that all of them have to offer."
QUESTION: What do you like to do in your spare time?
ALEXANDER: "I'm really just a homebody. I'm not an 'out' type of person. I'm at home a lot. I have a son and a daughter and I like to just be at home and play with them. I don't like the party life. People ask me all the time and say, 'You're Devon Alexander, why don't you go out all the time?' and I just tell them it ain't for me."
The biggest boxing event in the history of The Coachella Valley in Southern California will emanate from The Show at Agua Caliente Casino • Resort • Spa in Rancho Mirage, Calif. It will be promoted by Gary Shaw Productions and Thompson Boxing Promotions in association with Don King Productions and Agua Caliente Casino • Resort • Spa.
Limited tickets are still available purchase online at www.HotWaterCasino.com/TheShow or by calling (800) 585-3737.