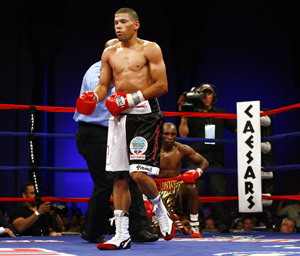 By Vivek Wallace, photo by Chris Farina – Top Rank – This weeks 'Left-Hook Lounge' takes a look at a crew of fairly unmentionables. Typically we see the likes of Pacquiao, Mayweather and company, but with the sport literally turned upside down after a slew of cancellations, the spotlight shifts to a crew of new comers, as well as a two familiar names who find themselves in unfamiliar territory. From Lopez, to Maidana, to Ortiz, to Hatton to Pavlik, and down the line, today we once again put an ear to the street to hear the buzz directly from the fans. First question week comes to us from one of my favorite destinations, San Diego, California, where a fight fan wanted to know the following:
Hector A. (San Diego, CA): I think Victor Ortiz is more talented than he displayed against Maidana. What was your take on his KO lost and what do you see in his future?
Vivek W. (ESB): First off, I think you have to tip your hat to Maidana.. I said prior to this bout that people are sleeping on him because they don't know much about him, but this kid is a stiff test for ANYONE willing to step in the ring with him and he proved that once again. Many thought it would be a 'step up' in competition for Ortiz that he would get past, but everyone who felt that way were unpleasantly surprised in the end. After seeing the fight, my personal opinion is that Ortiz just happens to have a few necessary components that made him 'easy to package' for HBO and Goldenboy promotions, but the ones he needed most, he failed to show in my book. Oscar as a businessman has been nothing short of brilliant and his plight was apparently to have a kid with such a bright smile and sunny disposition with Mexican ancestry (like him) emerge from his shadows, but after what I witnessed, he failed miserably with this pick. I was extremely angered at seeing Ortiz quit. Apparently someone forgot to tell him that his act of emulating Oscar was supposed to stop short of Oscar's Pacquiao fight where he did the same thing, but it appears those instructions never made the list. Pardon my venom – as I don't think I've ever really done this in my material about a fighter – but I can't remember the last time I EVER heard a fighter on the rise who's touted so strongly go out like this. This guy actually stood in the ring and said "I decided to quit while I was ahead because I'm not gonna go out on my back or lay down for nobody", and followed that encore statement by saying "I'm young, and I DON'T THINK I DESERVE TO BE GETTING BEAT UP LIKE THIS"!!!!! Pardon my chick moment here, but HELLOOOOOO!!!!!! You openly decided to join the sport….You're a boxer young lad!….One of Mexican descent, at that! Mexicans are warriors who rather die in the ring than go out this way…..Are you kidding me?!?!?!?! I think he totally disgusted me as a boxing fan, the Mexican fan base, and anyone else out there who bought into him. Oscar is known for making a cheerio look like a donut, but I'd love to see him 'fill in the gap' with this kid. Apparently he's missing a heart!
Carlos Z. (Hialeah, FL): I read your article on Juan Manuel Lopez last Friday and I think that he has an ultimate style to defeat any opponent. Is there any fighter out there that you think would defeat him if he stays focused?
Vivek W. (ESB): I stated in my article last Friday that Lopez basically has the goods but needs to and will continue to be tested to prove them and remove all doubt. I didn't think his fight against Lontchi was particularly impressive, but considering the fact that he was in against a fighter who isn't as simple to take down and a bit unorthodox, I think he did as good as could be expected. I think there are a couple fighters out there that would make for very interesting matchups against him – but whether they beat him or not? I don't know. I think Caballero would make for an interesting fight, I think Vasquez would make for an interesting fight, at some point up the road I'd like to see Gamboa and his slippery style mix it up with him as well. When you look at Lopez's frame, it's clear to see that he has more than enough room to fill out, so I wouldn't be surprised to see this kid competing at 140 in another year or two. I think the sky is the limit, but when he does go up (which will happen – that's where the money is), I just wonder will his chin go up with him? Whomever finally defeats him will have to have the pure combination of speed, power, a solid chin, and enough defense to make him miss and make him pay. I don't know who that guy will be, but if he (Lopez) stays focused, that guy may not come for some time. Stay tuned.
Arthur W. (West Palm Beach, FL): What's going on with Kelly Pavlik? There have been rumors of alcoholism and other things said. Is there trouble in his camp?
Vivek W. (ESB): I'll start by saying that I don't get into the gossip line, so when that type (what I call) 'drama reporting' hits the web, I tend to shy away. I couldn't tell you if Pavlik has an alcohol problem and I can't say that I'm checking the archives to find out, but what I can tell you is that I'm really scratching my head about his ring life. When Miguel Cotto took a beating at the hands of Margarito, despite his recent victories, most would agree that he hasn't looked the same since. Kelly Pavlik has suddenly began to follow that same role, but in a different way. Against Rubio, I thought he looked very vanilla….not too great at all. Abraham has been shouting his name forever, and I've yet to hear a retaliatory peep! The old Team Pavlik had much more confidence and he himself seemed to have a bit more passion for his craft. I don't know if the loss sent him in a tailspin – like it has many others – but something isn't right. I hate to get soulful here, but rather than quote Jamie Foxx and "Blame it on the alcohol", I'll simply quote Keith Sweat in sayin' "Somethin, somethin, just ain't right"! We haven't seen the last of Pavlik, but I'm officially concerned about whether or not we've seen the last of 'vintage' Kelly Pavlik. The one who put cheeks in seats and backs on mats with no fear! Time will tell!
Alex W. (London): There have been rumors on several websites that Ricky Hatton is considering a fight with Steve Forbes. Do you think he should fight on?
Vivek W. (ESB): I felt Hatton should continue to fight on, but if this is the fight he's contemplating, I think he needs to go run the park with little Campbell and that cutie who rest on his arms now days, because Forbes is totally a bad matchup. Ask Oscar De la Hoya. Some may say that Forbes is not a tier one fighter, but I'll say this, despite his size, the guy is as crafty and slick as any fighter in the game and has rarely (if ever) actually tasted the canvas. It's simply not a good matchup for a guy like Hatton who needs to take at least three fights before he gets a major headlining fight again. He needs to batter a few guys around and rebuild his confidence first. If he's gonna use Forbes as a stepping stone, he sure as hell had better face a couple guys first. Forbes has never had his name recognition, but from a talent standpoint, he'd run circles around Hatton, and potentially even hurt him, I reckon. I just think it's a very bad styles matchup, and someone this frisky could frustrate an already 'questioning-himself-deeply' Ricky Hatton. That's a prescription for disaster, and this fight would be a deadly dose. My message to Hatton…find a new dance partner, or sit this one out!
Maurice L. (Dallas, TX): Is it true that Paul Williams has a scheduled date against Dzinziruk?
Vivek W. (ESB): To my knowledge, the fight hasn't been scheduled and signed, but apparently it is in the works. This would arguably represent the biggest test for Williams in the 154lb range. If he wins that fight, I think he can look north to 160, maybe even 168 because I don't forsee a welterweight clash anywhere in the cards. Mosley isn't looking for this kind of dog fight with an opponent who won't pad his pockets too much. Cotto, Mayweather and company have other plans as well….So that leaves very few options. It's a bit unfortunate that Williams has had such a hard time securing a fight against top tiered opponents. We use the term Pound-for-Pound so regularly, and I was bashed for saying that he deserves to be in contention for that title, but really, considering his division hopping and the success he's found from one to the next, who better to deserve this mantle, other than the little guy who now owns it? It's a popularity contest and to some a total scam, but truthfully, this guy deserves far better than we see him getting because all he's ever done was defeat every man the sport has placed before him. That's all….what more can we really ask of him?
(Vivek Wallace can be contacted at: vivexemail@yahoo.com, 954-292-7346, Facebook and Myspace)