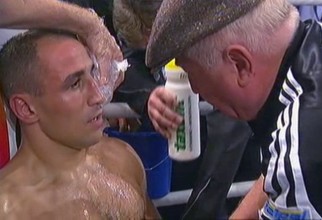 By Vladimir S. at ringside: International Boxing Federation (IBF) middleweight champion Arthur Abraham (30-0, 24 KO's) had a tougher than expected time against number #11 rated IBF contender Mahir Oral (25-2, 10 KO's) on Saturday night, stopping him in the 10th round at the Max Schmeling Halle, in Berlin, Germany. Abraham, 29, used a very economical approach to the fight giving away many of the rounds to the much busier Oral and making the fight tougher than it might have been had Abraham fought all out in one of the earlier rounds.
Oral, 29, was knocked down five times in total, including three times in the 10th when he took a knee several times to escape punishment. Ultimately, Oral's corner threw in the towel after the third knockdown in the 10th, as it was clear that Oral was a beaten fighter and couldn't continue on.
Oral controlled the action in the first three rounds, throwing short combinations and nice jabs and easily outworking Abraham. Oral stood straight up and showed very little power in his shots. However, he didn't need to because he was much busier Abraham and was able to catch Abraham when he would attempt to throw punches. During this part of the fight, Abraham looked slow and sluggish compared to his best years at middleweight two years ago.
In the 4th round, Oral continued to dominate the action with his short combinations and better work rate until near the end of the round when Abraham suddenly dropped to the canvas after getting hit with a series of hard hooks from Abraham. Had Oral been aware of Abraham's tendency to try and steal the rounds by throwing a flurry in the last thirty seconds of every round, Oral might have been able to avoid getting hurt. However, he stood directly in front of Abraham and made it easy for him. Abraham then teed off on the hurt Oral in the remaining seconds of the round, hitting him with some monstrous shots as the round came to a close.
Abraham looked like the fighter of old in the 5th round, fighting hard the entire round and landing a huge number of power shots. Oral slipped to the canvas early in the round after getting hit by a right hand. However, the referee ruled that it was caused by a slip and not a knockdown. The crowd thought otherwise, as did I. Oral seemed to have problems taking hard shots from Abraham.
In the 6th round, Abraham flattened Oral again, this time knocking him down with a big right hand to the head. Oral got back up and gamely tried to fight back but took an enormous amount of punishment in the remainder of the round.
Abraham appeared to take the round off in the 7th, throwing few punches and letting Oral land his quick combinations and jabs. Oral, when he's allowed to throw his shots, he looks quite good for a fighter ranked number #11. He showed some good technical ability.
Unfortunately, his power was almost nonexistent. In the latter part of the round, Abraham came on and landed some hard shots. However, I had Oral winning the round based on his better work in the first two minutes of the round. In the 8th and 9th rounds, Abraham got the better of Oral with his big power shots. He kept a lot of pressure on Oral and fired back counter shots in retaliation when hit by Oral's weak combinations.
In the 10th round, Oral looked beaten and ready to go at the start of the round. His body language seemed to indicate a fighter that had taken too many blows and was looking for a way out. Early in the round after getting hit with several left hands from Abraham, Oral dropped down and took a knee on the canvas.
Moments later, Oral took another knee after getting hit with several shots from Abraham. The punches looked nothing special, but Oral just seemed to be finished mentally and appeared to be at the end of his rope. His corner should have stepped in and stopped the fight at this point because he had nothing left.
Abraham then finished matters by hitting Oral with a three shot combination that sent Oral down for the third and final time in the round. Oral's corner then threw in the towel and the fight was mercifully stopped at 1:23 of the 10th by referee Earl Brown.
—————
In other action on the card, unbeaten cruiserweight prospect Alexander Frenkel (18-0, 14 KO's) defeated Rodolfo De Dominicis (15-2, 11 KO's) by a 3rd round stoppage in a fight that was very sloppy and hard to watch. Dominicis, 36, appeared to be a step backwards for Frenkel in terms of quality, and made the fight a nightmare to watch because of his wild charging attacks. Dominicis was knocked down twice in the 2nd round, although the referee appeared to blow the call on the first knockdown because Dominicis fell down without getting hit.
The second knockdown came from a right hand to the back of Dominicis' head. In the 3rd round, Frenkel opened up with a sustained power attack in which he hammered Dominicis with a number of tremendous uppercuts that caused the referee to step in and halt the fight as Dominicis' corner decided to throw in the towel.
It was a hard fight for Frenkel to look good against because of Dominicis' unorthodox style of fighting. For a fighter with a 15-1 record going into Saturday night's fight, Dominicis looked very average. He did, however, serve the purpose of getting Frenkel ready for opponents that will try and rush him later in his career, but that's about the extent of it. Frenkel would have been better served had he been put in with someone with a lot better skills than a fighter like Dominicis.