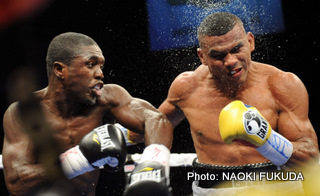 This weeks 'Left-Hook Lounge' hones in on some very intriguing topics once again. Coming on the heels of a weekend with action perceived to be questionable at best, needless to say, many fight fans were left with a ton of thoughts to ponder. Making the mailbag this week is of course the usual suspects – Filipino Manny Pacquioao and Mayweather – as well as a few other highly notables like Mosley, Berto, Angulo, and the list goes on. With no further ado, we jump into the mix with a question coming to us from the 3-0-5, Miami, Florida, where a fellow fight fan wanted to know the following:
Charles W. (Miami, FL): In my opinion, Andre Berto failed again to give fight fans much to cheer about and spent way too much time holding. Is it me or is there something missing?
Vivek (ESB): After watching the fight, I listened carefully to those around me, simply to gauge his performance. I heard three sentiments in different verbiage: "poor stamina", "fast but not impressive", and "powerful but beatable".. Now that was coming from the fans. Within my own mind, I watched him closely to analyze what improvements he made from past to present, and to be perfectly honest, it was a bit hard to comprehend because I also thought he did far more clinching and moving than necessary, which ultimately took away from his ability to show us what he can do. As Lennox Lewis accurately pointed out – (paraphrased) – every opponent brings out something new in you as a fighter and you have to attack differently, but despite the clinch being a wise strategy when necessary, I thought the way Berto applied it was far too frequent and technically, very ugly to the naked eye. There are subtle little differences that separate a good boxer from the elite, but it's all in execution. Example……Mayweather has been widely criticized for using the ring – (or riding his bike like some say) – but when he backs up, he punches with angles, or he sets up other things very effectively. (It was actually a side/backwards step he took when he delivered the fight ending left check-hook to stop Hatton). When you compare that to what we saw in Berto, Berto backed up and used footwork, but it was never to setup anything, and it frequently resulted in nothing at all. I haven't seen a youngster with certain assets he has in quite a while, but to agree with you, there's something missing. He's a work in progress, but despite being hounded to take bigger fights, I'd let this puppy take a few more small steps before putting him in with the big dogs. Trouble is, he's a champ in the sports most coveted division and that's no longer an option. I'm a fan, and I hope it all falls in place for Dre.
Hector P. (Hollywood, FL): Your prediction in the Angulo/Cintron fight was perfect. What did you see coming into the fight to make you think it would unfold as it did?
Vivek W. (ESB): There were two things that made this fight a no-brainer for me the moment I heard it was made. Experience, and athleticism. Cintron continues to be the 'whipping boy' of the sport, but the guy has only lost 2 fights. He has never been a master boxer, but that's where the athleticism has gotten him the "W" so many times in the past, enabling him to be able to do awkward little things and land certain shots, (like the triple jab left followed by the bruising overhand right), that some fighters can't get off. Margarito was tough enough to take everything Cintron could possibly throw, and conditioned enough to throw even more. Few fighters today can do that. Angulo didn't look bad, but he clearly ran out of ideas when his power wasn't effective enough, and he never had a plan B. Hard to walk a guy down when he's running! I don't' mean that literally, but that 'stalking' style means nothing against a guy with enough athletic ability to change angles while punching and maneuver his way out of that quickly closing window of opportunity. I think Angulo was Tailor made for Cintron. He may fight like Margarito, but he's no Margarito. I will say this though, just as a young Margarito had to evolve and develop his stamina, and so forth over the years, I'm confident Angulo can too. It was just a bad styles fight for him this early in his career.
Mario S. (Houston, TX): What do you think lies ahead for Kermit Cintron and Alfredo Angulo?
Vivek W. (ESB): For Alfredo Angulo, fortunately, the loss came early in his career, so he has lots of time to regroup and fall right back in contention. For Cintron, it's a little more tricky. The welterweight division is where the money is, yet it's filled with guys who are nowhere near what he faced in Angulo, and technically, even after this lifeline he just received, I don't think he'd do too well there. He needs another solid victory or two to mentally prepare himself for another grueling battle with someone like Cotto, Clottey, or Mosley. The flipside of that argument is that the jr. middleweight division is just as stiff. A Sergio Martinez rematch is the fight that needs to happen, but honestly, I don't think Cintron has enough for Martinez. The kid is too strong, too active, and too seasoned. Most of those opportunities Cintron had to land on Angulo would be met with about four flush shots to the face before he lands one against Martinez. It was a great victory for Cintron and one that I think was well deserved, but lets be real here, everyone else in true contention (in both the welterweight and jr. middleweight divisions) has far more experience than 50 some rounds, and far more ability than a typical stalker. Cintron will need even more than what we saw in the ring last Saturday to handle those guys. I'm just not so sure that he's there yet. Close, but no cigars!
Rick B. (Brooklyn, NY): Shane Mosley has gone public with plans to face Pacquiao. What's with the recent antics and do you think it will produce the kind of fights he's looking for?
Vivek W. (ESB): Mosley's recent attempt to get Pacquiao in the ring only highlights what I spoke about in my mailbag last week. Some took offense when I stated that Mosley was in a sense "chasing waterfalls" by asking for a fight with Mayweather after choosing not to seal the deal when it was in front of him before; but this is another example of what I meant. It's totally out of Mosley's character, but unfortunately it's what he has to do now after realizing that he is still at his best, yet failed to seize opportunities that a man who has been retired for the past 2 years has received right in front of him. I don't think anyone can blame Mosley for finally coming out of his 'gentleman' shell and showing his outspoken side. He's simply doing what he needs to. My only problem is that he's been doing it in a non-methodical way which not only contradicts himself and many around him, but at times simply doesn't add up. Example……I was contacted by a fight fan (Harold Claytor/Trenton, NJ), who raised the point that Mosley has belittled Floyd and attacked his credibility for taking a fight with a "smaller" Marquez, yet it's the same company he works for (Goldenboy Promotions) that not only negotiated and initiated the fight, but subsequently tried hard as hell to sell it to the fans. People aren't stupid. They see these things and I hate to see it happen because it all takes away from a guy who's a helluva fighter and a helluva man. When Pacquiao beat Hatton, many may remember me stating that Mosley would be the best choice for Pacquiao among all options. Mayweather brings the biggest crowd, Cotto brings great intrigue, but Mosley could easily bring the best fight because both men would bang from bell one to bell rung! More so than Mosley and Mayweather, that's the fight I'd love to see, but unfortunately for me and I guess Mosley too, we seem to be the only ones that feel that way because few are warming up to the idea publicly. Do I think he'll get what he wants? No. It's probably best for him to keep looking for now.
Erick M. (Charlotte, NC): The 140lb division seems to be very deep all of a sudden. Who do you think has the best chance to lead the pack?

Vivek W. (ESB): While Pacquiao's away playing with the big dogs, I think this division is up for grabs. I think the 140lb division is loaded, but when you get beyond the big names and the smoke clears, I think your choice of words ("the pack") couldn't have been any better because when it comes to this race, I think the 'dark horse' in this race who would inevitably lead the pack (no pun intended) is Nate Campbell. We haven't seen him get busy in this neck of the woods yet, but I saw him completely drained trying to make weight against Funeka, and less than 24hrs later come in the ring weighing less than Funeka did and still outperform him. I think the dude is a trooper and I can genuinely say that I don't see a fighter at '40 that has enough ability to out-gut him over 12. I use the term 'out-gut', because that's what he does. He isn't the fastest, the strongest, or the most complete, but using pure will to win, solid power, and a helluva work ethic, the dude just continues to mow cats down like grass. I really think he'll be the proverbial 'creme' and rise to the top at '40. I could be wrong, but I sure as hell would love to see him in the process of trying.
(Contact Vivek Wallace at 954-292-7346, vivexemail@yahoo.com, or Facebook and Myspace).