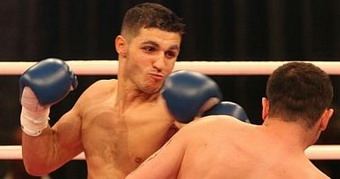 31.05.09 – Exclusive Interview by James Slater – Unbeaten 24-year-old Ukraine-born cruiserweight contender Alexander Frenkel last fought in May, yet he is out again on the June 27th Arthur Abraham bill in Berlin. Now living in Berlin, Germany, the 17-0 (13 KOs) Frenkel began his pro career in September of 2006 and he has maintained a fast pace since.
Fighting under the Sauerland banner, Frenkel, a former holder of the IBF Youth cruiserweight belt, is a promising talent who is expected to go far.
Very kindly taking time out to speak with me over the phone today, the 24-year-old was happy to talk about his career. Unnecessarily apologising for his "not so good" English, Frenkel gave the following answers to my questions..
James Slater: Thank you for giving me this interview, Alexander. Firstly, do you know yet who you will be fighting on June 27th, on the Arthur Abraham card in Berlin?
Alexander Frenkel: No, I don't know yet. Maybe next week I will know who I am fighting. I am looking forward to fighting on this big card.
J.S: I know you have been a pro for less than three years, but do you have any plans yet as to when you will be going for a title? I know you won the junior title at cruiserweight.
A.F: I do not have that junior title any longer. I'm working for a big fight, maybe an intercontinental title, or maybe a European title. I hope to get this chance soon. I am still learning from each and every fight I have at this stage, though, and I do not like to look too far into the future.
J.S: At 24, how far are you from your peak then? Quite a way?
A.F: Yes, I have a long time to go yet. I feel I can do lots more than I do now. I will get stronger and I will get better. I'd say I'm only about 40-percent right now of what I can be, of what I can reach.
J.S: For those that have not yet seen you fight, how would you describe your style, Alexander?
A.F: My style is different for different opponents. I'd say I am a boxer/puncher. But I can change my style and I can adapt for each different opponent. I can fight inside, I can fight at long range and I can counter-punch or I can fight hard. I can do all I want to in the ring.
J.S: And do you have a favourite punch?
A.F: My straight right hand maybe. It's difficult to say, maybe my combinations are my best punches.
J.S: Did you have many boxing heroes as a kid, and do you look up to any specific fighters today?
A.F: As a youngster I really liked Muhammad Ali. Also Sugar Ray Robinson and Sugar Ray Leonard. I'd say Sugar Ray Robinson is probably one of my real influences. Today, I like Manny Pacquiao and Floyd Mayweather. I like their style.
J.S: Do you watch a lot of fight tapes then?
A.F: Yes, I learn from watching tapes. I had no trainer when I was an amateur. I was alone, we had no coach in the gym. But now I have Ulli Wegner and I also watch a lot of tapes. I learn new things from watching tapes all the time.
J.S: Who would you say has given you your toughest fight yet as a pro?
A.F: I really don't know. I've not had a tough fight yet that I can say. I've never been tired in a fight or been pushed to my limit, so I can't say.
J.S: Have you had one fight that sticks out as your best showing yet in your opinion?
A.F: It's difficult to say, because a 1st round KO win, for example, doesn't really prove anything. The Arthur Williams win was not bad. But I'm not 100-percent yet, and my opponent has to fight well to push me and bring out the best in me. My fights [so far] have been like sparring, in that I learn from each fight that I have. Good opponents will bring out good performances from me.
J.S: As you know, boxing is huge in Germany. Do you have a number of fans yourself already?
A.F: Yeah, it's okay. I have some people who travel to all my fights, and they are behind me and they want me to win. This motivates me to do well.
J.S: Obviously, the Klitschko brothers spring to mind when anyone talks about boxing in Germany, even though they are from Ukraine like yourself. Are you a fan?
A.F: Yes, the Klitschkos are the real superstars in Germany. I like them. I watched their pro debut and I've seen all their fights since. I've never met them, but maybe one day I will get a chance to.
J.S: I know you are in no rush with your career, but where do you see yourself in say a year or so?
A.F: By then I hope to have won a European or maybe even a world title.
J.S: Who do you think is the best cruiserweight in the world today? Tomasz Adamek?
A.F: [Tomasz] Adamek is the best I'd say, yes. But I don't see any superstars at cruiserweight where I think, "how do I beat that guy!?" I look at fighters like him, and he's very strong physically, but I know how I would beat him.
J.S: Is it true you plan to go up to heavyweight one day?
A.F: It's not my plan, in as much as I don't want to play with my weight. For another five or six years I think I will be able to make cruiserweight, but after that, when my body gets bigger and grows, I will automatically move up to heavyweight. When I get to around 102 kilogram's, then it will be okay to go up and fight as a heavyweight.
J.S: At 6'1″ (1.86m) you are tall enough to go to heavyweight. Would you be too fast for heavyweights do you think?
A.F: I try to be very fast, yes. I punch a lot and I try to surprise my opponent.
J.S: It's been a pleasure speaking with you, Alexander. Best wishes for your fight in June and the rest of your career.
A.F: It's been my pleasure.