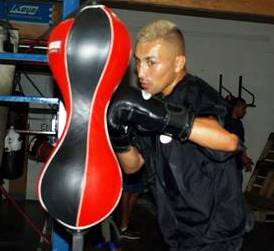 Interview and photos by Ricardo Conde – Rolando "El Pochito" Reyes (31-4-2, 20KOs) of Oxnard, CA resuscitated his career after a stunning knockout of former lightweight champion Julio "The Kidd" Diaz this past April in Austin, TX. Prior to the fight Reyes stated "My time is now" and was determined to have his hands raised in victory after the fight. Reyes had stunned Diaz in the fourth round with a right hand to the chin and in the fifth round Diaz was dropped twice by a barrage of power punches that prompted referee Gregorio Alvarez to stop the bout in the final minute of the round.
We recently caught up with Reyes and here's what he had to say:
Q: We're here at the gym, are you preparing for your next fight, if so, who will you be fighting next, when and where?
A: Right now they're talking about fighting Juan Diaz on August 22nd but nothing's been confirmed yet, so we're just training and getting ready in case it happens.
Let's talk a little bit about your last fight.
Q: You replaced Joel Casamayor with just two weeks notice and you were able to stop Diaz in the fifth round, how long had you been training and where did you train?
A: I had been in the gym training for a while just in case something came up. We trained here at Tune Up USA Gym in Oxnard and we were just ready when they called.
Q: What kind of statement were you looking to make in your fight with Diaz, were you looking for the knockout?
A: I knew if I hit him a good clean shot on the chin he'd go down because he doesn't have that chin anymore. We were waiting for that punch and it came in the 5th round and we got him.
Q: Going into the fight with Julio Diaz you were considered the underdog, most boxing observers considered him the higher caliber fighter, how did you feel about that going into the fight?
A: I like going in as an underdog because people don't expect me to win and after the fight, after I win, I like it when people say good job, you did good, you kicked ass.
Q: Was Julio Diaz the best opponent you have faced to date and what's your opinion of him as a fighter?
A: Yes, he's the best we've faced right now. I had fought Jose Luis Castillo before and Julio Diaz was a former world champion and a top contender and the best opponent yet.
Q: What is your opinion of the current lightweight division?
A: Right now there are a lot of guys in the lightweight division and I'm ready to fight any of the champions. I'm ready for a title fight. I've been waiting for a title fight this whole time and we're training in case something happens.
Q: With your stoppage of Julio Diaz, you are now ranked # 4 in the world in the lightweight division, how does that make you feel?
A: It makes me feel good, makes me train harder, give it all I got and come in the gym and give it 110% because I its just a matter of time that I get a title shot and we'll be ready.
Q: Name one or two fighters you'd like to face in the near future?
A: Like I said they're talking about Juan Diaz and that will be a good fight and hopefully it'll be for a title fight. Right now I don't have any names; I'm just willing to fight anyone for a title fight.
Q: What are your goals for the rest of the year?
A: Right just to train, train, train and try to get that title fight and just keep training after that. That's all I'm focusing on right now, 100% on training to get a title fight.
Q: Is there anything you would like to tell your fans?
A: Just wait for that name to shine, Rolando "El Pochito" Reyes, and we'll be champions this year, hopefully, and we'll bring that belt back to Oxnard and have another world champion out of Oxnard.
Rolando Reyes is trained by Ruben Juarez, promoted by Chet Koerner's TKO BOXING Promotions and guided by manager Cameron Dunkin.