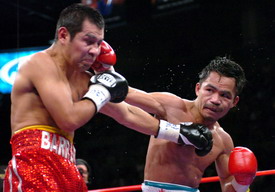 By Fernando Jose – He used to be called "The Destroyer", and rightfully so. 'Cause as a dynamic 23 year old fighting in the super bantamweight division, destroying the opposition was the only thing running through Pacquiao's mind whenever he was in the ring. At that time, the skinny southpaw from the Philippines had very little regard for defense and never seemed to care about winning or losing rounds. He was focused on one single goal which was to annihilate the opposition. Though always wild and reckless, he was just too powerful and too aggressive that no one could completely capitalize on his flaws. Manny "The Destroyer" was indeed a very exciting fighter. With sheer violence, he managed to become a two-time world champion. But he wasn't really what you would call a "great" fighter. Well at least, not yet.
When he decided to move up to 126 and fight Ring featherweight champion Marco Antonio Barrera, Pacquiao was a 4-1 underdog. He defied the odds and beat who was then the third best pound for pound fighter in the world—and that he did in a dominant fashion. Pacquiao threw rapid punches from so many different angles that even Barrera, the great defensive fighter that he was, couldn't do anything to protect himself.. Pacquiao was quite unorthodox and visibly one dimensional, but he was very successful nonetheless in giving Barrera the worst beating of his life. Beating Barrera who was considered the lineal champ made Pacquiao the man at the featherweight division. After that career-making fight, expectations went sky high for the Filipino.
On his next fight, Pacquiao decided to take on one of the most dangerous fighters in the featherweight division in WBA/IBF champion Juan Manuel Marquez. It was at this point in his career that people started to call him by the nickname "Pacman" because of his reputation for gobbling up opponents. Still on a high due to his recent victory over Barrera, Pacquiao brought that same intensity and jumped on Marquez immediately, knocking him down three times in the first round and breaking his nose in the process. But Marquez was one tough customer and was quick to learn from his mistakes. He adjusted well and dictated the pace of the fight with his lightning quick jabs while taking note of Pacquiao's predictability.
For an intelligent fighter like Marquez, it was easy to see that Pacquiao threw redundant jab-left straight combinations. Sometimes he doubled up his jab, but that pretty much was his entire offense. And once Marquez got used to his timing, he rained down counter punches of different variations that caught Pacquiao every time he moved forward. Not only did the Mexican manage to survive—he won most of the remaining rounds and salvaged a controversial draw. There was no winner or loser in that fight of the year candidate. But Marquez was able to expose kinks in the Pacman's armor that became a blueprint for the Filipino's next opponents.
Two fights later, Pacquiao again moved up in weight in an attempt to defeat another Mexican great—junior lightweight Erik "El Terible" Morales. The Pacquiao camp and boxing fans liked the Pacman's chances since Morales, although naturally bigger, was just coming off a loss against Marco Antonio Barrera. But come fight night, the size disparity proved to be too much for Pacquiao. He also appeared slow and sluggish at times proving that he still wasn't accustomed to his new weight. Morales, following Marquez's lead, used his stiff left jab to keep distance and capitalized on Pacquiao's mistakes. Morales also took some of the Pacman's best shots yet he was able to stand his ground, even urging the Filipino to exchange punches with him. Pacquiao fought with a lot of heart and kept the fight close all throughout. But there was no doubt that it was the Mexican's night. Morales won that fight by unanimous decision.
While the loss was distressing for Pacquiao, his trainer Freddie Roach considered it as a much needed wake up call. Both wanted nothing less than redemption from the Pacman's conqueror—and possibly the last man who will ever beat him.
After disposing Hector Velasquez in a tune up fight, Pacquiao faced Morales in a rematch that became another action packed affair. Adding a more reliable jab and a right hook to his arsenal, he matched Morales punch for punch in a tightly contested first half of the fight. And as the fight progressed, Pacquiao began to take control by mixing up his punches forcing the great Morales, who was known for his granite chin to fold eventually. Pacquiao ended the fight in the tenth after knocking Morales legitimately twice; a feat that only he was able to do. Beating Morales was both accomplishment and relief for the Pacman. But for some critics, he beat an opponent that was over the hill and they wanted to see more.
For his next fight, Pacquiao returned to the Philippines to face another Mexican and a former junior featherweight champion—Oscar Larrios. He dropped the game but over matched veteran twice en route to a lopsided unanimous decision. Later that year, he agreed to complete a trilogy with Erik Morales—a move that was questionable considering the result of their previous outing. But Pacquiao still found ways to look impressive, wasting no time and finishing Morales in only three rounds and proving to everyone that he is a force to be reckoned with at 130 lbs.
A year later, Pacquiao was finally scheduled to face Barrera in a rematch that was long overdue. Unlike in their first fight, the Pacman was in every sense the bigger fighter and was now the huge favorite. Everyone was expecting him to steamroll his way against an opponent he once defeated so easily. But to the fans disappointment, he wasn't able to knockout Barrera who already declared his retirement after their fight. The Mexican was on the run for almost the entire night and barely threw any meaningful punches. Pacquiao won by unanimous decision in a relatively mediocre performance. His boxing ability may have improved by a fair extent since their first meeting, but he still had weaknesses that could be taken advantage of, particularly his lack of balance. And strangely, it seemed that Pacquiao was beginning to outgrow the junior lightweight division.
In his last fight at 130 lbs, Pacquiao faced old nemesis Juan Manuel Marquez in a career defining fight. The controversies surrounding their first bout made it one of the most anticipated rematches in the history of the sport and both warriors were determined to prove once and for all who the better fighter was. At stake was the WBC Junior Lightweight Title which Marquez won by beating Marco Antonio Barrera. The fight was a nip and tuck affair—their two contradicting styles making a very difficult fight for both. Having learned from his mistakes in the first fight, Pacquiao toned down his aggressiveness and decided to fight more technically.
Marquez was still the better boxer, but Pacquiao's advantage in power became the deciding factor. The Pacman dropped his Mexican rival in the third round with a left cross, giving him an extra point that helped him win a very close split decision. The fight could've gone either way. But in fights that close, the man that hurts his opponent more, most often wins the fight. Pacquiao's win earned him his fourth world title in a different weight class and proved his mastery of the lower weights.
For a guy who started his career at 108 lbs, carrying his power over to the lightweight division didn't seem feasible. Which is why many doubted if Pacquiao could be as effective against a naturally bigger opponent in WBC Lightweight Champion David Diaz. In a fight that featured two very aggressive southpaws, the Pacman's total dominance was a sight to behold. Pacquiao was just relentless, hammering Diaz with right hooks and uppercuts that he threw in blinding succession. He also moved so well that Diaz was never able to catch him with any significant blows. The fight ended in the ninth round when Pacquiao landed his trademark left cross directly on Diaz's jaw that dropped him face first on the canvas. With the victory, Pacquiao easily claimed another world title in his fifth weight class—his second title won in less than four months.
Diaz was a very limited fighter and was a huge underdog coming into the fight. But he was still a legitimate champion and he only had one loss in his record before being massacred by the Filipino. Pacquiao's performance was very impressive in the sense that he carried the additional weight with ease and showed how well he has improved through the years. Though he still had the same killer instinct, Pacquiao's offense was now well polished and his versatility was evident. He still had a few holes on his defense, but he used his speed in a way that made it almost impossible to catch him squarely with any punch.
With Floyd Mayweather's temporary departure from the sport, Pacquiao became the deserving successor to his throne. And people didn't need to wait too long to see the new pound for pound king prove his worth when he stepped into the ring a few months later against none other than Boxing's Golden Boy Oscar Dela Hoya. Pacquiao was unfazed by his opponent's reputation and physical advantages. And come fight night, he showed the world why he could just be the new face of boxing.
Fighting at a catch weight of 147 lbs, the 5'6 1/2" Pacquiao silenced all his critics and forced the Golden Boy who was a good four inches taller, to quit on his stool in the eighth round. The Pacman put on an unbelievable performance—outpunching the Golden Boy so easily and pounding him with combinations every time he got him cornered. And he never put himself in any danger as he poured the punches at the right moments and would back off just in time when Dela Hoya would be throwing in retaliation. The entire night, he was able to beat Dela Hoya to the punch, effectively eliminating his height and reach advantages.
In addition to the effective use of his right which again became a huge factor, Pacquiao also displayed the ability to lead with his left hand and flee the scene in one quick motion. This caught Dela Hoya and everyone watching by surprise as they were all accustomed to seeing a jab setting up Pacquiao's left. With a solid right and a left hand lead now in his arsenal, it was nearly impossible to anticipate where the Pacman's punches were coming from. And with his speed and quickness now coupled with moves that easily complement his physical gifts, Pacquiao went up yet another level.
After sending Dela Hoya into retirement, Pacquiao signed up for a fight against one of the today's most celebrated boxers, Englishman Ricky "The Hitman" Hatton in a junior welterweight showdown. Hatton was considered the lineal champion of the division and quite deservingly, for in his previous 44 fights as a 140 pounder, he has yet to be defeated. And unlike the Golden Boy, Hatton was very much in his prime when the fight was arranged. People expected Hatton's brute strength and ability to take punches to be major problems for the relatively smaller Pacquiao. But as it turned out, The Hitman like so many others who tried couldn't do much to limit the Pacman onslaught.
In a performance that could very well be his best ever, Pacquiao showcased everything that makes him the great fighter that he is. With the British slugger smothering him and roughing him up, Pacquiao managed to sneak in a couple of his lethal right hooks that staggered his reckless opponent. One of his rights hit Hatton squarely as he was lunging in, dropping the champion on his knees with less than a minute left in the round. Smelling blood early, Pacquiao wasted no time and pounced on his still groggy opponent, overwhelming him with punches that were too strong even for a light welterweight to handle. Hatton went down again just as the bell was about to ring signifying the end of his disastrous first round.
The second round was still a slugfest with Hatton landing some clean shots of his own. But with Pacquiao's trademark left now landing with regularity and Hatton not yet fully recovered, a knockout was bound to take place. In the final ten seconds of the second round, just as the crowd was starting to settle down, the Pacman delivered one of the most devastating one punch KO's in the history of boxing. Pacquiao threw sudden left hook that caught Hatton so hard that he was out cold the moment it hit him. Hatton fell down like a log. His head bounced hard on the canvass and he was flat out unconscious. With his 49th win, Pacquiao captured his 6th world title in yet another weight division.
That single punch that sent Hatton to dreamland was one for the ages—a strong statement delivered by a man who will someday be recognized as one of the legends of the sport. Pacquiao's two round demolition of Ricky Hatton, as well as all of his major accomplishments in the ring are proof that boxing could be well back into its glory days.
Inspired by Manny Pacquiao's greatness, Boxing is once again alive… and punching.
For more from this writer, checkout righthandlead.blogspot.com