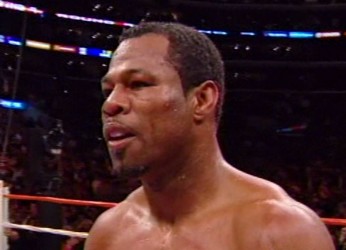 With no major boxing cards on the slate this past weekend, it seems that most of the national attention shifted to the same few names that always seem to grab headlines. This weeks 'Left-Hook Lounge' centers solely and squarely around three individuals….Pacquiao, Mayweather, and Mosley. Dawson and Johnson managed to squeeze in for a brief cameo, but other than that, there seems to be only three names on the minds and tongues of fight fans and today we take a detailed look at each of them. With no time to spare, we jump right into the mix with a question from the U.K., where a huge fight fan wanted to know the following:
Drake Ward (Bristol, UK): I happened to see the recent interviews between an ESPN personality and Floyd Mayweather jr., as well as the followup interview with Brian Kenny and Shane Mosley. I noticed that when he spoke to Mayweather, he addressed the fact that he [Mayweather] isn't facing Mosley, yet when he spoke to Mosley, he didn't bring up the fact that Mosley rejected offers to face Mayweather twice – (back in approx. 98/99 as well as '06). I'm interested in hearing your views on this topic...
Vivek W. (ESB): I'll start by saying that I respect both Mosley and Brian Kenny greatly, but with all due respect, I don't think either man did much for the clean image I had in my mind of them, and I say that for the very same reason you just mentioned. I understand that Kenny has a job to do – (one driven in a major way by ratings) – but many people have contacted me relative to this matter and that many people speaking in distant unison can't be wrong. Back in the late 90's when Mosley had the opportunity to face Mayweather, rumor has it that the money being offered wasn't enough so he pursued other options. When the opportunity came about again back in '06, Mosley stated something to the effect of "wanting to take time off to spend with his family" which is well chronicled, although as a friend accurately pointed out to me, the 'underground' belief is that Mosley bowed out of the opportunity to avoid stepping on the foot of a man who signs his checks (ODH) who was himself paving the way for a showdown with the former P4P king. Regardless of the true reasons, the two scenarios did in fact happen, and they were not mentioned during the interview which was a direct shot at the credibility of both men who I've always respected deeply. Personally, I thought the whole thing was a bit unusual, because Mosley is a standup guy, yet he seemed to be more Floyd-like than Floyd. I say that as a reference to him getting into Floyd needing to return to the ring because of "tax and money problems". Some would say that's fair game, but as one fight fan pointed out, not once did Floyd attempt to sling mud by bringing up the details of Mosleys well publicized nasty divorce, among other things. So I think it was all a bit wild and unexpected, and I think both Mosley and Kenny lost a few cool points in my book and many others. I still adore their ability in their respective professions, but that doesn't make me put the blinders on. Wrong is wrong. Period.
Matthew O. (Hollywood, FL): Who do you like in a rematch between Dawson and Johnson?
Vivek W. (ESB): I'm happy to see that a dialogue between the two camps have commenced and this puppy is finally growing some legs. The true mark of any champion is to settle any debate. Holyfield did it with Tyson (albeit in a dirty way), Mayweather did it with Castillo, and the list goes on. Dawson has very few fights out there to be made, and none of his current options will do more for him than a stellar performance against Johnson which can potentially remove all remaining doubt about him. I can't really say who I like because despite the debate, it was a very close fight. Either man can win, but whatever the outcome, I just hope that we as fight fans can truly walk away at the end of that night knowing one man truly took the other – without help.
Brian N. (West Palm Beach, FL): I read recent comments where some of Pacquiao's advisors seemed a bit critical of Freddie Roach in regards to his choice for his next opponent. Is there any issues in that camp that you're aware of?
Vivek W. (ESB): Many found this to be an issue between Roach and Pacquiao's advisors, but I think if there's any issue at all, despite one of his advisors shooting down Roach's statement, there seems to be more odds between the two advisors than Roach and either, because they don't seem to agree on the matter at hand at all. Michael Koncz (one of Pacqiao's advisors) stated to the Philippine Star in regards to the Cotto request: "Freddie is the trainer, not the manager, so he's not involved in the process of negotiations for the selection of opponents. And who said that we [Team Pacquiao] wanted to fight Cotto? He [Manny] has never made a statement on that". That sounds all well and good until you recall where just a week ago, Wakee Salud (another one of Pacquiao's advisors – from Cebu) stated to the same newspaper that "Pacquiao should go after Cotto because he'll come straight in, which is what Manny wants", making that a "wise fight". Salud concluded the statement by saying that "Floyd could dance the whole night and defeat Manny on points, and even if Manny wins, he may not look good doing it which could affect his chances in the elections. So Manny should take on Cotto, beat him, run for Congress, and then face Mayweather later". So once again, their mixed opinions seem to be more amongst Pacquiao's handlers than the man who helps him use his hands, if you feel me! I wouldn't read too much into. Lets just wait and see what happens.
William L. (Miami, FL): I'm a huge Pacquiao fan but I'm starting to see the same hypocrisy that I saw in Floyd and Oscar before him and I think it sucks because the sport continues to allow this. Am I the only one that sees these things?
Vivek W. (ESB): This is a very sensitive topic. One I was somewhat inclined to walk away from. I've been called everything from a racist, to a hater and worst, all for the simple fact that I like to call things the way I see them and the sports pound-for-pound king unfortunately isn't exempt. That being said, yes, I agree that there is total hypocrasy at times in the Pacquiao camp. A direct representative of the Pacquiao camp said within the last 24 hours that "Pacquiao doesn't have to settle for Cotto or Mosley, because he has other options, to include Chavez Jr. I'd love for someone to tell me….If Pacquiao fought Oscar at 147, and is contemplating a fight against a current 154lber who has never fought at 147 and sure as hell isn't coming down to 142 (which is Pacquiao's catch-weight of choice), how can we not call him out for trying to force Mayweather, Cotto, or Mosley down to that weight? Mayweather and Cotto have never campaigned above '47, and to really put things in a proper perspective, Floyd Mayweather HAS ONLY FOUGHT ABOVE 140 FOR TWO YEARS, WHICH EXPLAINS WHY HE HAS NEVER ENTERED THE RING ON FIGHT NIGHT ABOVE 150LBS…..EVER! So why is Pacquiao's camp calling out a 154lber but expecting someone like Mayweather who is nearly his own size to drain down? I really need a logical explination for this Pacquiao nation! Please, I'm begging someone to help me understand it! He's one of my favorite fighters to watch but that doesn't change a truth. Mayweather has nearly no body fat, so what he would be losing is muscle, which as we learned with Roy Jones jr. is a death blow. Is that what the desired result is? I'd like to say no, but Pacquiao's own advisor just stated about Cotto, "let him struggle to make weight, not us"! That says it all. I don't have a racist bone in my body but I'll "bare the cross" if it means standing up for the truth. One of us have to have integrity, so as we say in the U.S. Marine Corp, I'll lead, others can follow or simply get the hell out of the way!
Erick B. (Brooklyn, NY): What are your thoughts on the way Mayweather has decided not to face Mosley?
Vivek W. (ESB): I think it's a fight that hardcore fight fans would love to see, but truthfully, I don't know if it does the kind of numbers that either one of them would like to see, which is part of Mayweathers beef with the thought of it. Mosley is easily and arguably one of the best fighters of this era, but despite his stunning performance in January against Margarito and in the past, for whatever reason, people havent' given him too much support at the box office. Mayweather recently stated in so many words that when he was nice and mild-mannered, no one was talking about him, but when he started talking and doing things his way, the attention, the money, and all the other accolades came into the equation. Mosley has never been that way, and I guess this all shines light on the fact that as the old adage states, "good guys finish last". Mosley has never done HUGE numbers and that's what Floyd is looking for. Some would argue Mosley's event against Margo at the Staples Arena out in L.A. did the biggest numbers there, ever, but those in attendance will tell you that was a 90% Mexican crowd. Had that been a pay-per-view fight, it would have still done those numbers in Los Angeles, but the PPV figures would not have paralleled. I won't make excuses for Floyd because I think it's a great fight, but Mosley didn't take the opportunity twice before and right about now, that ship has already sailed to sea! Unfortunately for Mosley (and even some fight fans), this fight apparently will never happen.
(Got questions or feedback?: Contact Vivek Wallace at vivexemail@yahoo.com or 954-292-7346, as well as Facebook or Myspace).
(Follow Vivek Wallace thru the week):
Mon. – (ESB) – 'Left-Hook Lounge' Mailbag
Fri. – (ESB) – 'Call Em Out Fridays' (In-Depth look at questions surrounding a key figure in the sport)
Sat. – (ESB) – Fight Preview, Keys to Victory