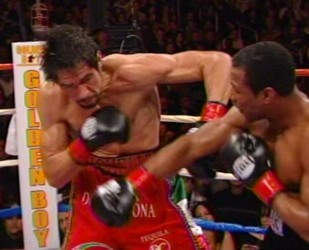 by Kelsey McCarson, theboxingstop.com – After Sugar Shane Mosley (46-5, 39 Kos) demolished Antonio "El Cheato" Margarito" last January, the 37 year old star was seemingly on top of the world. Mosley, unmistakably one of the best fighters of his era, had not only upset the heavily favored Margarito, but he had also put himself in line for another big fight payday.
Or had he?
While everybody and their mom these days seems ready to jump in the ring with any other welterweight in the world, somehow one the division's biggest stars (and champions) has been left out. How'd it happen?
Fellow welterweights Miguel Cotto and Joshua Clottey square off next weekend in a much anticipated bout on HBO.. Meanwhile, former welterweight champion and resident most-hated-boxer-on-the-planet Floyd Mayweather, Jr. is getting ready to fight lightweight champ Juan Manuel Marquez in a tune-up fight before every fan in the world hopes he gets into the ring with current super world-beater Manny Pacquiao. Andre Berto and Juan Urango are scheduled to fight May 30, Zab Judah is fighting Mathew Hatton on the Mayweather-Marquez undercard, Carlos Quintana will be letting his fists fly on ESPN's Friday Night Fights soon and Luis Collazo—well he's already been vanquished by Mosley.
So who does that leave Mosley to fight? Would Manny Pacquiao give up a potential bigger payday against Mayweather to fight the very dangerous Shane Mosley? His trainer, Freddy Roach, says he might but the smart money says he'll wait on Floyd. Is there anyone in the division left for Shane to fight?
The most avoided boxer in the world, Paul Williams, looks to have left the welterweight division for good. Unable to secure paydays at 147, Williams is not campaigning at 154 and 160. The only other currently rated top 10 welterweights in the world by Ring Magazine are Isaac Hlatsway from South Africa and Vyacheslav Senchenko from the Ukraine. Those guys maybe talented fighters, but they wouldn't exactly be big paydays for Mosley and neither of them actually deserve a title shot at this point in their careers.
So Shane Mosley will just have to wait and see what happens. Hopefully, things will just sort themselves out soon, because one of the best welterweights in the world and arguably the top dog at 147 should not be left out in the cold in what appears to be the deepest division in the sport. Let's hope we see Shane in a big fight again soon, because boxing is better when its best stars are in the ring.