March 29,2009 (Los Angeles, CA) — WBC light welterweight champion Timothy "Desert Storm" Bradley weighed in for the mandatory WBC 7-day weigh in hours before his departure to Montreal Canada, where he will clash against Kendall "R-Rated" Holt as the main event of the evening in front of thousands of fight fans The Bell Centre and many more on SHOWTIME CHAMPIONSHIP BOXING on Saturday, April 4, 2009..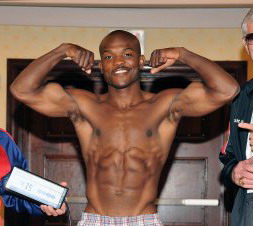 The 12-round bout for the WBC-WBO Unification is being co-promoted by Gary Shaw Productions, LLC, Bob Arum's Top Rank, Inc., Thompson Boxing Promotions, Inc. and Gillett Entertainment Group.
The chiseled champion weighed in at: 143.5 pounds as he took to the scale earlier today. Leaving only 3.5 pounds to lose until fight night, well within the WBC requirements.
MIKE PASCHALL HOLDS OPEN WORKOUT THIS TUESDAY AFTERNOON IN BALTIMORE"ARMED AND READY" FOR BALLROOM BOXING CARD THIS THURSDAY NIGHT
BALTIMORE, MD. (March 29, 2009) Super middleweight contender Mike "THE PERSECUTOR" Paschall will wrap up training for his showdown against Sam "THE PUNCHING POLICEMAN" Hill with an open to the public/media workout this Tuesday, March 31st at 4pm at The Ground Control Academy.
The Ground Control Academy is located at 5711 O'Donnell Street , next to the Baltimore Travel Plaza ; phone is 410-558-2988. (www.groundcontrolbaltimore.com)
Said Paschall, "I feel terrific, we've had a very good camp and I'm looking forward to putting on another great performance on Thursday night."
The Paschall/Hill bout is one of the feature attractions as Chet Koerner's TKO BOXING Promotions and Scott Wagner's BALLROOM BOXING present an evening of world class professional boxing this Thursday night April 2nd at Michael's Eighth Avenue in Glen Burnie, MD.
Also on the Thursday night card are sensational featherweight prospect Matt "THE SHARP SHOOTER" Remillard, Baltimore based standouts Tyrell Samuel and Julius Kennedy along with world ranked middleweight Albert Onolunose in separate bouts.
Tickets, starting at $35.00, can be purchased in advance, by calling the Ballroom Boxing box office at 410-766-7474. Doors on the evening of the event will open at 6:30pm with the first bell at 7:30pm. Michael's Eighth Avenue is located at 7220 Grayburn Dr. , in Glen Burnie , MD.
Further information on Scott Wagner's Ballroom Boxing can be viewed at their website, www.ballroomboxing.com
British Boxer Marianne Marston Strikes Gold With New Sponsorship Deal
American trained English Super Bantamweight Marianne 'Golden Girl' Marston, along with various soon to be announced American championship boxers, will be spearheading London based sporting equipment and apparel manufacturer Pugilistic Urban Garments planned assault on the $50 Billion American sporting goods market in 2009 with their pugilistic arts flagship brand P.U.G. Athletic.
Marianne, a protégé of former Heavyweight Champion of the World, Smokin' Joe Frazier and Cruiserweight World Champion Steve 'USS' Cunningham, was previously sponsored by P.U.G. Athletic prior to her moving her training base, from Gleason's Gym (London) near Tower Bridge, to Philadelphia and Smokin' Joe Frazier's Gym, where she was under the personal tutelage of the legendary Heavyweight champ and his son Marvis, in February 2008.
Marianne's American adventure soon became a roller coaster ride as shortly after committing herself to being with Smokin' Joe Frazier, to prepare for her professional debut, the Philadelphia landmark gym closed down. Marianne's dream looked at an end after just 58 days.
Not one to give up so easily Marianne tried out for Percy 'Buster' Custus at the "home of champions", The James Shuler Memorial Gym, in West Philadelphia. Initially working with former Junior Middleweight World Champion Robert 'Bam Bam' Hines before switching her day to day training, due to her having difficulties understanding Robert's strong accent which was causing frustrations between them, to the exceptional female trainer Shar'ron Baker.
Around the same time P.U.G. Athletic, who were concentrating on the European sporting goods market, decided not to renew their sponsorship arrangement as Marianne would be initially competing in America and as such could not see any benefit to their brand at that time.
Just as disaster loomed again for Marianne up steps Cruiserweight King Steve 'USS' Cunningham and his wife and manager Livvy who invited Marianne to be part of Team 'USS' Cunningham, opening up a whole new world of opportunities for her including sessions at training camp with Team 'USS' Cunningham's world class coach Anthony Chase and advice from team leader Steve 'USS' Cunningham and "Trainer of the Year" contender Brother Nazeem Richardson in addition to day to day coaching from Shar'ron.
Marianne, who returned to England at the beginning of March in order to arrange the visa she requires for her professional debut at the 9th May '09 Ivan Cohen promoted event in South Philadelphia, met with P.U.G. Athletic boss John Rooney Jnr. when she returned to Gleason's Gym (London) for some training sessions and a new sponsorship deal was arranged in record time.
Taking a moment out from her grueling preparations a very pleased Marianne said "I'm so pleased to be working with John (Rooney) and P.U.G. Athletic again. John has always been a great supporter of boxing. He used to sponsor my hero, Joe Calzaghe, and supports other great champions like Ian Napa and Danny Williams.
It's so exciting to be involved in their expansion plans, to say I am proud to be a P.U.G. fighter is an understatement. I'm a great believer in their products. Over the past year I have tried out loads of gloves and couldn't find any that came close to my old ones. I kept having niggly hand injuries so I got a friend of mine to send me over a new pair of P.U.G.'s late last year and hey presto no more problems. They really do offer the best hand protection!
Whilst I'm enjoying being back in London and training at Gleason's, I'm really looking forward to getting back to Philly so I can be fully prepared for my fight.
I'm missing everyone at Shulers terribly. I missed Tyson's (Jamaal's 'Da Truth' Davis) and Eddie's ('Fast' Eddie Chambers) fights and missed even more not being there to celebrate their victories with them. I'm also going to miss Gee's (Culmer) fight this Friday (3rd April).
Whilst not one of my gym mates, I'm desperately hoping I can get my visa through soon so I can be there to support fellow Brit Carl Froch, when he takes on Jermain Taylor on the 25th (April). If I do I'll be ringside for sure, what a great way to prepare for my fight, watching awesome fighters
at close quarters, who knows I might steal some of his moves and use them in my fight in May."
Marianne professional debut will be on the undercard of Philadelphia's Brian Cohen WBC Americas Light Heavyweight title fight on May 9th 2009 atthe South Philadelphia High School. The co-feature will be headed by Gabrielle Rosadl. In addition to Brian, Gabrielle and Marianne there will be seven further fights on the night. The full card will be announced, by renowned Philadelphia promoter Ivan Cohen, shortly.