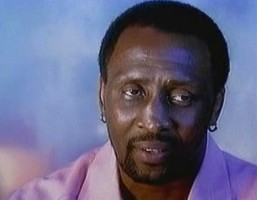 by James Slater – When ring legend Thomas "The Hitman" Hearns made a return to the ring back in July of 2005 at the age of 47 he shocked his millions of fans big time. Well, Hearns, who turned 50 years old in October of last year, is planning to shock us one more time – with a final fight some time later this year.
According to a news article that has appeared in the Detroit Free Press, the all-time great who won world titles all the way up from welterweight to cruiserweight is seriously looking at having one more bout before finally hanging up his gloves. And Hearns says he will do so even without the blessing of long-time trainer and mentor Emanuel Steward – who, it is generally accepted, will in no way encourage his star boxer to fight again.
But Tommy, loved by millions the word over due to the quite incredible and unforgettable ring battles he had against men like Marvellous Marvin Hagler, Roberto Duran and Ray Leonard, has made up his mind. With or without Steward, Tommy says he will have one final, title fight.
"The more I think about it, the more I want to fight," Tommy said. "It's always on my mind. Manny [Steward] knows how I feel about boxing – to have one final bout."
Hearns has not fought since Feb. of 2006, when he won the second fight of his previous comeback – stopping the reasonable Shannon Landberg in the 10th round. Now he says he has had offers to fight in Europe.
"I want to do it – I will do it," Hearns went on. "I think people will support me, and I know what I'm capable of. I've had plenty of calls from Europe to come over there and fight. If Manny doesn't agree with me, I'll go around and make it happen myself. It's got to happen – to complete my career – to have one final title fight.
"I respect what Manny thinks, but I have my own thoughts. Everyone has a right to make a decision when he or she is finished. When God gives you a blessing, you have to use it through. God has this plan it's all in the plan."
So, not only is "The Hitman" looking at a final fight, he actually says it will be a TITLE fight. Surely Tommy does not think he'll be able to get himself a world title shot in 2009!?
With his incredible achievements and his fine record of 61-5-1(48), Hearns should feel as content as any former great boxer today. But he doesn't and he is desperate, it seems, to box again.
According to the article, Tommy continues to work-out and today weighs around the 190-pound mark. Tommy feels he is in good health and that the fans will see this when he boxes again.
"People will see I'm healthy," Tommy stated. "I really want to have this fight with Emanuel in my corner. We started together, and I want to end my career with him."
Wow, is all this writer can sum up this news with!