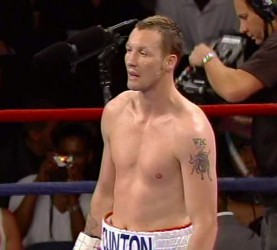 by James Slater – Last night, in Jersey, The Channel Islands, UK, former IBF light-heavyweight champion Clinton Woods won what he himself called a make or break fight, as he unanimously out-pointed a tough Elvir Murqi over 12 rounds. There were no knockdowns in the gruelling battle, but the 36-year-old from Sheffield prevailed by wide scores of 119-110 and 117-111 twice. In winning the official IBF #2 eliminator at 175-pounds, the now 42-4-1(24) Woods set himself up for one final run at becoming a world champion again – with a shot at "Bad" Chad Dawson a possibility for later this year. As for the always game "Kosovo Kid," who dipped to 35-5(22), the future looks far less bright.
As the much younger man, at 29 to 36 for Woods, Muriqi entered the ring last night convinced he would exit it a winner. Also, basing things on he and his rival's respective showings against former IBF light-heavyweight champion Antonio Tarver – who almost shout-out Woods to take his crown last April, but who really had his hands full against Muriqi the year before – the Albanian was sure he had the beating of Woods. He was wrong. So too were a good many other people.
Many fans and some experts felt Woods was pretty close to being a done fighter due to the poor showing he gave against Tarver in his last fight. Even Woods himself admitted he wasn't sure what he had left. He also said he would have immediately quit boxing and retired had he lost last night. Now, however, in putting on a display against a good fighter that almost saw him back to his very best, the 36-year-old can look forward to a likely chance at regaining his old world title belt. Nothing is definite, by any means, and Tavoris Cloud is also very much in the running for a shot at current IBF champ Dawson (maybe Cloud and Woods will meet in a final eliminator some time soon) – but for now Woods can enjoy that fact that his boxing career is far from over.
It took the older man a few rounds to get his timing together, and Muriqi won a couple of the early rounds last night – making Woods fight on the back foot. As soon as the Sheffield hard man found his timing and fought on the front foot, however, he always looked the boss.
Muriqi, who has only ever been stopped once as a pro, managed to hang tough and make it to the final bell, but he knew he'd been beaten at the end. Woods left no doubt, often jarring his opponent's head back with lefts and rights. The fight was an entertaining brawl, and at times in the first third of the contest it seemed as though Woods just might make a real statement and get Muriqi out of there.
In the end he settled for a commanding points win, though, and in so winning Woods proved the man who was so timid against Tarver last time out was a mere impostor of a gritty fighter.