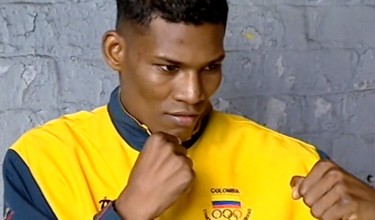 14.02.09 – By Jaime Castro-Núñez – Just a few minutes ago I had the pleasure of speaking over the phone with undefeated Colombian puncher Breidis Prescott, who trains in Miami for his upcoming presentation next February 20th against Ecuador's Humberto Toledo as part of "The Gunslingers" card, which will air live on ESPN2´s "Friday Night Fights". The 25-year-old prospect is well-known for dispatching British idol Amir Khan in 54 seconds last September in Manchester. Prescott very politely gave ESB an hour of his time. Here are some of his thoughts.
Jaime Castro-Núñez: Breidis, we know you're busy training, so we thank you very much for granting us this interview…
Breidis Prescott: No problem, Jaime. It's always a pleasure to be on eastsideboxing….
JCN: How do you feel in Miami so far?
BP: It's hard to leave family, friends and relatives. I have a 15-month daughter in Colombia, but they know I'm doing this for our future. At the beginning it was hard, but now I'm fine.
JCN: Next Friday you'll be in action. What can you tell about the training?
BP: We're giving the final touches to the training. I've been working out, trotting, and sparring with Juan Camilo Novoa. My weight is perfect right now. I train under the supervision of Cuba's Eufracio González, who also trains Joel Casamayor and Alejandro "Ñaco" Berrío. I'm sure I won't have any problems next week, you all will see the results.
JCN: Have you had the opportunity to watch Humberto Toledo?
BP: Yes! I had the opportunity to see him fighting in Colombia. I've watched some tapes and his style fits mine, so I believe it'll be an interesting fight.
JCN: What's next for Breidis Prescott after February 20th?
BP: A lot of things. I'm scheduled to fight in April and probably in May. After that I expect a big fight…
JCN: Do you think that opportunity will come this year?
BP: Yes, yes, yes. That's what my promoters are looking for. I'm working hard, so I can have my big chance around July.
JCN: Whom would you like to fight?
BP: I love challenges and to tell you the truth I would love to fight Juan Manuel Márquez.
JCN: Finally, I'm a little bit curious about you brother, Daulis, whom I've heard hits harder than you… Is that correct?
BP: [Laughs] My brother is a hard-hitting, featherweight boxer. He's undefeated in sixteen professional bouts and he's managed by Mr. Billy Chams. Daulis has a bright future in boxing because he's fast, tenacious and disciplined. I hope he can make his US debut soon. I'm convinced he'll impress everybody.
JCN: Breidis, thank you and best of luck next Friday…
BP: Thank you very much for this opportunity and I encourage all readers to watch the fight on February 20th.