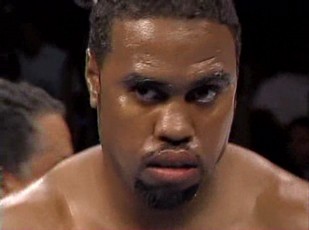 By Paul McCreath: Last Friday evening on the ESPN Friday Night Fights the announcement was made that American heavyweight Fast Eddie Chambers will meet former WBC champ Sam Peter on March 27 in a fight televised by ESPN. If the report turns out to be true this is a bout that could inject a bit of life into the nearly dead American heavyweight scene or it could go the other way and see the elimination of still another American pretender.
First let us admit that Eddie Chambers is a very talented young fighter, one the best heavyweights in the world if you are measuring technical skills.During his days as a prospect he was considered to be the most promising of the American heavies by many who follow this division. After winning his first 28 fights he really came to prominence in May 2007 when he outpointed Dominick Guinn another one time top prospect over 10 rounds. This placed him in the IBF elimination tournament where he narrowly outpointed the highly rated Calvin Brock over 12 rounds. This bout effectively ended Brock's career.
Next up was the Russian hope Alex Povetkin in January 2008 and after a good start Eddie faded in the later rounds and dropped the 12 round decision.His showing in this fight caused a lot of fans to write off Eddie. He showed little aggression and many simply gave up on Chambers at this point. Maybe we have been too hard on him.After all Povetkin may well be the best heavyweight in the world not named Klitschko. Maybe losing to him is not so bad.
At any rate Eddie has come back since then with three more wins bringing his overall record to 33-1 with 18 KOs. His latest wins came over "B" level fighters Rafe Butler, Livin Castillo and Cisse Salif. Butler and Castillo were stopped while the durable Salif managed to last the whole 8 rounds. These three fights kept Eddie's name in the public eye but did little to show us if he has changed any since the Povetkin bout. Eddie always could handle this level of fighter.
The big problem with Eddie is that he is a small heavyweight with little power.He normally weighs around 215 to 220 pounds and stands 6 foot 1 inch tall. Fighters that size like Mike Tyson or Evander Holyfield have proven that you can succeed if you have good punching power but Chambers does not carry much of a punch. His strengths are his strong defensive skills and his fast hands. He is more like Chris Byrd or James Toney who after all did not do too badly either as heavyweights. Eddie could probably fight as a cruiser quite easily if he wanted to but prefers to stay with the big guys where there is more money.
In Sam Peter he is facing an entirely different man.Sam who has always had problems with his weight, going as high as 257 pounds and usually around 250, will have to get into good shape if he hopes to defeat the faster Chambers. Peter is slow at the best of times and not very skilled technically but he brings knockout power, great strength and a good chin. His only losses over a career with 30 wins have been against the two Klitschko brothers. He has 23 KOs and has defeated among others Jameel McCline, James Toney twice and Oleg Maskaev. Like him or not he is a danger to any opponent who faces him. The question this time will be how motivated Peter will be. He showed very little motivation against Vitali Klitschko in his last fight but was he just outclassed or has he lost his desire?
Both fighters are still young.Eddie is 26 and Sam is 28.Oddly enough Sam is one half inch shorter than Eddie and weighs about 30 pounds more We think Chambers is too heavy so what does that say about Peter's weight? Chambers only chance of success is to use his speed and skills to outbox Peter. He needs to move in and out quickly while firing quick combinations.If he stands and trades with Peter Sam will blow him away. Peter's best chance is to pursue Chambers aggressively while cutting off the ring and just hope he can catch him.I t is an ideal matchup between boxer and slugger and should be a good action packed fight.
The winner of this bout will still be no threat to the Klitschko brothers but given the unimpressive nature of the two WBA belt holders Valuev and Chagaev we can probably expect the victor to at least be in the middle of the picture in that organization if he tends to go that route.
My prediction is that Eddie will outbox Sam and win a decision. If Sam gets discouraged he could quit in the late rounds but I doubt that will happen. What do you think?