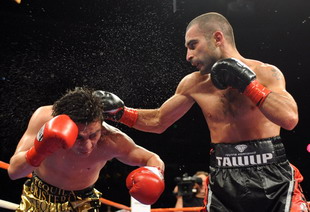 09.02.09 – by James Slater, Photo by Naoki Fukuda – After his brutally thrilling battle with super-tough Jorge Arce this past Saturday, fans are naturally wanting to see more of exciting and powerful unified super-flyweight king Vic Darchinyan. Already, the fans are wondering who "The Raging Bull" will fight next, and when. Gary Shaw, the 33-year-old's promoter, is the man who will make the decision on Vic's next match-up, and post-fight on Saturday he spoke about who it may be for his man in the near future.
Most fans would like to see Darchinyan take a rematch with the only man to have ever beaten him. Filipino Nonito Donaire is the only man to have beaten the Armenian who lives in Australia, and he did it via sensational 5th round stoppage in July of 2007. Set to make a defence of his IBF flyweight title against the unbeaten Raul Martinez in March, fans would love to see Donaire move up to super-fly and meet Darchinyan again if he's victorious. This, however, will not be happening – at least not according to Shaw..
"We're not fighting Donaire," Shaw said flatly. "Darchinyan wants to fight Donaire, but as long as I have promotional rights, he's not fighting Donaire. I don't believe in rewarding disloyal fighters with opportunities to make money and win world titles."
Shaw is referring to how Donaire jumped ship from under his promotional contract and signed up with Top Rank. It would be a damn shame if fans were deprived of such a fascinating rematch simply because of Shaw's personal grievance with the Filipino. Not only that, but it will surely anger Darchinyan if he is unable to get the return fight he wants for the same reason.
Shaw spoke of the other options he sees for his crowd-pleasing warrior.
"We have other options," Shaw stated. "We have Fernando Montiel, the WBO 115-pound champ. We have a [Cristian] Mijares rematch. There's also a good bantamweight champ Joseph Agbeko (IBF bantamweight champ) that Vic could challenge. And Vic keeps talking about fighting [Israel] Vazquez. I have a rich history with Israel, so this is a fight that you may see. If not, we might try to make a fight with Rafael Marquez.
"There was a time when Vic was chasing Arce all around the world for a fight, but they didn't take the fight. Now he's the guy all the other fighters are calling out."
Darchinyan is a wanted man, that's for sure; but would he really be able to move up in weight sufficiently so as to be able to mix it with super-bantams Vazquez and Marquez? Maybe one or both of the two 122-pounders will come down and meet Darchinyan halfway – with Darchinyan having said before the Arce win that he would like to go up to bantamweight. No doubt either of these two match-ups would prove attractive, but for as long as the 33-year-old Australian citizen continues to "avoid" the only man to have ever stopped him, some fans will continue to be critical.
Whichever option he takes next, it's sure to be exciting for fans of the man some say is the hardest puncher, pound-for-pound, in boxing.