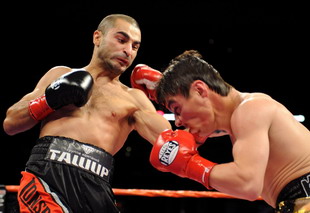 By Paul Strauss, Photo by Naoki Fukuda — It's always nice to come across a man of his word, someone you can count on to do what he promises. Vic Darchinyan proved again last night at the Honda Center, Anaheim, CA to be that type of man. He told boxing fans and boxing writers he would first punish Jorge Arce and then stop him, which is exactly what happened. Thankfully for the fans though, there was lots of excitement along the way.
The fight began with the little Raging Bull out boxing and out punching Arce. Jorge stayed at a distance, and used a lot of movement. Unfortunately though, it appeared Arce had a flawed battle plan, one that had him circling to his right, which was into Vic's power. Initially, his hopeful fans undoubtedly thought Arce might be purposefully committing this apparent blunder to somehow disguise his long looping left hand.. After all, prior to the fight, Arce claimed that southpaws had never been a problem for him, and he had been working with southpaws in training camp. So, of course, there had to be a reason he was moving into Vic's power, right? After all, everybody and his uncle knew it was a Nonito Donaire left hook that knocked Vic cold, right? Unfortunately for Arce fans, he apparently isn't that clever.
Darchinyan was very appreciative too. When Arce would circle to his right, Vic would reward him with multiple power shots, which came in the form of straight lefts, uppercuts and hooks, many times in rapid succession…….machine gun style. At other times, when Arce would attempt to rush Vic, he would run into a right hook. He caught so many, in fact, that his right ear was mangled into a bloody mess.
Arce's plan or lack thereof turned out bad for the little Mexican warrior. By the second round, he was already exhibiting swelling around his left eye. That didn't dissuade Jorge from continue to lunge wildly with his punches, apparently hoping one would come from such an usual or difficult angle that Vic might not pick up on it. Jorge did mix in enough body shots to make it interesting though.
In the third and fourth rounds, Arce changed tactics a bit, and started pursuing Dachinyan aggressively. He even used a jab a bit, but basically attempted to turn the contest into a brawl. Several of his wild lefts did manage to find their target, but there was a lot of holding and grappling. Darchinyan sustained a cut between his eyebrows as the result of an unintentional head butt. These were tough rounds to score. First one fighter would seem to have a slight edge, and then the other would take charge. Arce was doing it with long straight rights, and looping long lefts. Darchinyan did his best damage with left uppercuts.
The brawling continued into the fifth round, but Arce also continued to move the wrong way……to his right. The action toward the end of this round was so hot and heavy that it actually continued up to and a bit after the bell. Arce's left ear was bleeding noticeably by this time.
Jorge's attack seemed to dissipate after only a round or two of intensity, and once again Vic resumed picking him apart. He would change angles, step around him, and fire off hooks and uppercuts. When Arce did manage to end up on the inside, he wasn't doing enough. The sixth ended with another flurry by both fighters at the bell.
In between rounds, Arce's corner told him not to open up, which could have meant, "Don't waste your energy too soon," or they might have meant, "Don't leave yourself so open."? Regardless, Arce was starting to look bad. He was unsteady on his feet, and was getting beat with speed and power. Arce was not pursuing Vic any more, and even when he did at this point, it was more following than cutting off type of pursuit. However, Arce was still throwing hard punches, and would occasionally land glancing, but damaging blows.
There was no doubt though, that by the eighth round, Arce was showing signs of fatigue. He at times would stumble over his own feet, and his head movement slowed considerably. When he did make any attempt to get inside, he would run right into Vic's left uppercut. In fact, it was amazing that he weathered some of the shots that were landing.
In the ninth round, referee Dr. Lou Moret warned both fighters. He told Vic not to hit on the break, and he cautioned Arce to quit wrestling. It was definitely a rough fight. The same pattern continued into and through the tenth. Arce was getting beat up, but still proved dangerous.
By the eleventh, Arce was simply leading with his face, and Vic gleefully stepped up his attack. He was hitting Arce with just about anything he wanted to. Arce was badly bruised and bleedly from both eyes and his left ear, and you wondered what was holding him up. He mustered enough strength to make it through to the bell, and in between rounds, the ringside physician took a close look. Arce could be heard to say that he was alright, but before he could come out to continue, the doctor stopped the contest. Officially, it was a TKO at the end of the eleventh. The judges' official scorecards showed they felt it was pretty much a shut out, but as with many UD's, the fight still can be an exciting one. This proved to be one of those times. Arce had a bad plan, and was outclassed, but he wasn't out-gutted. He kept things interesting with his bountiful courage and fighting spirit. It just wasn't his night.
As far as Vic's future is concerned, apparently a rematch with Nonito Donaire is not in the cards. His promoter feels maybe Fernando Montiel, Israel Vasquez or Rafael Marquez might be more desirable? Any or all sound interesting and exciting, don't you think? A rematch with Donaire would be nice as well, and it would answer any questions about a "fluke" that might be in people's minds.
The undercard displayed the talents of a relatively new face. His name is Antonio DeMarco. Going into last night's bout against Almazbek Raiymkulov (better known as Kid Diamond), he had suffered only one defeat, and that was a MD back in 2006. But, as always with young fighters sporting good records, you wonder what they will do when they step up in competition? Kid Diamond was definitely a step up for DeMarco. He had beaten the likes of Miguel Huerta (although very close), and Emmanuel Augustus, and garnered a draw with Joel Casamayor.
DeMarco seemed unimpressed and appeared very relaxed prior to the opening bell. Things started off with a bang too, a bang of heads, which had Kid Diamond coming away with a cut alongside his right eye. DeMarco remained confident and poised, and seemed to have a slight edge in the scoring. He was managing the distance well, and had Kid Diamond swing wildly. DeMarco, a southpaw, countered nicely with long lefts, all the while keeping good balance and defense.
There was another clash of heads in the second round, and this time DeMarco came out of it with a cut in the eyebrow area of his left eye. He seemed unfazed, and stuck to the game plan, staying at the distance he wanted, jabbing, countering, and occasionally firing off a nice long left. By the fourth round, he was doubling up with a right hook, and appeared to increase the volume of his counter attack. First, he would avoid Kid Diamond's attempts to maul him, and then come right back with his own sharp punches.
In the sixth, Kid Diamond did enjoy some success by first feinting with his right, and then quickly reloading it and firing again. He managed to land it several times, but Demarco was weathering them well. Kid Diamond ended the round with a long left and counter right hand. It was one of his better moments.
In the seventh, Kid Diamond continued with his "rough house" tactics, and for a while he had DeMarco fighting with him and not boxing. But, it was something he would come to regret, because DeMarco soon was beating him at fighting as well. He was the sharper and more accurate of the two, and by the ninth round, even though Demarco seemed to have tired a bit and was not moving as much as earlier, he stepped up throwing right hooks to Kid Diamond's body. He landed three hard ones and then, in a flash, he switched and landed several straight lefts to the head, another good right hook to the body, and ended the round with a flurry.
Kid Diamond was in rough shape, and was not allowed to come out for the tenth. Officially it was a ninth round 3:00 second TKO. DeMarco passed the test and then some. He's definitely ready to continue his climb in the lightweight division. It was a great night of action put on by Showtime.