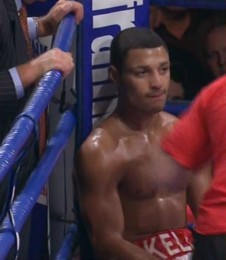 By Leo Ashworth -Sheffield's latest rising star Ezekiel 'Kell' Brook last night stopped overmatched challenger Stuart Elwell in two one-sided rounds in the second defence of his British Welterweight title at the York Hall, Bethnall Green. Having stopped Paisley's Kevin McIntyre in one last time out it's no wonder the weight of expectation on Brook's shoulders continues to grow.
The Dominic Ingle trained Brook is remarkably reminiscent of the Ingle's former charge Naseem Hamed in everything from attitude, voice, and mannerisms to, it seems, talent and Promoter Frank Warren clearly has very high hopes for the 22 year old, undefeated fighter talking of a European Title fight before year end. Brook was even speaking after the fight of the winner of Cotto and Jennings who square off in February for the vacant WBA belt. It would appear ambition is another trait shared with Hamed then.
Unfortunately there isn't much of a fight to report here folks. At the first bell Brook immediately took centre ring and looked to establish command against a cagey looking Elwell, a former Marine Commando from Walsall. It was apparent very early on that this was a step too far for Elwell who had obviously fancied his chances taking six weeks off work to prepare for his big opportunity. How crushing it must have been then when he was floored by a left jab-come-hook after just 30 seconds. In no mood to hang around Brook immediately went after Elwell at the restart and seemed able to land with most every shot he threw. With little coming back from the challenger there was an air of inevitability when another left hand sent him to the canvas at 2:10 of the first. After his second eight count Stuart was able to hang on until the end of the first, but cut a dejected figure heading back to his corner at the bell.
The second started in much the same fashion as the first with Brook taking centre ring. Again establishing his jab it wasn't long before Brook started to press for the victory whilst also showing sharp reflexes to slip a couple of token efforts from Elwell. A left right combination had the challenger reeling again before a good left uppercut right hand combination had similar results giving this writer the distinct impressions that Brook carries quite a dig. With the referee looking closely on Brook continued to put the punches together in fluid and dangerous fashion leaving referee Marcus McDonnell little choice but to stop Elwell on his feet at 1:29 as another crisp combination turned his legs to jelly and sent him staggering. The stoppage was absolutely warranted as by this point it was clear to all that Elwell was on a hiding to nothing.
It is hard to judge much of Brook on this fight as Elwell was clearly very much out of his depth, but coupled with Brook's undefeated record of 19 and 0 with 12 KO's it clearly suggests that Ingle and Warren may well have unearthed another Superstar from the Steel City. I for one will be very interested to see the fights Brook takes on this year because handled correctly, and Warren is a master of handling a fighter's career correctly, Brook could be set to take on the mantle of British boxing's next Superstar.