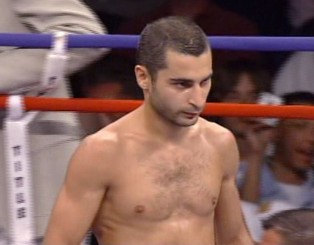 30.01.09 – By Jason Peck – Normally I agree with Ring Magazine's end-of-year awards. More often than not the previous year's highlights are so obvious that there's little room for questioning when the winners are picked. Except this year. Vitali Klitschko was recently awarded the magazine Comeback of the Year award for brutally beating Sam Peter after injuries forced the Ukrainian's retirement in 2005. As a consolation, current undisputed super flyweight champ Vic Darchinyan was named a runner up. But review both their cases and one conclusion presents itself: Darchinyan's 2008 comeback is runner-up to no one. And here's why.
First off, let's establish some guidelines. For a fighter to make a miracle comeback he needs a serious setback to "come back" from, and an unexpected victory that once more puts him in the driver's seat.
In 2008, Klitschko beat someone he was expected to beat while Darchinyan KO'd someone regarded as out of his league. At best, Klitschko is in the same position as four years ago; Darchinyan's comeback was so dramatic that not only did he redeem himself, he scored career highlights that rank him higher than ever. To me, this choice is obvious.
So look at how these two compare:
VITALI KLITSCHKO: Was his victory over Samuel "The Sandbag" Peter impressive? Certainly. In retrospect, I just assumed that four years of ring rust would give his portly opponent the edge. The result was anything but: After nine one-sided rounds, Peter retired on his stool.
Again, impressive. But Comeback of the Year impressive? Not quite.
For starters, Klitschko had no embarrassing loss to recover from. He was set to battle Hasim Rahman, and virtually observer had him winning easily. Instead, Klitschko suffered a setback NOT because he was KO'd by Rahman, but because he was KO's by injuries outside the ring.
By contrast, previous winners of the prestigious Comeback Award rebuilt themselves after suffering career-ending losses. Marco Antonio Barrera proved the naysayers wrong after his brutal loss to Manny Pacquiao. Kostya Tszyu climbed back to the top after losing to Vince Philips, who won the award himself by beating Tszyu. Arturo Gatti probably could have monopolized the award if the scribes at the Ring hadn't given other fighters a chance.
Also consider the quality of Vitali's comeback opponent. Four years ago Peter was the next Tyson. Four years later his limitations became glaringly obvious. He got schooled by Vitali's brother, knocked down several times by Jameel McCline and consistently failed to impress. Despite Vitali's handicaps, many odds makers still had Vitali beating him. Just not that badly.
As a result of the victory, Vitali has returned to the higher echelons of heavyweight. Unlike before, however, his brother Wladimir is clearly the division's top dog, where once Vitali's supremacy went unquestioned.
Now consider the alternative:
VIC DARCHINYAN actually endured the humiliating loss Klitschko never did. The man who once boasted of invincibility suffered a shock fifth-round KO loss to Nonito Donaire, an upset generally considered among 2007's biggest. Subsequent lackluster victories gave the impression that losing had permanently cracked the Aussie's confidence.
Except that it didn't. Not only did Darchinyan recover, he actually won the two most meaningful victories of his career, and now commands more honors than he did BEFORE his loss. Rare is it for a fighter to endure defeat; rarer still is the fighter who manages such a comeback.
In 2007, no one had Darchinyan cracking any pound-for-pound lists. Now it's not unheard of. His history-making victories over Dimitri Kirilov and Christian Mijares further marked the first time in history that someone held all three major belts at super-flyweight.
And also consider the level of opposition. Sam Peter was definitely a tarnished figure when Vitali Klitschko bested him. By contrast, Christian Mijares had clearly established himself the world's dominant super-flyweight. Most everyone expected that Mijares would easily outbox his opponent, despite Darchinyan's blow-out victory over Kirilov.
Instead, Darchinyan far exceeded expectations. By the ninth round one of the best men in the lower weight divisions was sounded KO'd, and Darchinyan had clearly deserved the nod for Comeback of the Year.